~ The FReeper Canteen Presents ~
~ Remembering Our Troops!! ~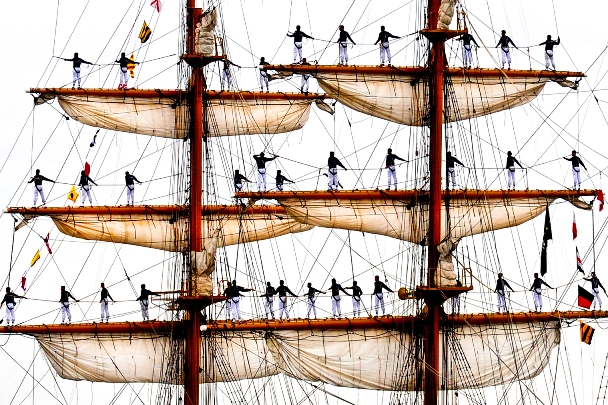 MAST MEN
Ecuadorian sailors aboard the Ecuadorian steel-hulled barque BAE Guayas man the yardarms as they arrive in New Orleans for The War of 1812 Bicentennial Commemoration in New Orleans, April 17, 2012. The events in New Orleans are part of a series of city visits by the Navy, Coast Guard, Marine Corps and Operation Sail beginning this month and concluding in 2015. U.S. Navy photo by Petty Officer 1st Class Kenneth W. Robinson







Canteen Mission Statement
Showing support and boosting the morale of
our military and our allies' military
and family members of the above.
Honoring those who have served before.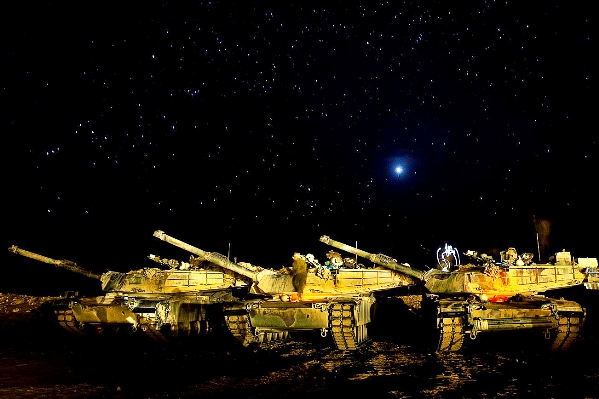 ABRAMS CLEANING
U.S. Marines clean their M1A1 Abrams battle tanks at Marine Corps Forces Africa, April 13, 2012, after a day of training during Exercise Africa Lion 2012. Sponsored by U.S. African Command and led by Marine Forces Africa, the exercise involved various types of training and peace keeping operations. U.S. Marine Corps photo by Cpl. Tyler L. Main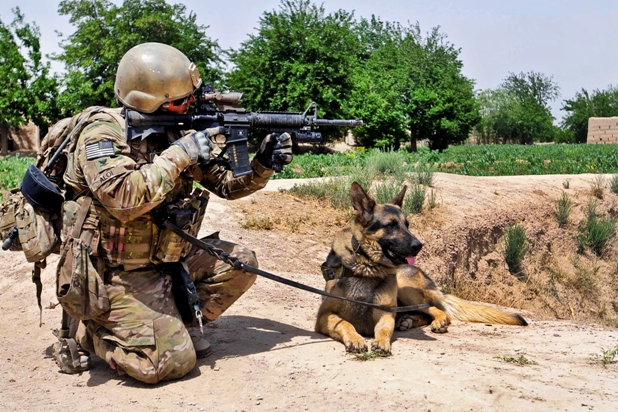 PATROL PARTNERS
U.S. Navy Petty Officer 2nd Class Nickolas Aloi provides security for other soldiers as his military working dog looks on during Operation Eagle Mountain in Didar, Afghanistan, April 14, 2012. Aloi is assigned to Company B, 5th Battalion, 20th Infantry Regiment. The operation's purpose was to clear the town of improvised explosive devices, and provide security to the town through U.S. and Afghan presence. U.S. Army photo by Sgt. Marc Loi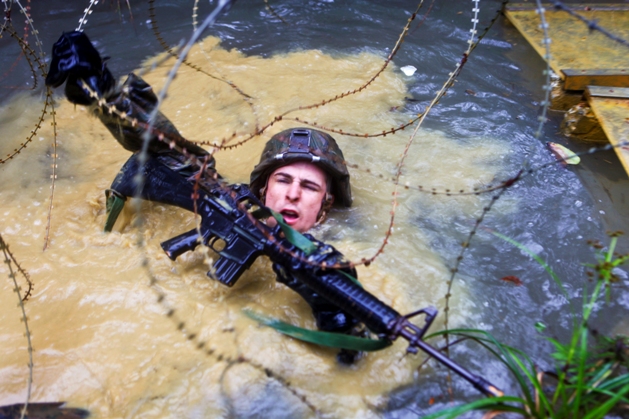 JUNGLE COURSE
A U.S. Marine crawls through a watery ditch and under concertina wire during a jungle endurance course on Camp Gonsalves, Okinawa, April 20, 2012. After completing a two-week training evolution at the Jungle Warfare Training Center, the Marines took the four-mile-long course through the Okinawan jungle, using rappelling, rope-crossing and other skills they learned. U.S. Marine Corps photo by Cpl. Jonathan G. Wright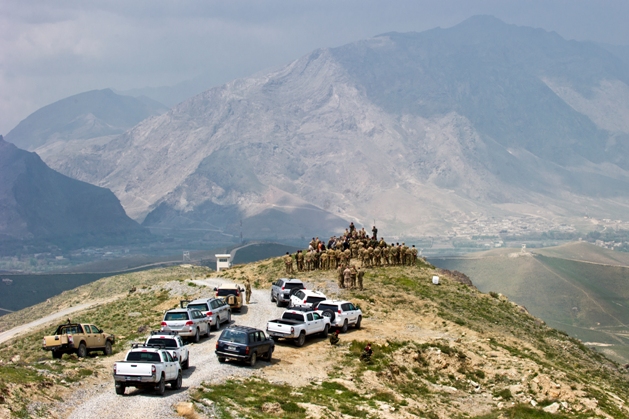 MOUNTAIN MESSAGE
U.S. Army Gen. Martin E. Dempsey, chairman of the Joint Chiefs of Staff, receives a mountaintop brief from U.S. and Afghan special forces on Camp Morehead, Afghanistan, April 23, 2012. DOD photo by D. Myles Cullen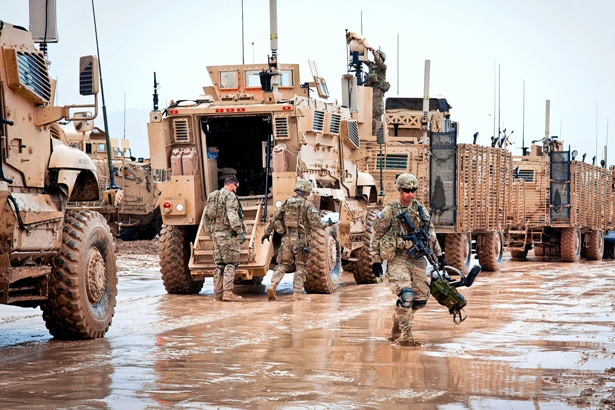 RAINY DAY PATROL
U.S. Army Staff Sgt. Joshua Devoe and other paratroopers return to Forward Operating Base Arian from a patrol in the rain along Highway 1 in Afghanistan's southern Ghazni province, April 20, 2012. U.S. Army photo by Sgt. Michael J. MacLeod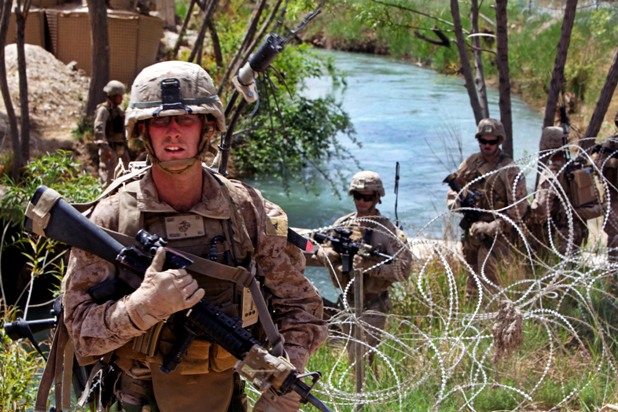 RIVER ROUTE
U.S. Marine Corps Lance Cpl. Daniel Grant departs Patrol Base Virginia, an Afghan National Civil Order Police position in Kajaki, Afghanistan, April 14, 2012, as his squad begins a foot patrol. Grant, a rifleman, is assigned to Weapons Company, 1st Battalion, 8th Marine Regiment. The Marines recently transitioned security authority for the area to Afghan forces. U.S. Marine Corps photo by Lance Cpl. Tyler Reiriz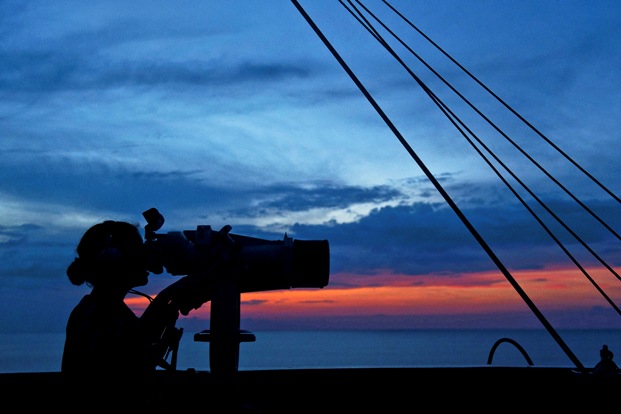 SUNSET WATCH
U.S. Navy Seaman Sara Schmid stands watch on the signal bridge as the sun sets aboard the aircraft carrier USS Carl Vinson under way in the Indian Ocean, April 15, 2012. U.S. Navy photo by Petty Officer 2nd Class James R. Evans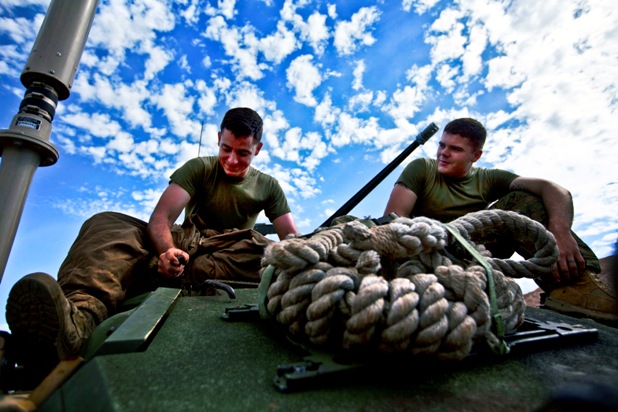 ARMOR CLEANING
U.S. Marine Corps Cpls. Zachary Hinna, left, and Bradley Engelman, right, clean a light armored vehicle at Camp Pendleton, Ca., April 21, 2012. The Marines serve with Battalion Landing Team 3/1, as the ground combat element for the 11th Marine Expeditionary Unit. U.S. Marine Corps photo by Sgt. Elyssa Quesada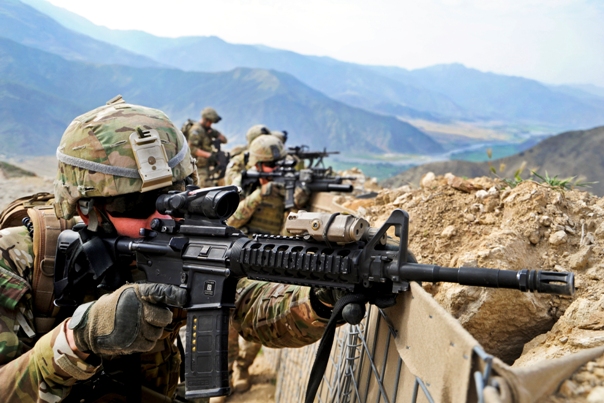 FIREFIGHT
U.S. Army Spc. Timothy Shout uses his weapon's scope to scan the nearby ridge following an engagement with anti-Afghan forces on Forward Operating Base Wright in Afghanistan's Kunar province, April 19, 2012. Shout is assigned to the Provincial Reconstruction Team Kunar security forces. The unit took small-arms fire during a routine patrol and suppressed the enemy with the assistance from Afghan troops. U.S. Air Force photo by Tech. Sgt. Christopher Marasky

Please remember that The Canteen is here to support
and entertain our troops and veterans and their families,
and is family friendly.