---
To: izzatzo; Jeff Head; maica; Freee-dame
Forget the bogus gay crap, it's not needed. Here is the real story.
Dirty Harry Reid: The Mafia's "Mr. Clean Face" on the Nevada Gaming Commission
Reid is so mobbed up that he's a walking, talking blackmail machine. Axlerod and Rhambo could order him to tar and feather himself and walk naked down Pennsylvania Ave and he would do so instantly.
Read Freeper Fedora's excellent investigative thread to understand this human slimeball, and why he is willing to be a tool: he has NO CHOICE.
Mr. Cleanface's Dirty Laundry: Harry Reid's Mob Money. (Original FReeper research 01/20/2006 by Fedora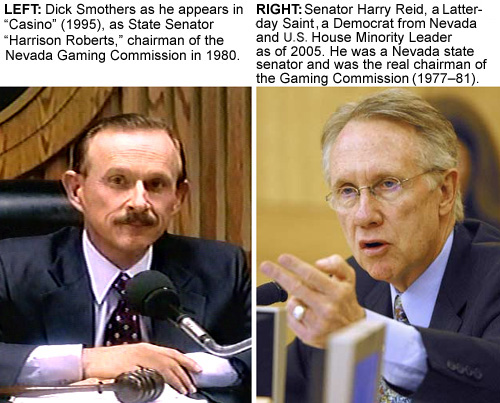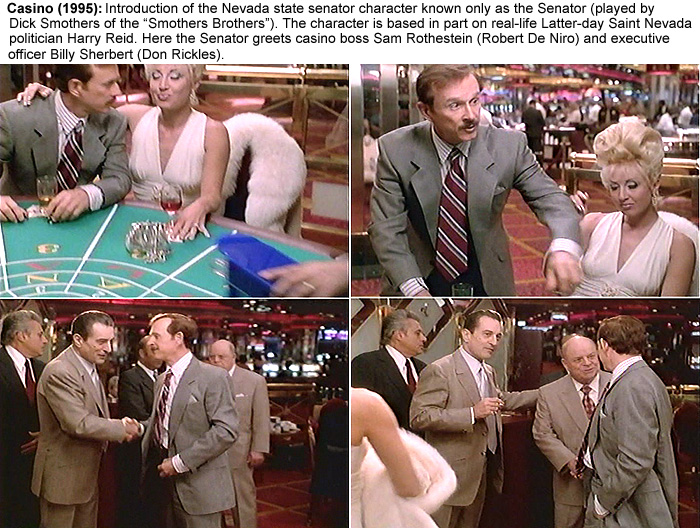 35
posted on
08/03/2012 3:56:14 PM PDT
by
Travis McGee
(www.EnemiesForeignAndDomestic.com)
---
To: Travis McGee
The Robert DeNiro character was based on real life casino operator Frank Rosenthal.
He died in 2008, but he verified the events in the movie.
Here is his website, which is fascinating:
He knew Harry Reid before Harry Reid was a household name.
The scene in the movie where DeNiro confronts the duplicity of the Senator is classic.
38
posted on
08/03/2012 4:11:09 PM PDT
by
exit82
(Pass the word: Obama is a FAILURE!! Democrats are the enemies of freedom!)
---
To: Travis McGee
In the top right photo, Senator Reid's fingers would be considered by people in many countries to be making an obscene gesture - reminiscent of The Imperial President stroking his nose with his middle finger.
---
FreeRepublic.com is powered by software copyright 2000-2008 John Robinson