---
What makes our NDAA lawsuit a struggle to save the US constitution
Guardian (UK) ^ | 8/10/2012 | Tangerine Bolen


Posted on 08/12/2012 6:08:13 AM PDT by IbJensen

Time after time, Obama's lawyers defending the NDAA's section 1021 affirm our worst fears about its threat to our liberty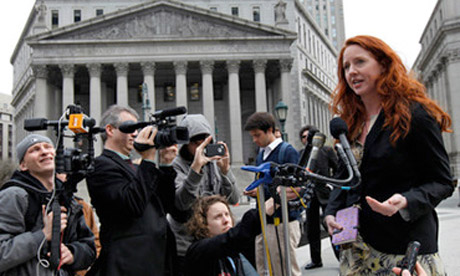 (Activist and reporter Tangerine Bolen, a plaintiff in the case against the NDAA, speaking to the media after a New York judge enjoined section 2012 of the law.)
I am one of the lead plaintiffs in the civil lawsuit against the National Defense Authorization Act, which gives the president the power to hold any US citizen anywhere for as long as he wants, without charge or trial.
In a May hearing, Judge Katherine Forrest issued an injunction against it; this week, in a final hearing in New York City, US government lawyers asserted even more extreme powers – the right to disregard entirely the judge and the law. On Monday 6 August, Obama's lawyers filed an appeal to the injunction – a profoundly important development that, as of this writing, has been scarcely reported.
In the earlier March hearing, US government lawyers had confirmed that, yes, the NDAA does give the president the power to lock up people like journalist Chris Hedges and peaceful activists like myself and other plaintiffs. Government attorneys stated on record that even war correspondents could be locked up indefinitely under the NDAA.
Judge Forrest had ruled for a temporary injunction against an unconstitutional provision in this law...
-snip-
Most incredibly, Obama's attorneys refused to assure the court, when questioned, that the NDAA's section 1021 – the provision that permits reporters and others who have not committed crimes to be detained without trial – has not been applied by the US government anywhere in the world ...
-snip-
To this, Judge Forrest responded that if the provision had indeed been applied, the United States government would be in contempt of court.
=snip-

(Excerpt) Read more at guardian.co.uk ...
---
TOPICS: Constitution/Conservatism; Crime/Corruption; Government; News/Current Events
KEYWORDS: ndaa
---
Navigation: use the links below to view more comments.
first 1-20, 21 next last
---
---
---
---
---
---
---
---
---
Comment #9 Removed by Moderator
---
---
---
---
---
---
---
---
---
---
---
---
Navigation: use the links below to view more comments.
first 1-20, 21 next last
---
---