---
Felon Farmers? Law Criminalizes Legitimate Businesses
CBN ^ | September 03, 2012 | Paul Strand


Posted on 09/06/2012 6:05:00 AM PDT by CaptainKrunch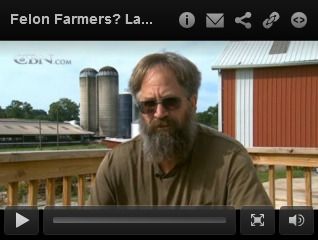 MIDDLETON, Md. -- With at least 4,500 federal laws existing today, some of the most unlikely people are finding themselves charged with crimes and breaking laws they didn't know existed.
Such is the case of two Maryland farm families who ran afoul of the "Bank Secrecy Act," which farmer Randy Sowers told CBN News he'd never heard of.
Sowers has been farming in the mid-region of Maryland for decades.
"I've been doing this for 31 years and I've put in most days 18 hours or more," he said.
Sowers decided to buck the trend of most farms these days and not work for a major agribusiness, but sell products from his South Mountain Creamery independently.
As products became more popular, the Sowers pulled in thousands of dollars in cash most weekends.
Then in February, the busy farm family discovered federal officials were targeting them with the Bank Secrecy Act, which originally ordered banks to report any cash deposits over $10,000.
The law was meant to nab some of the world's most nefarious characters.
"This law was designed to go after drug dealers, go after terrorists and gun-runners who would take proceeds from illegal sales and launder them through the banks," explained Paul Kamenar, a legal policy consultant who helped the Sowers with their case.
Depositing a Crime
To dodge the law, criminals started salting their ill-gotten cash around in various banks in amounts of less than $10,000. In turn, the feds made that a crime, too, called "structuring" deposits.
Unfortunately, many innocent people also deposit large amounts of completely legal cash in more than one account, like checking, savings, a college fund, or retirement account.
"It's quite natural for members of the public to say, 'Well, look, if I've got a lot of cash, I'll spread it around,'" Kamenar insisted. "But in fact, if those cash deposits add up to more than $10,000, you are inadvertently violating the Bank Secrecy Act."
That's what the Sowers had been doing. David Watt, Sowers' attorney, explained why his client began doing that.
"One day [Randy] goes to his bank and the teller says, 'Hey, listen, if you don't have more than $10,000 to deposit, we the bank don't have to file this report,'" Sowers' attorney David Watt said.
After Sowers made dozens of deposits under $10,000, federal agents suddenly showed up at the farm with chilling news.
"They told me, 'We seized your account' -- $70,000 they pretty much took out of there," Sowers recalled.
---
TOPICS: Crime/Corruption
KEYWORDS: bankaccountseizure; epaoutofcontrol; familyfarms; farmers; farms; under10000
---
---
---
---
---
---
---
---
---
---
---
---
---
---
---
---
---
---
---
---
---
---
---
---
---
---
---
---
---
---
---
---
---
---
---
---
---
---
---
---
---
---
---
---
---
---