---
Russian Supreme Court Says 'Neutral' Gay Information Is Legal
Radio Free Europe Radio Liberty ^ | Sep 14 2012 | Staff


Posted on 09/14/2012 11:23:25 AM PDT by scottjewell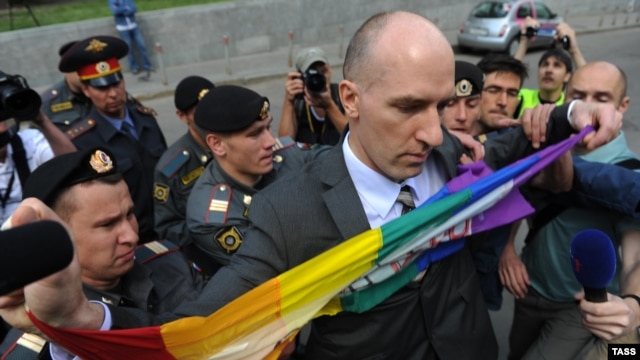 Russia's Supreme Court has ruled that a controversial ban on gay propaganda does not extend to public demonstrations and discussions of gay rights.
In an August 15 ruling posted on the court's website on September 14, the court upheld a regional ban on gay propaganda targeting minors, but said that providing minors with "general" and "neutral" information about gay rights did not fall under the ban.
The ruling follows an appeal by gay-rights activists of a recent ban by lawmakers in Russia's northwest Arkhangelsk Oblast of gay propaganda to minors.
Gay-rights groups have welcomed the ruling, which they say excludes gay-pride parades and other public events from being defined as homosexual propaganda.
The Arkhangelsk ban sparked similar legislation in a number of Russian cities, including St. Petersburg.
The Supreme Court is set to review the St. Petersburg case on October 3.

---
TOPICS: Culture/Society; News/Current Events; Russia
KEYWORDS: homosexualagenda

LGBTs always manage to get the door open just enough so that in the future, they can up the ante. This is where we were in the '70s and '80s.

---
To: scottjewell
Addendum: So Gay Pride marches are neutral???????
---
To: scottjewell
Sounds like the Russian Supreme Court is going to have a change you can believe in during the next few weeks. They had better have a Geiger counter handy when then eat or drink anything.

---
To: scottjewell
I don't think absolute taboos are great. I really don't care about what the gays to do Russia anyway. But there is neutral info and there is propaganda. Most of the crap in reference to LGBT stuff in our schools especially is NOT NEUTRAL it's propaganda. Young children don't neeed to be made aware of homosexuality at 5-6-7 years old. I kind of had an idea what a sissy was at 7 or so, but 2 people committing a homosexual act was way way beyond my awareness. OK I know kids are a lot more sharper than I was centuries ago (LOL) —but still, I believe there are things that should be age appropriate. And beside Gay Pride Marches are not neutral. OK you're gay, you prefer to go to bed with your own gender. Do you really need to have a parade about it? I advocate the Chocolate Lovers Parade!
4
posted on
09/14/2012 11:50:32 AM PDT
by
brooklyn dave
( OBAMA IS A SOCIALIST PERIOD.)
---
FreeRepublic.com is powered by software copyright 2000-2008 John Robinson