---
To: Sarah Barracuda
I like the trend line in this poll. It shows Romney moving up and Obama moving down over the last seven days. On Sept. 13th this same poll had Obama 50%, Romney 44%.
Like you say, this is RV's, so it's skewed to Obama.
In 1980, Gallup had Carter ahead of Reagan by 4 points in mid September and ahead by 8 points October 1st! As we know, Reagan won by 9 points and carried 44 states.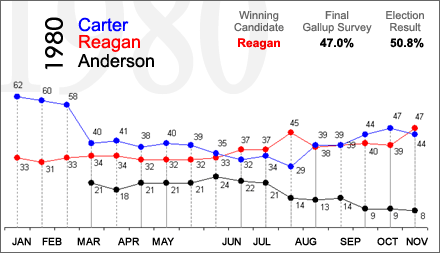 ---
To: smoothsailing
I knew last week's Gallop poll was total BS, especially after I heard how Axelrod threatened them. Another poll that I find interesting is how 55 percent of this country believe we are on the wrong track. So I am supposed to believe that 55 percent of Americans believe that this country is on the wrong track yet they will vote for Obama anyway? Its not possible, they think he sucks but will give him another shot at it LOL
It will come down to the debates(especially the 1st one) if Romney can kick Obama's ass he will become President. He has to show why he would make a better leader, how he will make this country better. That is how Reagan won, everyone had Carter winning til that debate, then BAM total Reagan landslide. Even though the media will say that Obama won the debate it wont matter what they say, if Romney can resonate with the American people and give his plan to fix this economy he wins
---
FreeRepublic.com is powered by software copyright 2000-2008 John Robinson