~ The FReeper Canteen Presents ~
~ Remembering Our Troops!! ~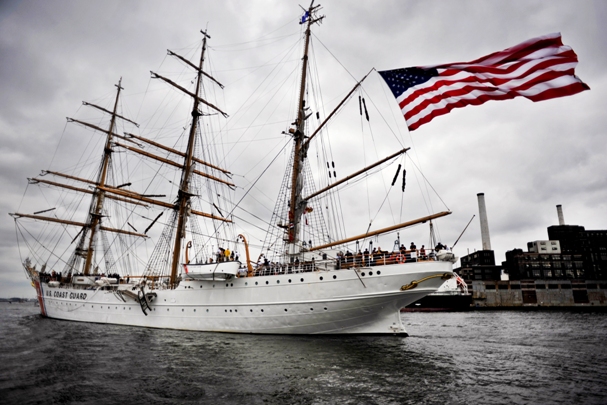 AMERICA'S EAGLE
The Coast Guard Cutter Eagle, America's Tall Ship, passes the Domino Sugar plant as it departs the Baltimore Harbor, June 17, 2012, to continue its participation in OpSail 2012. The Eagle is an 1,800-ton steel hull, three-masted sailing ship with more than 21,000 square-feet of sail and more than five miles of rigging. U.S. Coast Guard photo by Petty Officer 3rd Class Matthew S. Masaschi







Canteen Mission Statement
Showing support and boosting the morale of
our military and our allies' military
and family members of the above.
Honoring those who have served before.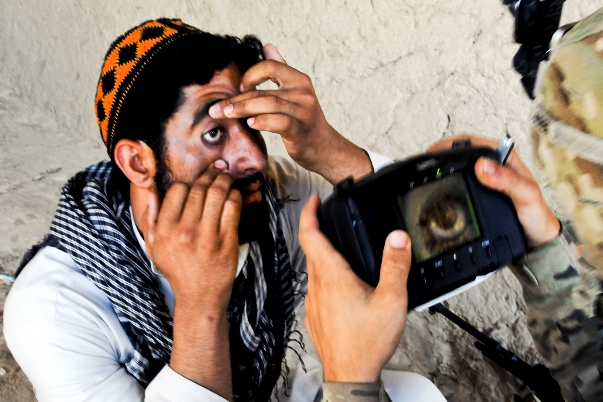 IRIS IMAGE
U.S. Army Pfc. Cory Acres uses a handheld identity detection device to scan the iris of an Afghan man in Afghanistan's Khowst province, June 8, 2012. Acres, a gunner, is assigned to Company B, 1st Battalion, 501st Infantry Regiment. The detection device, part of an interagency system, scans an individual's biographical information and matches it against an internal database. The system allows soldiers in the field to quickly identify whether a person of interest is on a watch list. U.S. Army photo by Staff Sgt. Frank Inman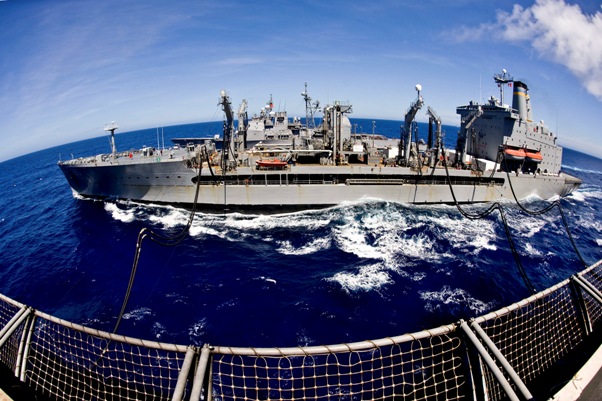 PACIFIC REFUELING
The Military Sealift Command's Fleet Replenishment Oiler USNS Walter S. Diehl sails next to the aircraft carrier USS George Washington during a refueling at sea in the Pacific Ocean, June 15, 2012. The George Washington and embarked Carrier Air Wing 5 provide a combat-ready force to protect and defend the collective maritime interest of the U.S. and its allies. U.S. Navy photo by Petty Officer 3rd Class Paul Kelly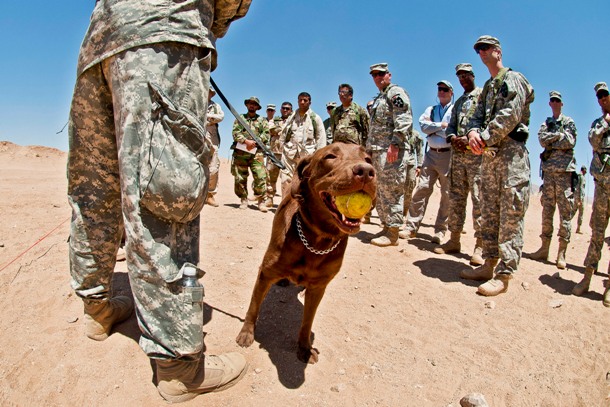 BALL BREAK
Coba, a 3-year-old chocolate lab trained to detect tactical explosives, chews on a tennis ball as David Sheffer, her handler and dog trainer, explains Coba's capabilities at the National Training Center on Fort Irwin, Calif., June 14, 2012. Soldiers assigned to the 2nd Division's 4th Stryker Brigade, role players and government civilians watched the demonstration. Brigade members will select handlers to lead a similar dog in Afghanistan when they deploy this fall. U.S. Army photo by Sgt. Christopher M. Gaylord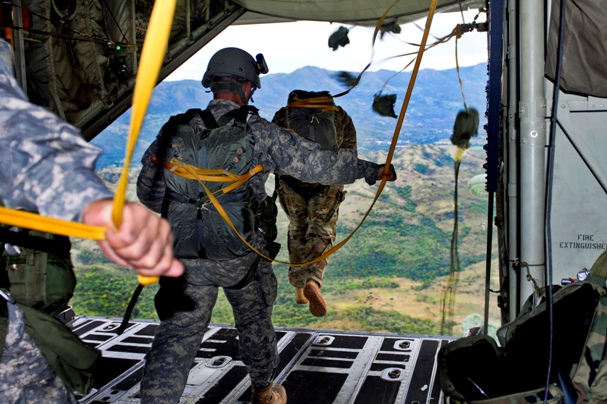 C-130 JUMP
Competitors from multinational special operations teams, including those from the United States, conduct a static line jump from a C-130 aircraft during Fuerzas Comando 2012 at the Colombian National Training Center on Fort Tolemaida, Colombia, June 13, 2012. U.S. Southern Command sponsored the competition. U.S. Army photo by Sgt. Christopher Vann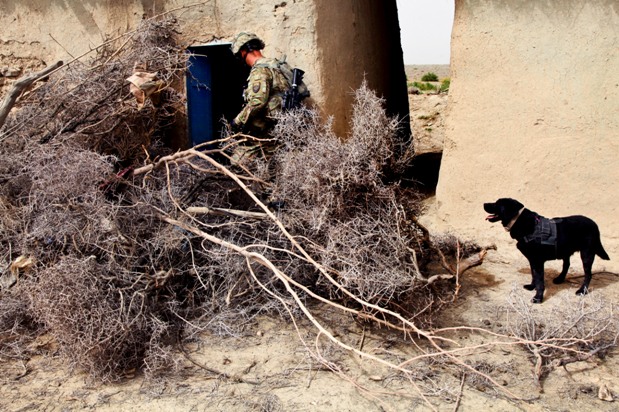 COMPOUND COVER
A U.S. Air Force Senior Airman and his military working dog, Pepe, search a compound for contraband items during Operation Southern Strike in Kandahar in Afghanistan's Spin Boldak province, June 6, 2012. U.S. Army photo by 1st Lt. Richard Norris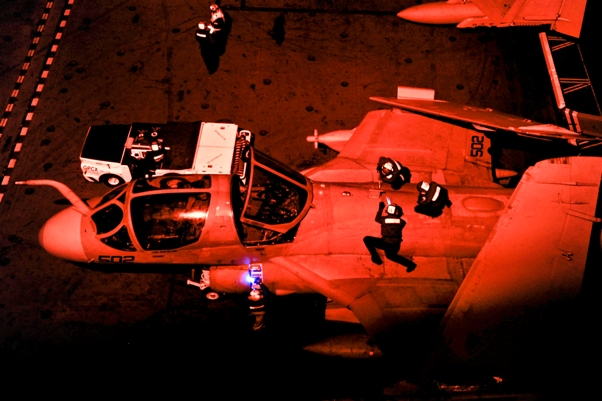 NIGHT PROWLER
U.S. sailors perform maintenance on an EA/6-B Prowler secured to the flight deck of the aircraft carrier USS Nimitz during night operations in the Pacific Ocean, June 16, 2012. The Nimitz is participating in the Rim of the Pacific, the world's largest international maritime exercise. U.S. Navy photo by Petty Officer 3rd Class Ian A. Cotter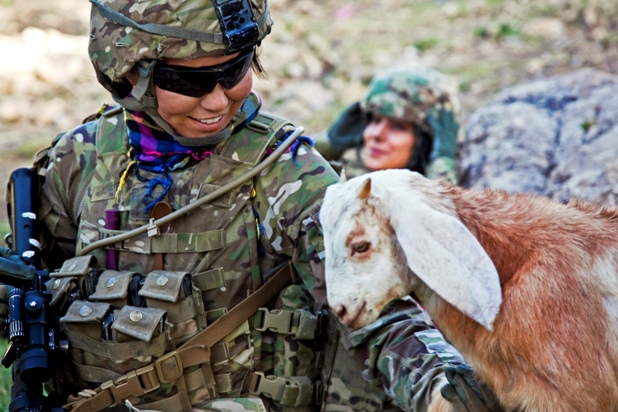 GETTING HER GOAT
U.S. Army Spc. Samantha Hall pets a goat during a patrol in Loy Murghoz in Afghanistan's Khowst province, June 8, 2012. Hall is assigned to 2nd Battalion, 377th Parachute Field Artillery Regiment. U.S. Army photo by Sgt. Kimberly Trumbull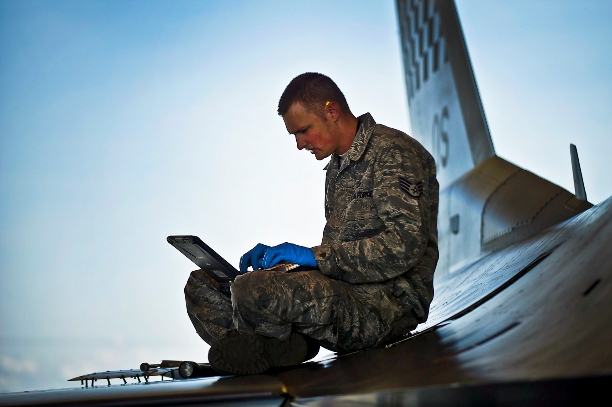 WING WRITER
U.S. Air Force Staff Sgt. James Broome references an electronic technical order for an F-16C Fighting Falcon during Red Flag-Alaska 12-2 on Eielson Air Force Base, Alaska, June 18, 2012. Broome is a crew chief assigned to the 51st Aircraft Maintenance Squadron, Osan Air Base, South Korea. DOD photo by U.S. Air Force Tech. Sgt. Michael R. Holzworth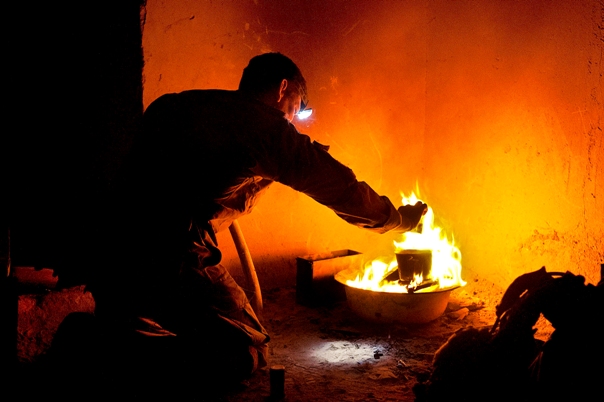 MIDNIGHT SNACK
A U.S. paratrooper heats noodles over a fire on Joint Security Station Hasan in the Gilan district in southern Afghanistan's Ghazni province, June 12, 2012. The soldier is assigned to the 82nd Airborne Division's 1st Battalion, 504th Parachute Infantry Regiment, 1st Brigade Combat Team. U.S. Army photo by Sgt. Michael J. MacLeod

Please remember that The Canteen is here to support
and entertain our troops and veterans and their families,
and is family friendly.