---
Valencia: the ghost city thatís become a symbol of Spainís spending woes
The Telegraph ^ | 9/29/2012 | Fiona Govan


Posted on 09/29/2012 2:27:51 PM PDT by bruinbirdman

Valencia's extravagant spending over the past few years epitomises all that has gone wrong with Spain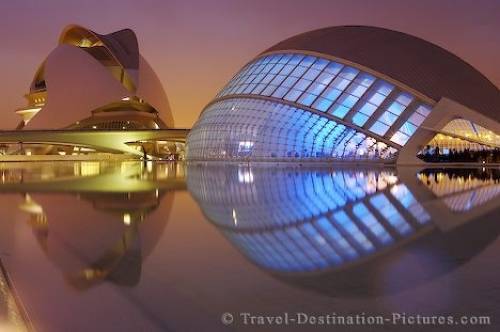 Grand designs: Valencia's futuristic cultural centre looks a little like a blue whale
but has become more of a white elephant
The gleaming metal-clad airport terminal has yet to have a single passenger pass through its doors. Weeds are poking up through the 3,000 yards of virgin runway and above it a shiny new air traffic control centre towers over fruit and olive groves.
This is Castellon Airport in Spain's eastern Valencia region. Eighteen months after it was inaugurated with a price tag of 150 million euros and with no prospect of a commercial flight, it has come to epitomise the vast public overspend that has brought Spain to the brink of seeking a full bailout from Europe.
Over the past decade, the Mediterranean region of Valencia became the beacon of Spain's new economic grandeur, gorging on cheap credit to embark on vastly extravagant projects. But as the central government announced on Thursday its fifth round of budget cuts and tax increases in just nine months, this region also symbolises all that has gone wrong in the country.
Everywhere you look, there are examples of these expensive white elephants that have left Valencia one of the most indebted regions in Spain and the first to go cap-in-hand to Madrid.
An hour south of Spain's newest airport is the city of Valencia, the region's capital, where protests have become almost daily occurrence. A Formula One racing circuit snakes through the streets. From 2008 to 2012, it hosted the European Grand Prix, for which F1 supremo Bernie Ecclestone was paid 20 million euros annually from City Hall coffers. The grand prix has now been dropped from the 2013 season

(Excerpt) Read more at telegraph.co.uk ...
---
TOPICS: Business/Economy; Crime/Corruption; Government; News/Current Events
KEYWORDS:
---
Navigation: use the links below to view more comments.
first 1-20, 21 next last
---
---
---
---
---
---
---
---
---
---
---
---
---
---
---
---
---
---
---
---
---
Navigation: use the links below to view more comments.
first 1-20, 21 next last
---
---