---
To: nuconvert

______________________________________________________________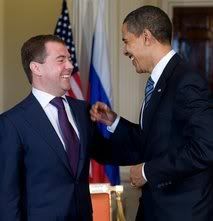 Russia's Medvedev hails "comrade" Obama
Associated Foreign Press (AFP) ^ | April 2, 2009 | Anna Smolchenko
"Russia's Dmitry Medvedev hailed Barack Obama as "my new comrade" Thursday after their first face-to-face talks"
http://www.google.com/hostednews/afp/article/ALeqM5gEo4B1heuBvO6KK7EiBHKigO1UrA
April 1, 2009:
"Obama, Medvedev pledge new era of relations":
http://www.channelnewsasia.com/stories/specialreport/news/419496_88/1/.html

25
posted on
10/06/2012 6:14:49 AM PDT
by
ETL
(ALL (most?) of the Obama-commie connections at my FR Home page: http://www.freerepublic.com/~etl/)
---
To: ETL
I don't need to be convinced that Obama is a Marxist
27
posted on
10/06/2012 6:16:50 AM PDT
by
nuconvert
( Khomeini promised change too // Hail, Chairman O)
---
To: ETL
The first picture - how Obama and Medevdev look earnestly into each other's eyes. Love Marxist-style.
38
posted on
10/09/2012 2:29:15 PM PDT
by
hummingbird
(Shampoo, Rinse. DO NOT REPEAT. REPEAT IS A SCAM!)
---
FreeRepublic.com is powered by software copyright 2000-2008 John Robinson