---
Rebuild America Defeat Obama Tour: Not a Dry Eye in The Place
LloydMarcus.com ^ | 10/09/12 | Lloyd Marcus


Posted on 10/09/2012 7:04:49 AM PDT by Lloyd Marcus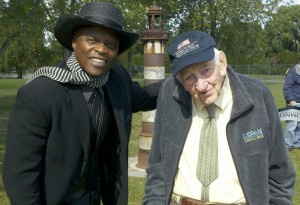 On the Rebuild America Defeat Obama national bus tour, we finale every rally with "God Bless the USA". As the song is sung, vets in the audience are invited on stage. At our rally in Saint Clair Shores, MI, a very frail bent over gentleman, overflowing with dignity, slowly and methodically began making his way to the stage, assisted by his daughter. The old soldier was 92 year old WW II vet, Mr. Roher.
Talk about an amazing moment, there was hardly a dry eye in the audience. Though unspoken, somehow Mr. Roher epitomized the pride, dignity and greatness of America.
The Left relentlessly attempts to brand the Tea Party haters. We are NOT about hate. Quite the opposite. The Tea Party is about love – love for the greatest nation on the planet and a deep desire to restore and preserve it.
A member of our team said Mr. Roher's daughter said she believes her dad is holding on to life until after the election.
Lloyd Marcus, Proud Unhyphenated American
http://www.campaigntodefeatobama.com/rebuild-america-tour/
---
TOPICS: Constitution/Conservatism; News/Current Events; Politics/Elections; US: Michigan
KEYWORDS: defeatobama; lloydmarcus; teaparty; wwiivet



---
To: Lloyd Marcus
Thanks for this inspirational story, Mr. Marcus, and for your work to save the USA in a different kind of war. God bless the TEA Party and grant it much success!
---
To: Lloyd Marcus
Thank you for posting this.
---
To: Lloyd Marcus
Thank you for posting that story
but most of all thank you for the incredible hard work and hard life you have lived for 2 years
travelling around and rallying us to believe we can make a difference and we can get our country back.
You saw some of your work rewarded with the 2010 elections
I think you will see more reward Nov.
this isn't enough
but
THANK YOU!
---
To: Lloyd Marcus
Lloyd, Please call Stacey Dash if you haven't already. Thank You!

---
To: Lloyd Marcus
Nothing will stop Mr. Roher from voting. God Bless this hero!
---
FreeRepublic.com is powered by software copyright 2000-2008 John Robinson