---
To: Lucky9teen
144
posted on
10/16/2012 3:36:50 PM PDT
by
ETL
(ALL (most?) of the Obama-commie connections at my FR Home page: http://www.freerepublic.com/~etl/)
---
To: ETL
That is hilarious!! Imagine Obamaphone Lady's voice coming out of Big Bird's mouth.
And she actually does sound a lot like Cookie Monster.
172
posted on
10/16/2012 3:51:17 PM PDT
by
LostInBayport
(When there are more people riding in the cart than there are pulling it, the cart stops moving...)
---
To: ETL; All
Photo(shop) in search of a caption: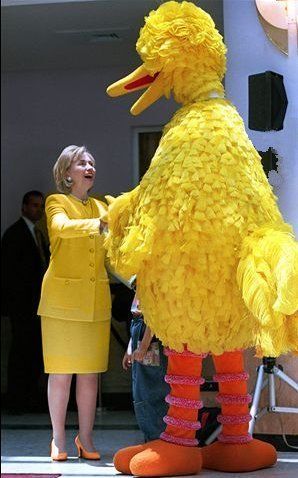 ---
To: ETL
I crack up every time I see that Big Bird graphic with the phone screecher's words coming out of his mouth, LOL.
215
posted on
10/16/2012 4:22:46 PM PDT
by
CatherineofAragon
(Don't be afraid to see what you see. (Ronald Reagan))
---
FreeRepublic.com is powered by software copyright 2000-2008 John Robinson