---
"We have just witnessed a watershed election. The earliest years of the 21st century are rapidly seeing the logic of political and philosophical ideas that, in their origins, were deviations from the truth. We witness not merely a voluntary acceptance of these ideas in the political order through election, but also an abdication of serious reasoning about them in the public order."
Per usual, an excellent analysis from this professor of political philosophy.

---
To: SumProVita
In all the election chaos, has anyone figured out yet what happened to the Catholic (and evangelical Christian) segment of the vote, compared to 2008? Obama ought to have suffered badly there, given the way he has punked the Catholics, a situation which does not make, say, Baptists any happier.
2
posted on
11/11/2012 11:18:47 AM PST
by
HiTech RedNeck
(How long before all this "fairness" kills everybody, even the poor it was supposed to help???)
---
To: SumProVita
Romney would pull in 30,000 supporters for a speech. Obama couldn't fill half a small stadium when he was ALSO offering a free concert. They didn't win the election - unless what you call what a thief does as 'winning'.
4
posted on
11/11/2012 11:48:27 AM PST
by
GOPJ
(Petraeus confession: like something from a 'Soviet purge trial'....)
---
To: SumProVita
We will never ever have a free and fair election again
---
To: SumProVita
We don't know if a revolution against the emerging hard tyranny would be much worse. All of the Eastern bloc and Soviet Union/ Russia improved after the hard line communist regimes were toppled. We also have our own revolution as an example of a positive outcome.
As far as the Weimar Republic was concerned, the socialist leader did institute a temporary military dictatorship when Germany was in the throes of hyperinflation.
That being said, it does appear that 50+% of people in this country do not understand liberty. We also see more polarization among individuals and now even regions. Secession and/or a civil war may be the best outcome. Damn if I'm going to live in a Leftist dictatorship.
8
posted on
11/11/2012 11:53:43 AM PST
by
grumpygresh
(Democrats delenda est; zero sera dans l'enfer bientot)
---
To: SumProVita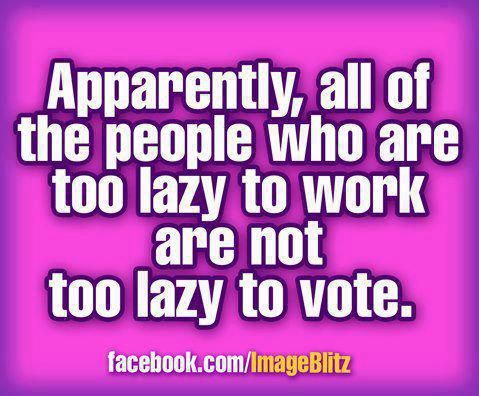 17
posted on
11/11/2012 12:05:57 PM PST
by
timestax
(Why not drug tests for the President AND all White Hut staff ? ? ?)
---
FreeRepublic.com is powered by software copyright 2000-2008 John Robinson