~ The FReeper Canteen Presents ~
~ Remembering Our Troops!! ~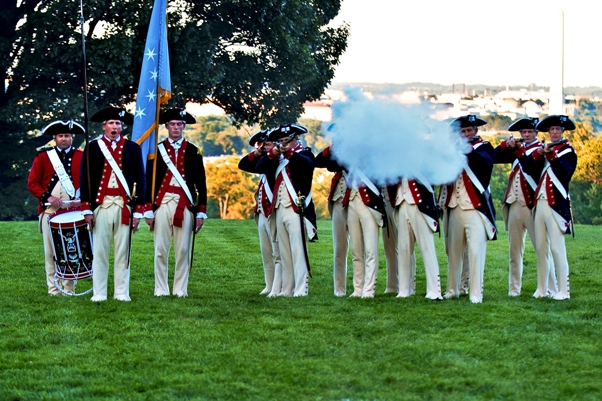 MUSKET FIRE
Army soldiers fire their muskets during Twilight Tattoo at Whipple Field on Joint Base Myer-Henderson Hall in Arlington, Va., July 25, 2012. The soldiers are assigned to the 3rd Infantry Regiment known as "The Old Guard." U.S. Army photo by Staff Sgt. Teddy Wade







Canteen Mission Statement
Showing support and boosting the morale of
our military and our allies' military
and family members of the above.
Honoring those who have served before.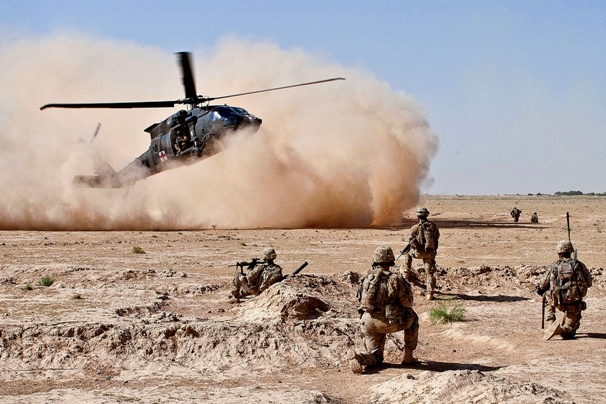 MEDICAL EVACUATION
A UH-60 Black Hawk medical evacuation helicopter lands as U.S. Army paratroopers secure the area in Afghanistan's Ghazni province, July 23, 2012. The soldiers are assigned to the 82nd Airborne Division's 1st Brigade Combat Team and the helicopter crew is assigned to the 82nd Combat Aviation Brigade. The soldiers evacuated a wounded insurgent. U.S. Army photo by Capt. Thomas Cieslak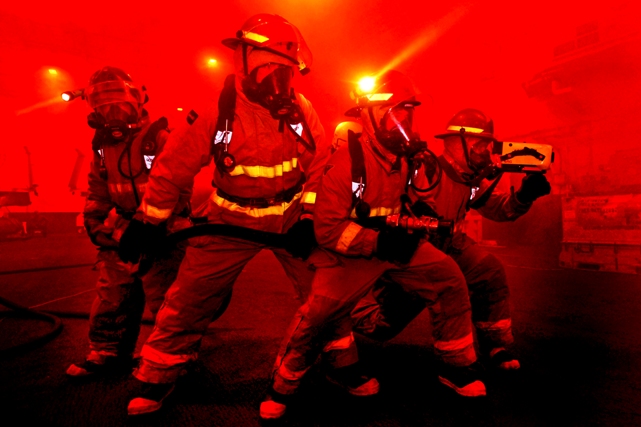 FIREFIGHTING DRILL
U.S. Navy sailors assigned to the aircraft carrier USS Dwight D. Eisenhower practice firefighting during a drill while under way in the Arabian Sea, July 24, 2012. The Eisenhower is deployed to the U.S. 5th Fleet area of responsibility to conduct maritime security operations, theater security cooperation efforts and support missions as part of Operation Enduring Freedom. U.S. Navy photo by Seaman Luis Fiallos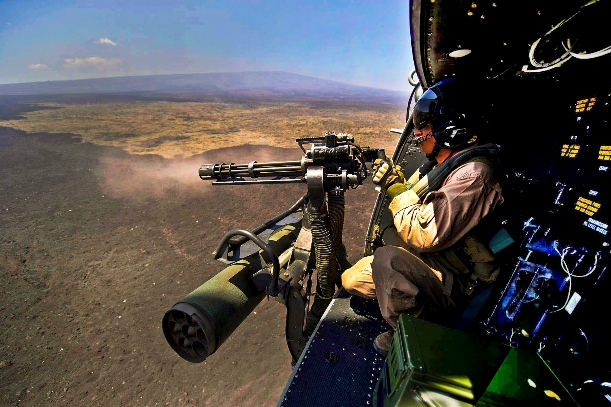 POHAKULOA TRAINING
Marine Corps Cpl. Richard Sippl fires a 7.62mm GAU-17/A Minigun during a live-fire combat training mission during the Rim of the Pacific 2012 over the Pohakuloa Training Area in Hawaii, July 22, 2012. The exercise involves 22 nations, more than 40 ships and submarines, more than 200 aircraft and 25,000 personnel. U.S. Air Force photo by Tech. Sgt. Michael R. Holzworth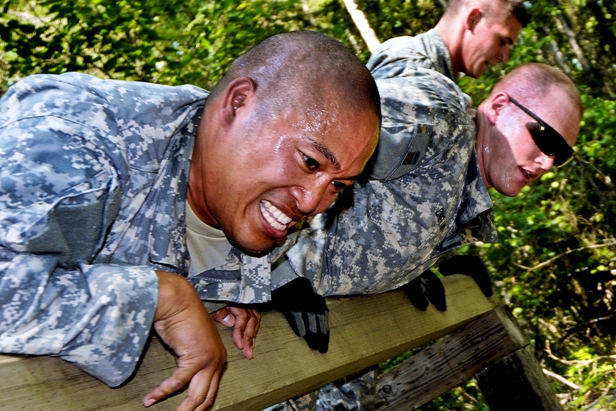 BELLY ROLL RIGOR
Soldiers complete the belly roll obstacle during joint operations at Landing Zone Ranger on Joint Base Elmendorf-Richardson, Alaska, July 19, 2012. The soldiers are assigned to the 95th Civil Support Team, 2nd Engineer Brigade, California Army National Guard. U.S. Air Force photo by Percy Jones
FINAL COORDINATES
Soldiers recieve final firing coordinates and load a round before firing an M777 lightweight howitzer during a mission on Camp Grayling, Mich., July 19, 2012. U.S. Army photo by Staff Sgt. Helen Miller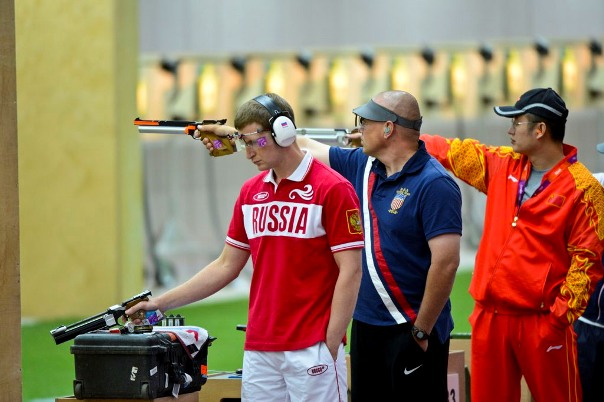 PISTOL SHOOT
U.S. Army World Class Athlete Program pistol shooter Sgt. 1st Class Daryl Szarenski, center, shoots to a 23rd-place finish during the qualification round of the men's 10-meter air pistol event at the 2012 Summer Olympic Games in London, July 28, 2012. U.S. Army photo by Tim Hipps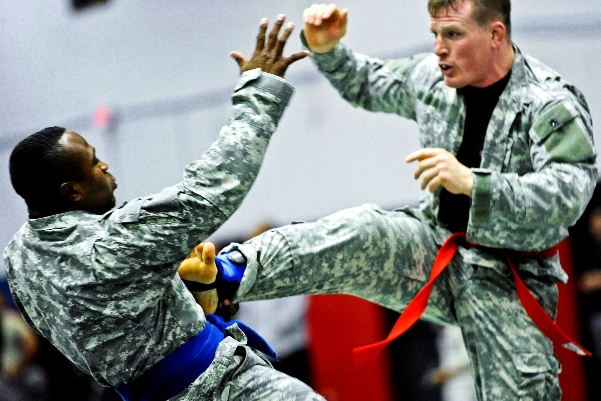 COMBATIVE KICK
Army 1st Lt. Daniel Midgett, right, kicks Army Sgt. 1st Class Jeff Duncan, left, during the 2012 U.S. Army Combatives Championship competition on Fort Hood, Texas, July 26, 2012. DOD photo by EJ Hersom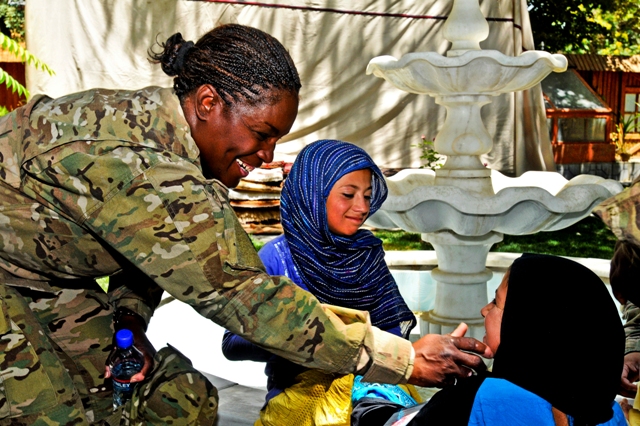 BAZAAR BUDDIES
U.S. Army Master Sgt. Robin Harris visits with Afghan children during the monthly Womens' Bazaar held at the International Security Assistance Force Headquarters in Kabul, Afghanistan, July 28, 2012. Harris is assigned to Task Force Shafafiyat. U.S. Army photo by Sgt. April Campbell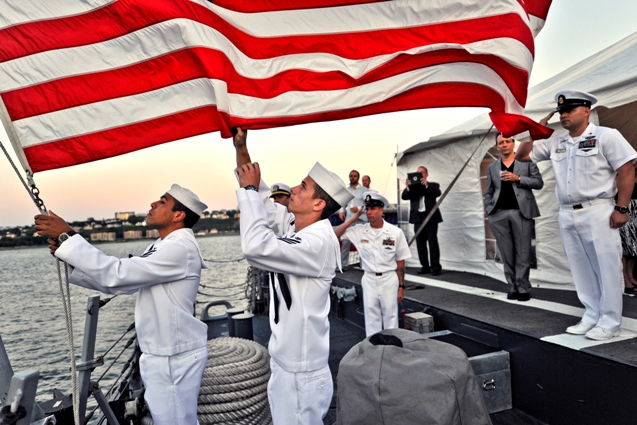 QUEBEC CITY COLORS
U.S. Navy Seaman Franklin Jones, left, and U.S. Navy Seaman Nathan Counts lower the American flag for evening colors during a reception aboard the USS DeWert in Quebec City, July 27, 2012. The DeWert, the USS Hurricane and the Canadian Halifax-class frigate HMCS Ville de Quebec are visiting cities in America and Canada to commemorate the bicentennial of the War of 1812. U.S. Navy photo by Petty Officer 2nd Class Tony D. Curtis

Please remember that The Canteen is here to support
and entertain our troops and veterans and their families,
and is family friendly.