~ The FReeper Canteen Presents ~
~ Remembering Our Troops!! ~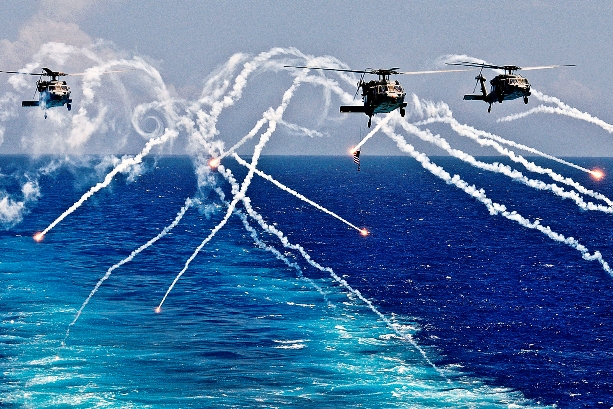 FLARE FIRE
MH-60S Seahawk helicopters fire flares as they approach the aircraft carrier USS Abraham Lincoln under way in the Atlantic Ocean, Aug. 2, 2012. U.S. Navy photo by Seaman Zachary A. Anderson







Canteen Mission Statement
Showing support and boosting the morale of
our military and our allies' military
and family members of the above.
Honoring those who have served before.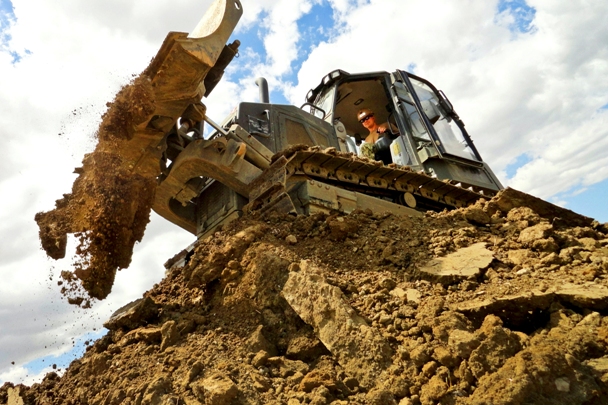 DEMOLITION DIRT
U.S. Navy Petty Officer 3rd Class Kenneth Menzies creates a stockpile of dirt that will be used to fill low spots in a demolition project at Naval Air Station Sigonella, Italy, July 25, 2012. The battalion is an expeditionary naval construction element assigned to U.S. 6th Fleet's Commander, to provide construction, engineering and security services for humanitarian assistance and contingency operations. Menzies is assigned to Naval Mobile Construction Battalion 3. U.S. Navy photo by Petty Officer 3rd Class Keith Roman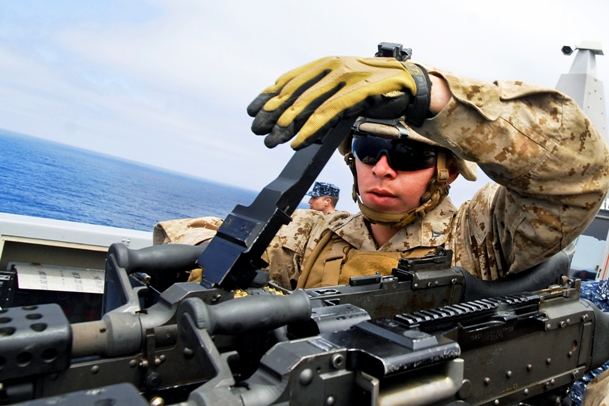 GREEN BAY GUN
Marine Corps Pvt. Seth Stites fires an M-240B machine gun during a live-fire exercise aboard the amphibious transport dock ship USS Green Bay in the Pacific Ocean, July 29, 2012. The Green Bay, part of the Peleliu Amphibious Ready Group, is under way conducting a composite training unit exercise in the Pacific Ocean. U.S. Navy photo by Petty Officer 1st Class Elizabeth Merriam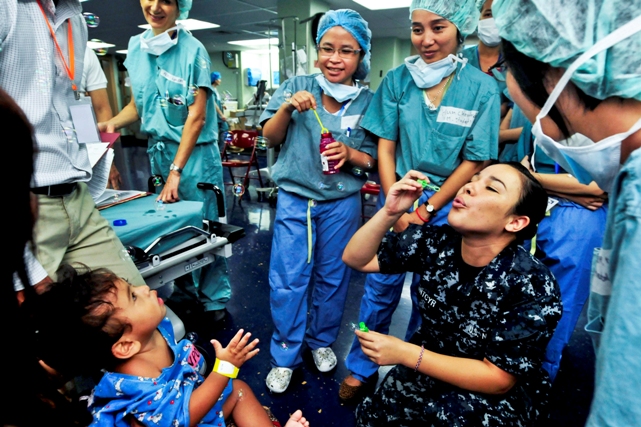 BUBBLE BUDDIES
U.S. Navy Petty Officer 3rd Class Priscilla Saintcyr blows bubbles for a Cambodian boy before surgery aboard the Military Sealift Command hospital ship USNS Mercy during Pacific Partnership 2012 in Sihanoukville, Cambodia, Aug. 1, 2012. Cambodia is the final port for Pacific Partnership 2012, an annual U.S. Pacific Fleet humanitarian and civic assistance mission. Previous stops included Indonesia, the Philippines and Vietnam. U.S. Navy photo by Kristopher Radder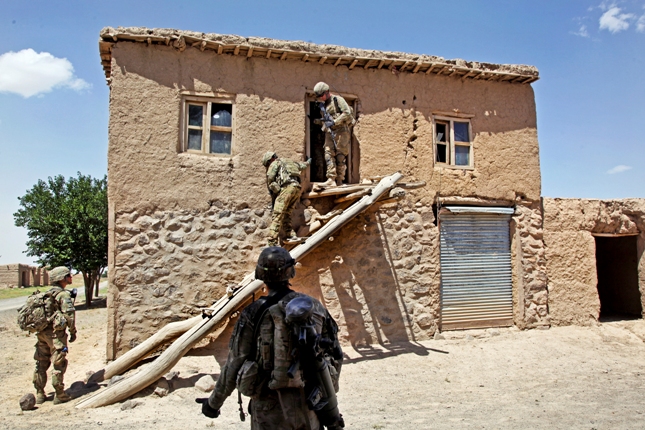 HOUSE SEARCH
U.S. soldiers exit an upstairs door after searching a house in Pana village in Afghanistan's Ghazni province, July 24, 2012. U.S. Army photo by Spc. Andrew Baker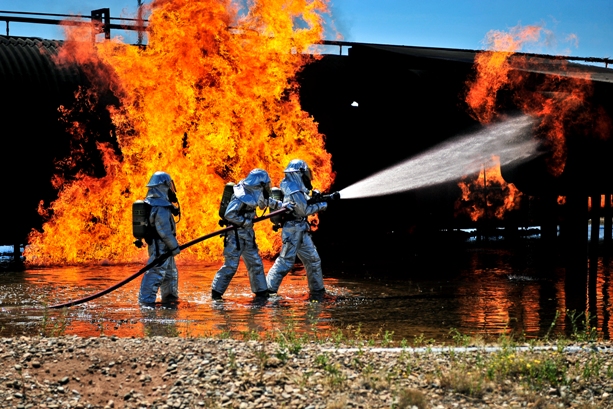 FIRE CONTROL
Firefighters assigned to the 27th Special Operations Civil Engineer Squadron work to extinguish a simulated engine fire on Cannon Air Force Base, N.M., Aug. 2, 2012. U.S. Air Force photo by Airman 1st Class Eboni Reece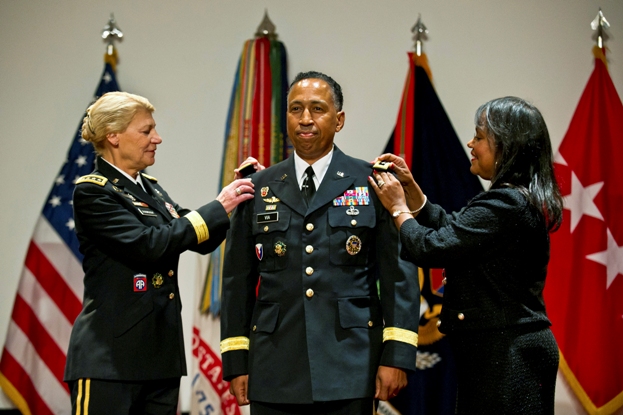 SIGNAL CORPS FIRST
Army Gen. Ann E. Dunwoody, commanding general of Army Materiel Command, promotes Army Lt. Gen. Dennis L. Via to the rank of general during a ceremony at Redstone Arsenal near Huntsville, Ala., Aug. 7, 2012. Via's wife, Linda, right, participated in the ceremony. Via is the first Army Signal Corps officer to achieve that rank. U.S. Army photo by Staff Sgt. Teddy Wade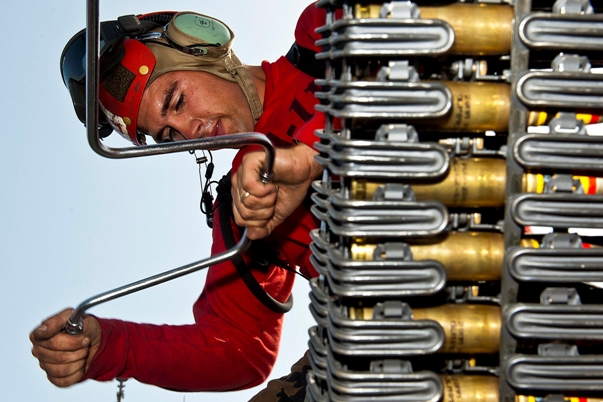 LOADING ROUNDS
Navy Petty Officer 3rd Class John Shalla uploads 20mm rounds into the weapons system of an F/A-18F Super Hornet strike fighter aboard the aircraft carrier USS Enterprise in the Arabian Sea, Aug. 2, 2012. The Enterprise is deployed to the U.S. 5th Fleet area of responsibility to conduct maritime security operations, theater security cooperation efforts and support missions for Operation Enduring Freedom. Shalla is assigned to Strike Fighter Squadron 11. U.S. Navy photo by Petty Officer 3rd Class Scott Pittman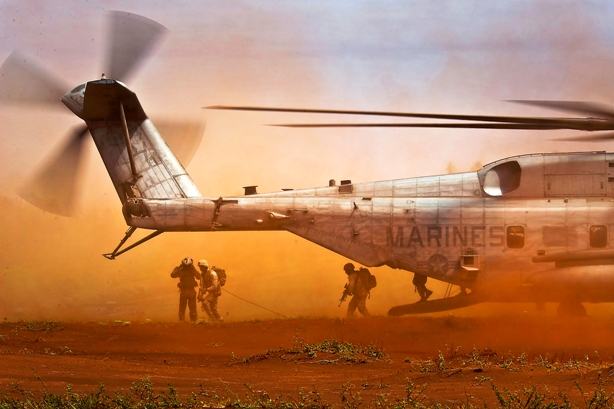 KAHUKU LANDING
U.S. Marines disembark a CH-53E Super Stallion helicopter as it lands at the Kahuku Training Area during Rim of the Pacific 2012 on Oahu, Hawaii, July 31, 2012. The maritime exercise, which involves more than 25,000 people from 22 nations, helps foster and sustain international cooperation on the world's oceans. DOD photo by U.S. Air Force Tech. Sgt. Michael R. Holzworth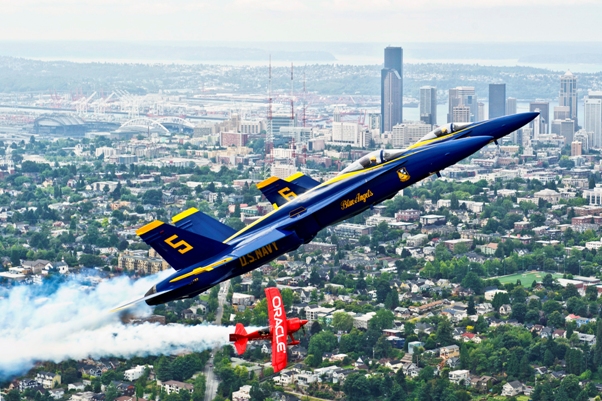 SEAFAIR FLIGHT
Navy Lt. C.J. Simonsen, the pilot in the front aircraft, and Navy Lt. Dave Tickle, the pilot in the rear aircraft, fly in formation with Sean Tucker, a Team Oracle Airshow performer, during Seafair, a summer festival in Seattle, Aug. 2, 2012. Both solo pilots are assigned to the Blue Angels, the U.S. Navy's flight demonstration squadron. U.S. Navy photo by Petty Officer 1st Class Rachel McMarr

Please remember that The Canteen is here to support
and entertain our troops and veterans and their families,
and is family friendly.