---
To: Noamie
24-26 states already have this and are seeing growth in their manufacturing sectors.
This map from the National Right to Work Legal Defense Foundation will soon be updated to include Michigan among the states where the scourge of unionism is held in check.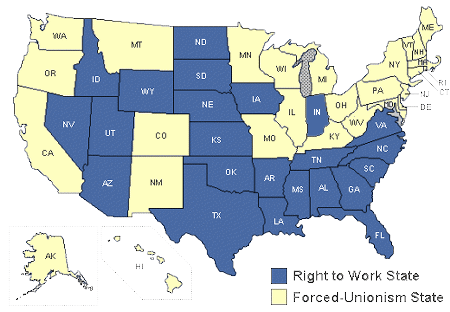 As you so rightly point out, in those regions where Big Labor is a non-factor, the economy flourishes, even under Obama's regime. In particular, the South has long cherished worker freedom and liberty by keeping a close eye on union racketeers. Without the crippling workrules, archaic regulations and confiscatory wages imposed by unions, American enterprise can indeed soar to great heights. It's happened here in Dixie, the economic engine of America, and now Michigan is poised to make the next advance.
Let freedom ring!
---
To: re_nortex
28
posted on
12/11/2012 4:01:23 PM PST
by
cripplecreek
(REMEMBER THE RIVER RAISIN!)
---
To: re_nortex
Wisconsin needs to graduate to full right-to-work. Ohio should pass right-to-work as well. Every state that does it reduces the power of the Dem party.
31
posted on
12/11/2012 4:17:45 PM PST
by
PapaBear3625
(You don't notice it's a police state until the police come for you.)
---
FreeRepublic.com is powered by software copyright 2000-2008 John Robinson