---
Can Jeb Bush sway the GOP on taxes, debt?
CNN ^ | Tuesday, December 11, 2012 | Jeff Smith


Posted on 12/11/2012 7:57:15 PM PST by MinorityRepublican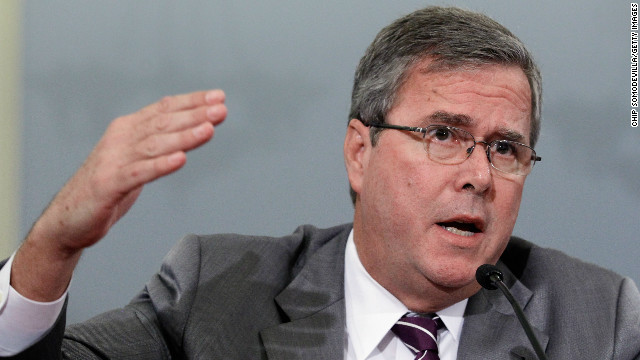 Jeb Bush, former governor of Florida, is a potential GOP candidate for the 2016 presidential election.
(CNN) -- No American family embodies mainstream Republicanism more than the Bushes, noted a New York Times article this year.
For three generations, Bush men have occupied towering positions in the party pantheon, and the party's demographic and ideological shifts can be traced through the branches of the Bush family tree: from Prescott, the blue-blooded Eisenhower Republican, and George H.W. Bush, the transitional figure who tried and failed to emulate the approach of the New Right, to George W. Bush, who embodied the new breed of tax-cutting, evangelical conservatism. Indeed, the Bushes' metamorphosis from genial centrism to deep-fried conservatism has both anticipated and reflected the party's trajectory.
But now, Jeb Bush, a potential 2016 presidential candidate, seems to be bucking the trend. He is seeking to return the party to its ideological moorings -- toward the centrism of his grandfather. Even before the GOP's ignominious defeat in November, Jeb was offering tough love to his party, suggesting that Republicans stand up to Grover Norquist and craft a bipartisan compromise to reduce the deficit significantly. But will Republicans listen? There are many reasons to believe they won't.

(Excerpt) Read more at cnn.com ...
---
TOPICS:
News/Current Events
KEYWORDS:
---
Navigation: use the links below to view more comments.
first 1-20, 21-34 next last
---
---
---
---
---
---
---
---
---
---
---
---
---
Comment #13 Removed by Moderator
---
---
---
---
---
---
---
---
Navigation: use the links below to view more comments.
first 1-20, 21-34 next last
---
---