---
To: JRandomFreeper
I have screamed it on thread after thread.
BHONER HOLDS THE POWER OF THE PURSE.
All the billions to terrorist countries, all the BS spending in Washington DC is all on him and the House GOP.
PERIOD.
If they do not auth the money, or the borrowing, where does Obama get it to do his whatever?
He doesn't.
But no one wants to admit this has ALWAYS been the GOP's problem. Obama can't do poop without them giving him money to wipe with.
---
To: Norm Lenhart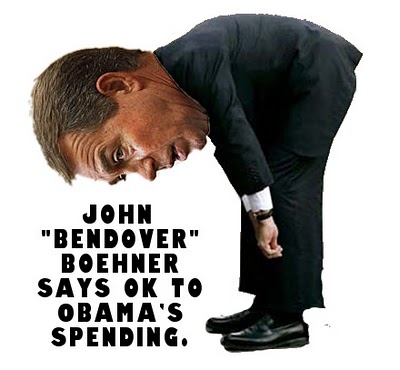 ---
To: Norm Lenhart
So how does it feel to be both singlehandedly, personally responsible for the failure of western civilization, while also being just another right-winger that is shouting in the wind that will have no effect?
The shills have told me both in the same post, right here on FR.
I smell fear.
/johnny

---
FreeRepublic.com is powered by software copyright 2000-2008 John Robinson