~ The FReeper Canteen Presents ~
~ Remembering Our Troops!! ~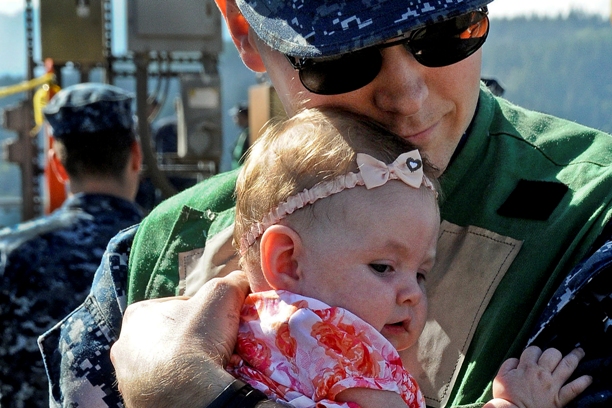 FIRST TOUCH
Navy Petty Officer 1st Class John Hagenbrock holds his 7-week-old daughter for the first time after USS Louisiana's return from a strategic deterrent patrol in Bangor, Wash., Aug. 20, 2012. Hagenbrock is assigned to the ballistic missile submarine USS Louisiana. U.S. Navy photo by Lt. Ed Early







Canteen Mission Statement
Showing support and boosting the morale of
our military and our allies' military
and family members of the above.
Honoring those who have served before.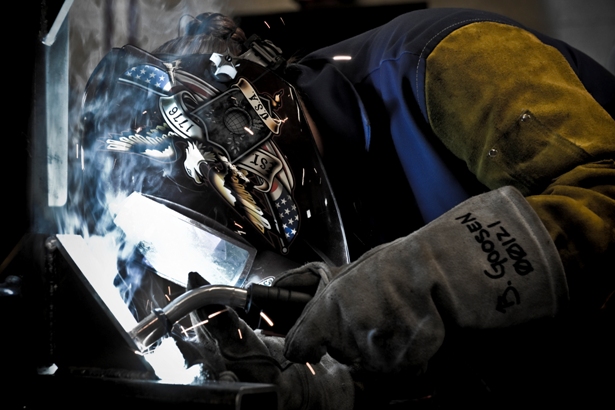 WELDER'S WORLD
Air Force Airman 1st Class Brooke Goosen welds a Y-stand for holding munitions on Dyess Air Force Base, Texas, Aug. 14, 2012. Goosen, the only woman out of 28 airmen in the Dyess metal shop, is assigned to the 7th Equipment Maintenance Squadron and has more than seven years of experience in welding. U.S. Air Force photo by Airman 1st Class Jonathan Stefanko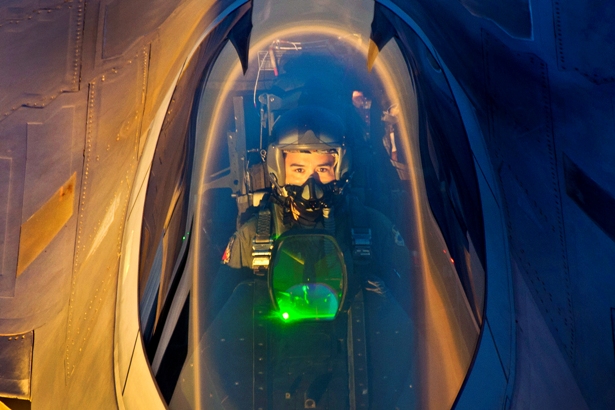 OVERHEAD VIEW
An F-22 Raptor pilot flies behind a KC-135 Stratotanker aircraft after an air refueling mission to support the Brooklyn Cyclone flyover during Air Force Week in New York, Aug. 21, 2012. The pilot is assigned to Tyndall Air Force Base, Fla., and the aircraft crew is assigned to Altus Air Force Base, Okla. U.S. Air Force photo by Airman 1st Class Kenneth Norman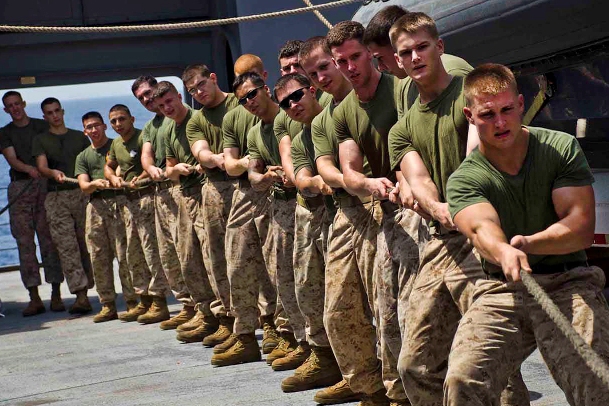 MESSENGER LINE
U.S. Marines heave a messenger line from the dock ship USS New York during a replenishment at sea with the Military Sealift Command fleet replenishment oiler USNS Rappahannock in the Gulf of Aden, Aug. 20, 2012. The New York, part of the Iwo Jima Amphibious Ready Group, is deployed to support maritime security operations and theater security cooperation. The Marines are assigned to the 24th Marine Expeditionary Unit. U.S. Navy photo by Seaman Cyrus Roson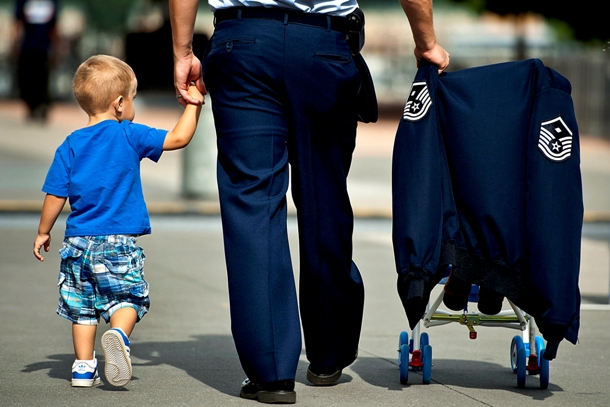 FATHER AND SON
Air Force 1st Sgt. George Baker walks with his son, Hunter, 2, through the exhibit area on Pier 86 during Air Force Week 2012 in New York, Aug. 19, 2012. Baker is assigned to the 313th Recruiting Squadron. U.S. Air Force photo by Senior Airman Andrew Lee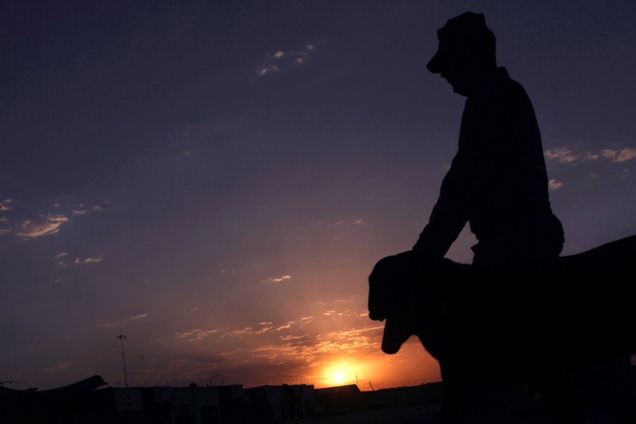 DAY'S END
U.S. Marine Corps Lance Cpl. Timothy McGuire walks with his military working dog after completing a detection exercise on Forward Operating Base Geronimo in Afghanistan's Helmand province, Aug. 16, 2012. McGuire, a military working dog handler, is assigned to Lima Company, 3rd Battalion, 8th Marine Regiment, Regimental Combat Team 6. The handlers conducted the training to sharpen the skills of their dogs in locating improvised explosive devices on the battlefield. U.S. Marine Corps photo by Lance Cpl. Cesar N. Contreras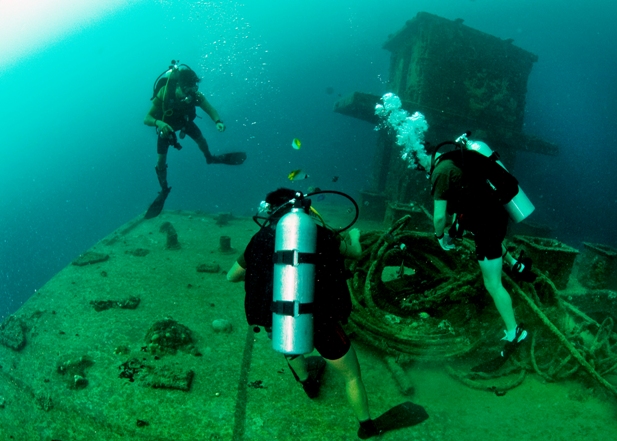 DEEP DIVE
U.S. Navy Petty Officer 2nd Class Justin Westbrook, right, and Singapore navy explosive ordnance disposal technicians conduct a familiarization dive during Tricrab 2012 in Guam, Aug. 23, 2012. The exercise focuses on strengthening relationships within the Asia-Pacific region through training and information exchanges to enhance disposal and diving related interoperability. Westbrook is a technician assigned to Explosive Ordnance Disposal Mobile Unit 5. U.S. Navy photo by Petty Officer 2nd Class Martin Carey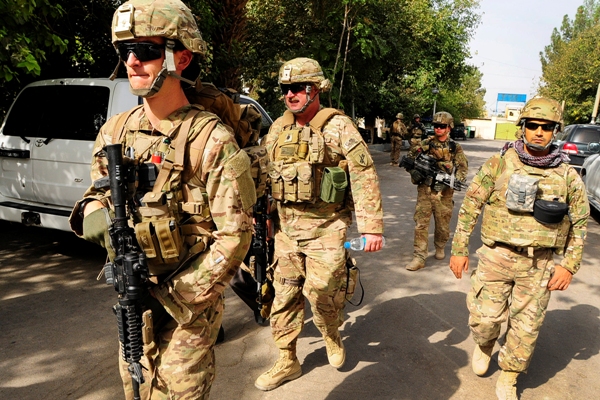 FARAH CITY SECURITY
U.S. Army Cpl. Jacob Bath, left, provides security as leaders gather for a meeting in Farah City in Afghanistan's Farah province, Aug. 27, 2012. Bath is assigned to Provincial Reconstruction Team Farah. U.S. Army Lt. Col. Anthony Ulrich, center, attended the meeting. U.S. Navy photo by Lt. Benjamin Addison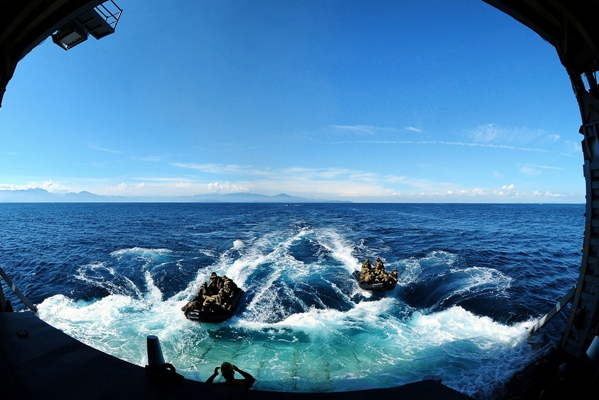 WELL DECK VIEW
Marines approach the well deck of amphibious dock landing ship USS Tortuga after conducting open ocean operations using combat rubber crafts in Okinawa, Japan, Aug. 25, 2012. The Tortuga is a part of the only forward-deployed amphibious ready group. The Marines are assigned to the 31st Marine Expeditionary Unit. U.S. Navy photo by Seaman Chelsea Mandello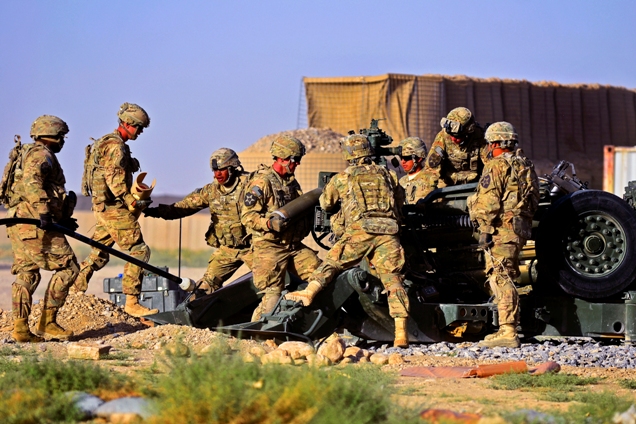 AL MASAAK ARTILLERY
U.S. Army soldiers load a 155 mm artillery shell into an M777 howitzer on Forward Operating Base Al Masaak in southern Afghanistan, Aug. 21, 2012. The soldiers are assigned to the 2nd Infantry Division's Charlie Battery, 1st Battalion, 37th Field Artillery Regiment, 3rd Stryker Brigade Combat Team. U.S. Army photo by Lt. Col. Daniel F. Bohmer

Please remember that The Canteen is here to support
and entertain our troops and veterans and their families,
and is family friendly.