---
To: bgill
This was real since the photographers were already there covering the school event.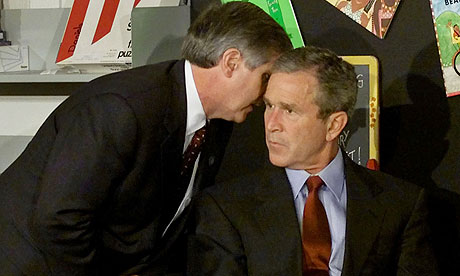 Bush still got slammed for not freaking out like some drama queen and instead acting presidential. You can't win with these folks...
25
posted on
01/04/2013 1:43:48 PM PST
by
TSgt
(...voters discover that they can vote themselves generous gifts from the public treasury.)
---
To: TSgt
Oh gosh, I got a cold chill up my spine seeing that picture again.
28
posted on
01/04/2013 1:47:41 PM PST
by
tuffydoodle
(Shut up voices, or I'll poke you with a Q-Tip again.)
---
To: TSgt
Men who fly these sorts of thing:
learn not to 'freak out'.
Driving the 'Choom Wagon" doesn't instill the same sort of discipline.

34
posted on
01/04/2013 2:03:00 PM PST
by
ArrogantBustard
(Western Civilization is Aborting, Buggering, and Contracepting itself out of existence.)
---
To: TSgt
That is the photo I've been thinking of. Bush looks engaged with his staffer.
Obama looks like he's sleeping. So, he closes his eyes. That says nothing.
The eyes show the soul. Obama closes his and cross ankled leans on the couch. Bush's eyes are aflame - no doubt he was taking info in and making next steps in his mind.
Bush is criticized for continuing to read the children's book to conclusion.
What should he do? Get hysterical? Walk out on the kids? Scare the kids getting hysterical and walking out before finishing a children's story.
He probably didn't want to freak them out. How long would it take to finish reading a children's book.
He was roundly criticized but, for the sake of these children, I think he did just the right thing. After finishing the story, he got on to the business of what had been laid on his and the country's shoulders.

40
posted on
01/04/2013 2:25:16 PM PST
by
hummingbird
(Support Hummingbird Migration!)
---
To: TSgt
That is a picture of a sincere, decent man who actually loves his country. The look on his face conveys the gravity of the situation.
And no, he didn't run around panicked in front of a group of schoolchildren. He is a leader.
I thought liberals were "all about the children." Would they have preferred that President Bush have frightened them? Apparently so.
---
To: TSgt
44
posted on
01/04/2013 2:29:58 PM PST
by
hummingbird
(Support Hummingbird Migration!)
---
FreeRepublic.com is powered by software copyright 2000-2008 John Robinson