---
Anti-Gun Zealot Michael Moore Endorses Shoot-Em-Up Film, 'Django Unchained'
Twitchy ^ | January 6, 2012 | Twitchy Staff


Posted on 01/07/2013 2:59:35 PM PST by DogByte6RER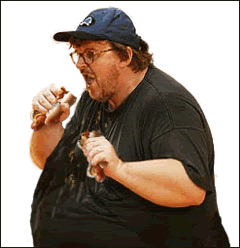 (Via Twitter) Anti-gun zealot Michael Moore endorses shoot-em-up film, 'Django Unchained'
• This weekend, go see "Django". I still can't get this movie outta my head- & I don't want to! Ignore all nonsense u've heard bout "violence"
- Michael Moore
• "Django Unchained" is one of the best film satires ever. A rare American movie on slavery and the origins of our sick racist history. Wow.
- Michael Moore

(Excerpt) Read more at twitchy.com ...
---
TOPICS: Business/Economy; Crime/Corruption; Culture/Society; Miscellaneous; Politics/Elections
KEYWORDS: banglist; bowlingforcolumbine; djangounchained; gunban; hatingamerica; hatingwhitey; helterskelter; hollywood; libtards; michaelmoore; movies; twitter
---
---
---
---
---
---
---
---
---
---
---
---
---
---
---
---