Our Troops Rock! Thank you for all you do!
For the freedom you enjoyed yesterday...
Thank the Veterans who served
in The United States Armed Forces.
Looking forward to tomorrow's freedom? Support The United States
Armed Forces Today!
---
~ Hall of Heroes ~

Daniel Inouye

Info from here.





Daniel Ken "Dan" Inouye (September 7, 1924 – December 17, 2012) was a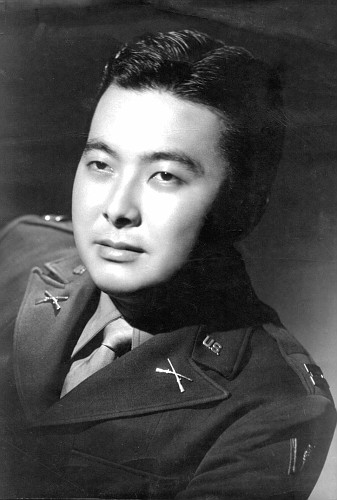 Medal of Honor recipient and a United States Senator from Hawaii, a member of the Democratic Party, and the President pro tempore of the United States Senate from 2010 until his death in 2012, making him the highest-ranking Asian American politician in U.S. history. Inouye was the chairman of the U.S. Senate Committee on Appropriations.
A senator since 1963, Inouye was the most senior U.S. senator at the time of his death. He was also the second-longest serving U.S. Senator in history after Robert Byrd. Inouye continuously represented Hawaii in the U.S. Congress since it achieved statehood in 1959 until the time of his death, serving as Hawaii's first U.S. Representative and later a senator. Inouye was the first Japanese American to serve in the U.S. House of Representatives and later the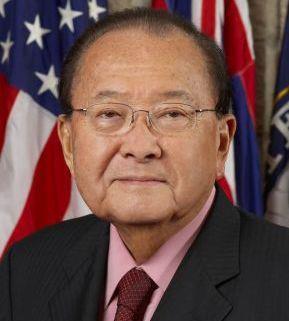 first in the U.S. Senate. Before then, he served in the Hawaii territorial house from 1954 to 1958 and the territorial senate from 1958 to 1959. He never lost an election in 58 years as an elected official. At the time of his death, Inouye was the second-oldest sitting U.S. senator, after Frank Lautenberg of New Jersey.
Because of his seniority, following Senator Byrd's death on June 28, 2010, Inouye became President pro tempore of the Senate; this made him third in the presidential line of succession after the Vice President and the Speaker of the House of Representatives.
Inouye was born on September 7, 1924, in Honolulu, Hawaii, the son of Kame (née Imanaga) and Hyotaro Inouye. He was a Nisei Japanese American, as the son of a Japanese immigrant father and a mother whose parents had also immigrated from Japan. He grew up in the Bingham Tract, a Chinese-American enclave within the predominantly Japanese American community of Mōʻiliʻili in Honolulu. He graduated from Honolulu's President William McKinley High School.
During the Japanese attack on Pearl Harbor in 1941, Inouye served as a medical volunteer.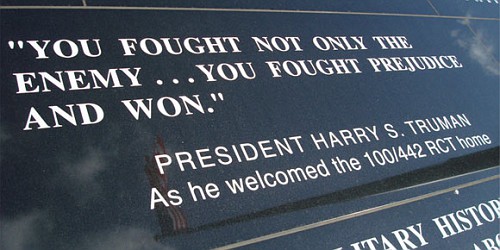 In 1943, when the U.S. Army dropped its enlistment ban on Japanese Americans, Inouye curtailed his premedical studies at the University of Hawaii and enlisted in the Army. He volunteered to be part of the all-Nisei 442nd Regimental Combat Team. This army unit was mostly made up of second-generation Japanese Americans from Hawaii and the mainland.
Inouye was promoted to the rank of sergeant within his first year, and he was given the role of platoon leader. He served in Italy in 1944 during the Rome-Arno Campaign before his regiment was transferred to the Vosges Mountains region of France, where he spent two weeks in the battle to relieve the Lost Battalion, a battalion of the 141st Infantry Regiment that was surrounded by German forces. He was promoted to the rank of second lieutenant for his actions there. At one point while he was leading an attack, a shot struck him in the chest directly above his heart, but the bullet was stopped by the two silver dollars he happened to have stacked in his shirt pocket. He continued to carry the coins throughout the war in his shirt pocket as good luck charms until he lost them shortly before the battle in which he lost his arm.
On April 21, 1945, Inouye was grievously wounded while leading an assault on a heavily-defended ridge near San Terenzo in Tuscany, Italy called Colle Musatello. The ridge served as a strongpoint along the strip of German fortifications known as the Gothic Line, which represented the last and most unyielding line of German defensive works in Italy. As he led his platoon in a flanking maneuver, three German machine guns opened fire from covered positions just 40 yards away, pinning his men to the ground. Inouye stood up to attack and was shot in the stomach; ignoring his wound, he proceeded to attack and destroy the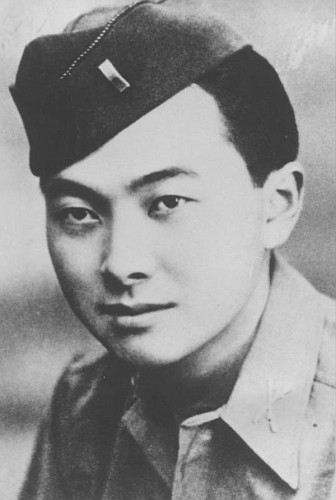 first machine gun nest with hand grenades and fire from his Thompson submachine gun. After being informed of the severity of his wound by his platoon sergeant, he refused treatment and rallied his men for an attack on the second machine gun position, which he also successfully destroyed before collapsing from blood loss. Inouye as a first lieutenant in the U.S. Army
As his squad distracted the third machine gunner, Inouye crawled toward the final bunker, eventually drawing within 10 yards. As he raised himself up and cocked his arm to throw his last grenade into the fighting position, a German inside the bunker fired a rifle grenade that struck him on the right elbow, severing most of his arm and leaving his own primed grenade reflexively "clenched in a fist that suddenly didn't belong to me anymore". Inouye's horrified soldiers moved to his aid, but he shouted for them to keep back out of fear his severed fist would involuntarily relax and drop the grenade. While the German inside the bunker reloaded his rifle, Inouye pried the live grenade from his useless right hand and transferred it to his left. As the German aimed his rifle to finish him off, Inouye tossed the grenade into the bunker and destroyed it. He stumbled to his feet and continued forward, silencing the last German resistance with a one-handed burst from his Thompson before being wounded in the leg and tumbling unconscious to the bottom of the ridge. When he awoke to see the concerned men of his platoon hovering over him, his only comment before being carried away was to gruffly order them to return to their positions, since, as he pointed out, "nobody called off the war!"
The remainder of Inouye's mutilated right arm was later amputated at a field hospital without proper anesthesia, as he had been given too much morphine at an aid station and it was feared any more would lower his blood pressure enough to kill him.
Although Inouye had lost his right arm, he remained in the military until 1947 and was honorably discharged with the rank of captain. At the time of his leaving the Army, he was a recipient of the Bronze Star Medal and the Purple Heart. Inouye was initially awarded the Distinguished Service Cross for his bravery in this action, with the award later being upgraded to the Medal of Honor by President Bill Clinton (alongside 19 other Nisei servicemen who served in the 442nd Regimental Combat Team and were believed to have been denied proper recognition of their bravery due to their race). His story, along with interviews with him about the war as a whole, were featured prominently in the 2007 Ken Burns documentary The War.
While recovering from war wounds and the amputation of his right forearm from the grenade wound at Percy Jones Army Hospital, Inouye met future Republican presidential candidate Bob Dole, then a fellow patient. While at the same hospital, Inouye also met future fellow Democrat and Senator Philip Hart, who had been injured on D-Day. Dole mentioned to Inouye that after the war he planned to go to Congress; Inouye beat him there by a few years. The two remained lifelong friends. In 2003, the hospital was renamed the Hart-Dole-Inouye Federal Center in honor of the three WWII veterans.
Medal of Honor Citation

Second Lieutenant Daniel K. Inouye distinguished himself by extraordinary heroism in action on 21 April 1945, in the vicinity of San Terenzo, Italy. While attacking a defended ridge guarding an important road junction, Second Lieutenant Inouye skillfully directed his platoon through a hail of automatic weapon and small arms fire, in a swift enveloping movement that resulted in the capture of an artillery and mortar post and brought his men to within 40 yards of the hostile force. Emplaced in bunkers and rock formations, the enemy halted the advance with crossfire from three machine guns. With complete disregard for his personal safety, Second Lieutenant Inouye crawled up the treacherous slope to within five yards of the nearest machine gun and hurled two grenades, destroying the emplacement. Before the enemy could retaliate, he stood up and neutralized a second machine gun nest. Although wounded by a sniper's bullet, he continued to engage other hostile positions at close range until an exploding grenade shattered his right arm. Despite the intense pain, he refused evacuation and continued to direct his platoon until enemy resistance was broken and his men were again deployed in defensive positions. In the attack, 25 enemy soldiers were killed and eight others captured. By his gallant, aggressive tactics and by his indomitable leadership, Second Lieutenant Inouye enabled his platoon to advance through formidable resistance, and was instrumental in the capture of the ridge. Second Lieutenant Inouye's extraordinary heroism and devotion to duty are in keeping with the highest traditions of military service and reflect great credit on him, his unit, and the United States Army.
On December 6, he was hospitalized at George Washington University Hospital so doctors could further regulate his oxygen intake, and was transferred to Walter Reed Medical Center on December 10. He died there of respiratory complications seven days later on December 17, 2012. According to the senator's Congressional web site, his last word was "Aloha". Prior to his death, Inouye left a letter encouraging Governor Neil Abercrombie to appoint Colleen Hanabusa to succeed Inouye should he become incapacitated; instead Abercrombie appointed Hawaii's Lieutenant Governor Brian Schatz.
Senate Majority Leader Harry Reid announced Inouye's death on the floor of the Senate, referring to Inouye as "certainly one of the giants of the Senate." Senate Minority Leader Mitch McConnell referred to Inouye as one of the finest senators in United States history. President Barack Obama referred to him as a "true American hero."
Inouye's body lay in state at the United States Capitol rotunda on December 20, 2012; only the 31st person – and first Asian-American – so honored. President Obama, former President Bill Clinton, Vice President Joe Biden and House Speaker John Boehner spoke at a funeral service at the Washington National Cathedral on December 21. Inouye's body was then flown to Hawaii, where it lay in state at the Hawaii State Capitol on December 22. A second funeral service was held at the National Memorial Cemetery of the Pacific in Honolulu the following day.
Please remember the Canteen is here to honor, support and entertain our troops and their families. This is a politics-free zone! Thanks for helping us in our mission!