~ The FReeper Canteen Presents ~
~ Remembering Our Troops!! ~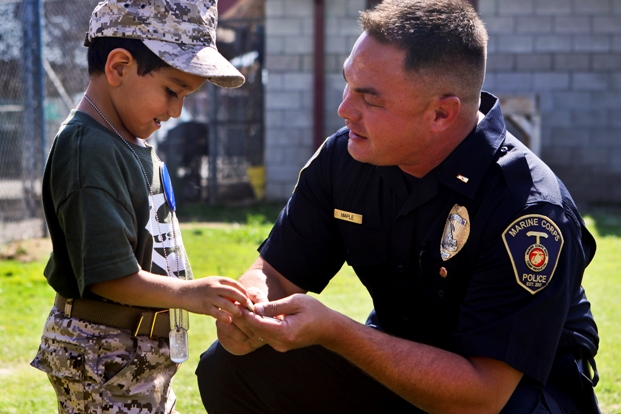 MARINE FOR A DAY
Jorge Solis, 5, shows Marine Corps Sgt. Benjamin Maple the challenge coins he received during his tour of Marine Corps Base Camp Pendleton, Calif., Aug. 10, 2012. Solis, who has retinoblastoma, a rare eye cancer, wished to be a Marine for a day. Maple is kennel master at the K-9 kennels on the Marine base. U. S. Marine Corps photo by Cpl. Jovane Henry







Canteen Mission Statement
Showing support and boosting the morale of
our military and our allies' military
and family members of the above.
Honoring those who have served before.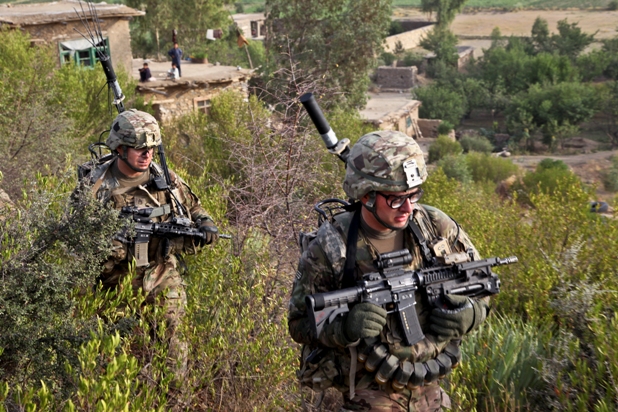 THROUGH THE BUSHES
U.S. Army Spc. Timothy Rigg and U.S. Army Staff Sgt. Jon Phillips patrol through Black Rock in Khost province, Afghanistan, July 31, 2012. U.S. Army photo by Sgt. Kimberly Trumbull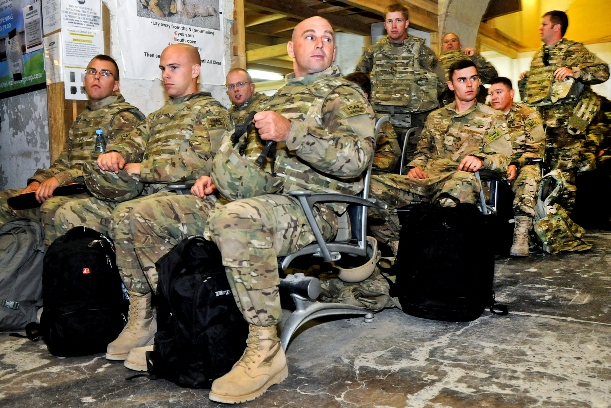 AFGHANISTAN ARRIVAL
U.S. airmen assemble to begin in-processing at the incoming terminal at Kandahar Airfield, Afghanistan, Aug. 10, 2012. The airmen are assigned to the Minnesota Air National Guard's 148th Fighter Wing. The airmen will take over flying missions and provide close air support for troops on the ground in Afghanistan. U.S. Air Force photo by Tech. Sgt. Stephen Hudson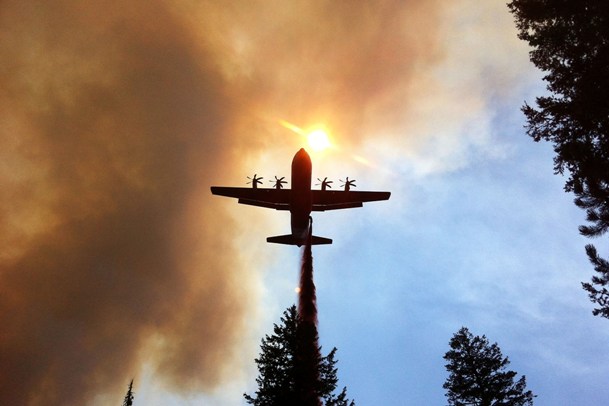 WILDFIRE ASSISTANCE
A California Air National Guard C130-J Hercules, equipped with Modular Airborne Firefighting System, drops retardant on a wildfire near Twin Falls, Idaho, Aug. 8, 2012. The 146th Airlift Wing currently has two C130-Js and about 30 personnel who have been activated since June 30, 2012, to assist the U.S. Forest Service fighting fires in the Northwest. U.S. Air Force photo by Mike Freer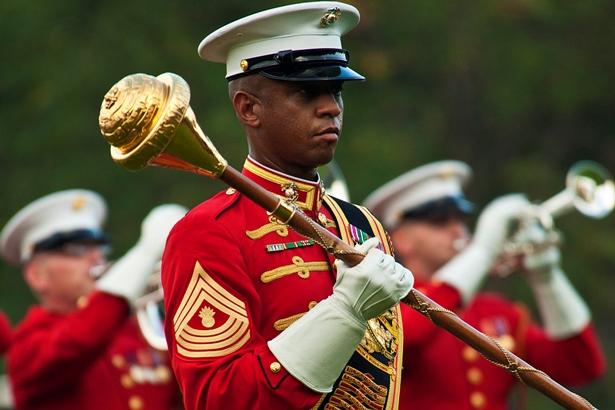 MUSICIANS' PARADE
Marine Corps Master Gunnery Sgt. Kevin Buckles directs his musicians during a sunset parade at the Marine Corps War Memorial in Arlington, Va., Aug. 14, 2012. Buckles is a Marine Drum & Bugle Corps drum major. U.S. Marine Corps photo by Sgt. Austin Hazard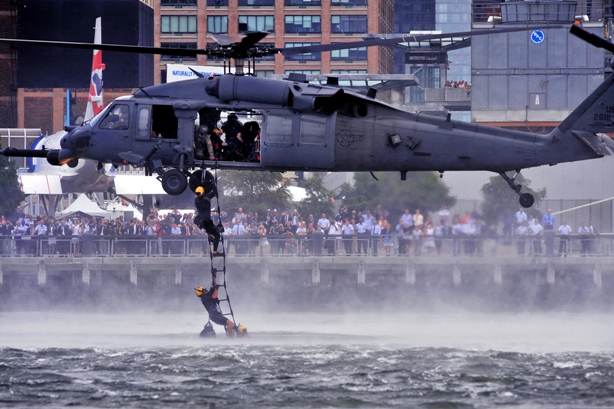 WATER ROUTINE
An HH-60 Pave Hawk helicopter conducts a mock water rescue during an aerial demonstration as a part of Air Force Week in New York, Aug. 19, 2012. The helicopter crew is assigned to the 106th Rescue Wing. U.S. Air Force photo by Senior Airman Christopher Muncy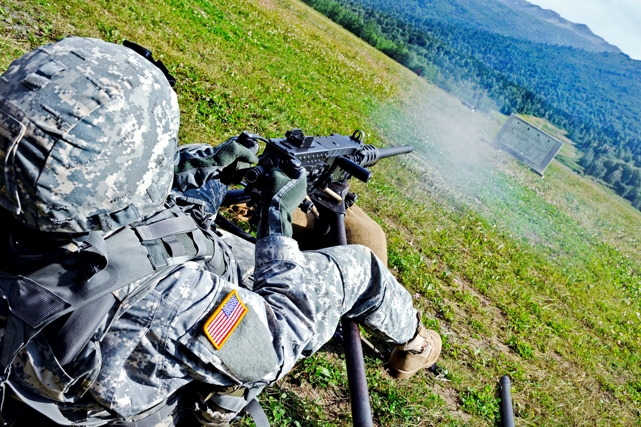 10-METER TARGET
Army Pfc. Kathy Simmons engages a 10-meter target with an M2 .50-caliber machine gun on Joint Base Elmendorf-Richardson, Alaska, Aug. 14, 2012. Simmons is assigned to the 56th Engineer Company, Vertical, 2nd Engineer Brigade. U.S. Army photo by Percy Jones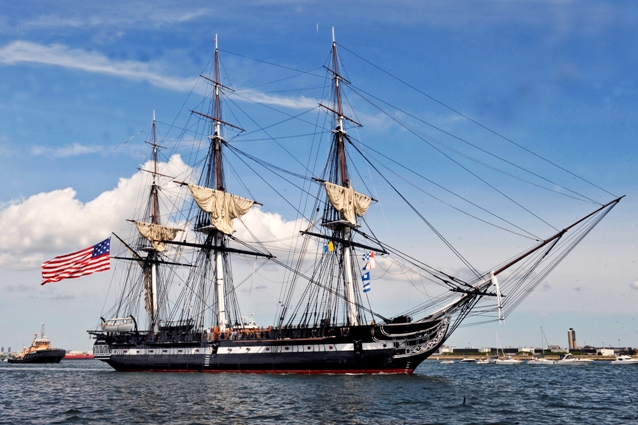 CONSTITUTION AT SEA
The USS Constitution, the world's oldest commissioned warship, sails under her own power in Charlestown, Mass., Aug. 19, 2012. This was the second time in 131 years the ship sailed without assistance. The exercise commemorates the 200th anniversary of the Constitution's victory over the British frigate HMS Guerriere during the War of 1812. U.S. Navy photo by Petty Officer 1st Class Andrew Meyers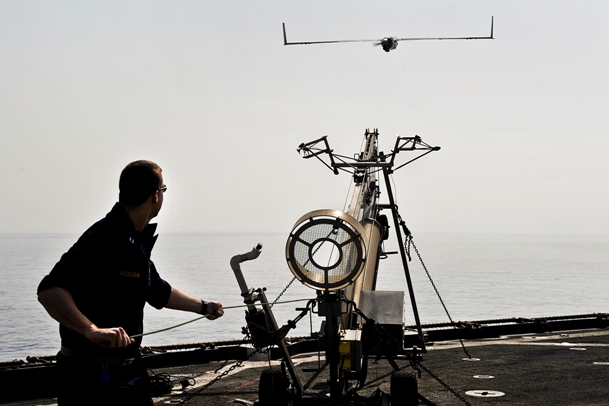 UNMANNED EAGLE
U.S. Navy Lt. Jeremy McCullough launches a Scan Eagle unmanned aerial vehicle from the flight deck of the amphibious dock-landing ship USS Gunston Hall in the Arabian Sea, Aug. 18, 2012. The Scan Eagle is a long-endurance, unmanned system that provides multiple surveillance, reconnaissance data, and battlefield damage assessment missions. McCullough is a medical officer aboard the ship. U.S. Navy photo by Petty Officer 3rd Class Jonathan Sunderman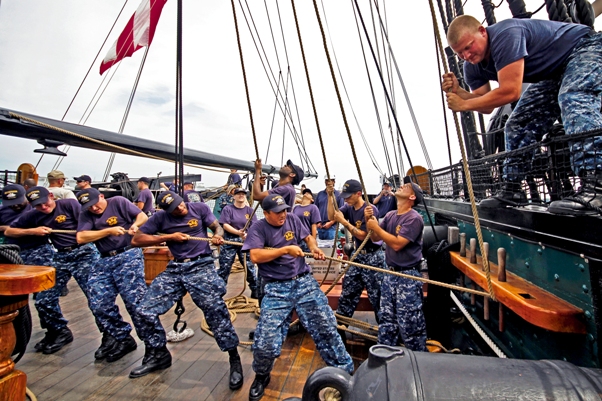 BATTLE COMMEMORATION
Navy chief petty officer selectees participate in a commemoration of the battle between the USS Constitution and HMS Guerriere during the War of 1812 in Charlestown, Mass., Aug. 19, 2012. U.S. Navy photo by Chief Petty Officer William Clark

Please remember that The Canteen is here to support
and entertain our troops and veterans and their families,
and is family friendly.