---
Northern Illinois gun control event blows up in the faces of sponsors
gunssavelife.com ^ | 22 January, 2013 | GSL


Posted on 01/22/2013 1:34:14 PM PST by marktwain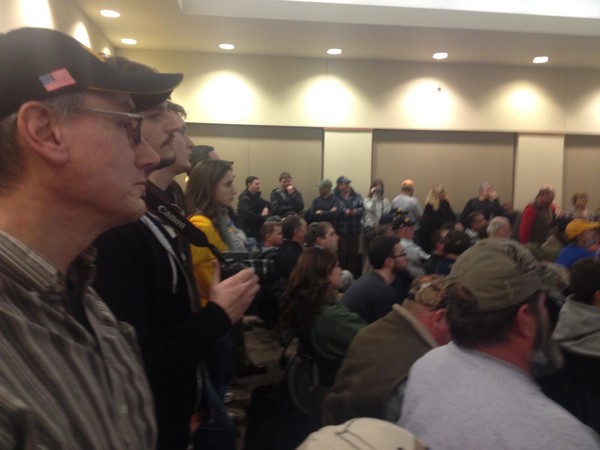 It was a bad Sunday for sponsors of an meeting to create a grassroots chapter of the Illinois Council Against Handgun Violence at the Glenview, IL Police Station Auditorium failed miserably as supporters of the Constitution and civil rights took part in the event.
In the end, unsubstantiated assertions by the gun control advocates were challenged by a boisterous audience.
The local newspaper had this to say:
Gun Ownership Advocates Intentionally Pack Panel

(Glenview Patch) – Gun ownership advocates intentionally packed Sunday's gun control panel by the New Trier Democrats, as pro-gun advocates — who were encouraged to come from across the state in a mass email from the Illinois State Rifle Association (ISRA) — argued and yelled at panelists throughout the program.

"Remember, this is our Lexington, this is our Concord," the email read. "Be prepared to teach the gun controllers a lesson in liberty."

The email also encouraged attendees to arrive between an hour and half an hour early, to "ensure that there are more of OUR people there than THEIR people," according to the email. That resulted in venue at the Glenview Police Station auditorium filling up, with many would-be attendees turned away at the door.

The majority of the crowd — around 2/3 — were wearing NRA and ISRA paraphernalia, and holding American flags and signs, such as "Shall not be infringed" and "Pro-second amendment." --------------cut---------------
But the boots on the ground told a more interesting story of what happened. Steven Zahareas posted the following on ISRA's Facebook page:
[Editor: With some minor editing for readability.]

(Excerpt) Read more at gunssavelife.com ...
---
TOPICS: Constitution/Conservatism; News/Current Events; Politics/Elections; US: Illinois
KEYWORDS: banglist; guncontrol; gunssavelife; il; secondamendment
---
Navigation: use the links below to view more comments.
first 1-20, 21-23 next last
---
---
---
---
---
---
---
---
---
---
---
---
---
---
---
---
---
---
---
---
---
Navigation: use the links below to view more comments.
first 1-20, 21-23 next last
---
---