---
To: abigail2; Amalie; American Quilter; arthurus; awelliott; Bahbah; bamahead; Battle Axe; ...
*PING*


Thomas Sowell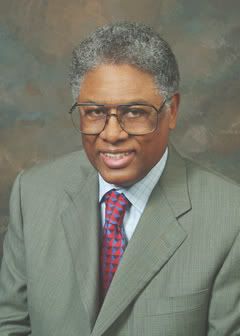 Recent columns


Do Gun Control Laws Control Guns?


Liberalism Versus Blacks


The Role of 'Educators'
Please FReepmail me if you would like to be added to or removed from the Thomas Sowell ping list…
2
posted on
01/28/2013 1:20:50 PM PST
by
jazusamo
("Mercy to the guilty is cruelty to the innocent." -- Adam Smith)
---
To: jazusamo
Thanks for the ping jaz. Thomas Sowell is right on the mark again.
5
posted on
01/28/2013 1:37:03 PM PST
by
rockinqsranch
(Dems, Libs, Socialists, call 'em what you will, they ALL have fairies livin' in their trees.)
---
To: jazusamo
". . reality, nevertheless, rears its ugly head . ."
Yes. . and when the REALITY of what the Clintons and the Obamas have done to this country rears its ugly head . . it isn't going to be pretty.
---
To: jazusamo
Domo for the Ping, jaz.
Dr. Sowell rightly calls bs on the video meme; I wish he would have also raised the question of why Ambassador Stevens was in Benghazi that night, and what the function of the "consulate" there was at that point in time.
Then of course, there's the question of who gave the order to stand down a rescue attempt, leaving our people for dead. . .
11
posted on
01/28/2013 2:12:01 PM PST
by
Flotsam_Jetsome
("Obama": His entire life is Photoshopped.)
---
To: jazusamo
The difference, Madam Secretary, is that four Americans are dead and it's your fault. That's what difference it makes.
24
posted on
01/29/2013 5:08:01 PM PST
by
Cymbaline
("Allahu Akbar": Arabic for "Nothing To See Here" - Mark Steyn)
---
FreeRepublic.com is powered by software copyright 2000-2008 John Robinson