~ The FReeper Canteen Presents ~
~ Remembering Our Troops!! ~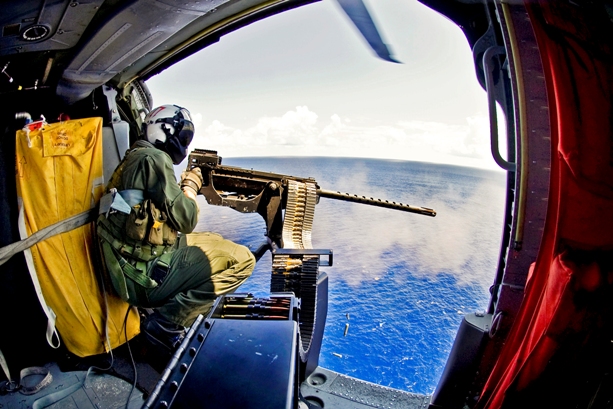 COMBAT GUNNER
U.S. Navy Petty Officer 3rd Class Bobby Heimovitz, assigned to Helicopter Sea Combat Squadron 9, USS Harry S. Truman, fires a .50-caliber machine gun at a MK-25 smoke target in the Atlantic Ocean, Sept. 5, 2012. Heimovitz is a naval aircrewman helicopter. The squadron is under way with the aircraft carrier USS Harry S. Truman to support carrier qualifications. U.S. Navy photo by Petty Officer 2nd Class Mick DiMestico







Canteen Mission Statement
Showing support and boosting the morale of
our military and our allies' military
and family members of the above.
Honoring those who have served before.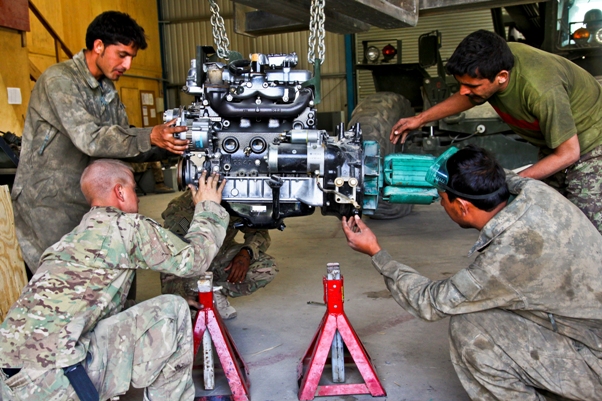 ENGINE REPAIR
U.S. Army Pvt. Rodger Pendergrass and Afghan soldiers repair an engine at the motor pool on Forward Operating Base Airborne in Wardak province, Afghanistan, Sept. 4, 2012. Pendergrass is assigned to 4th Battalion, 319th Field Artillery Regiment, 173rd Airborne Brigade Combat Team. U.S. Army photo by Spc. Alexandra Campo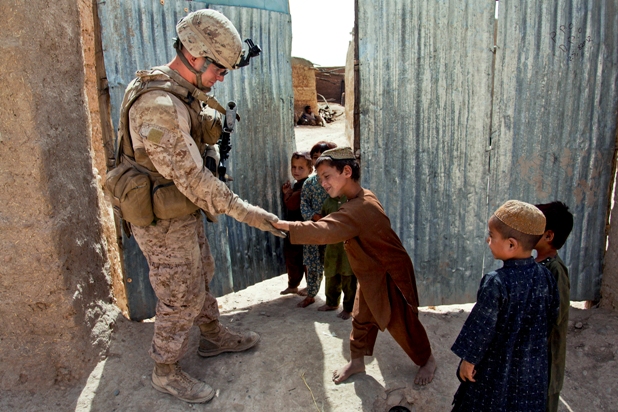 HIGH FIVE
U.S. Marine Corps Cpl. Patrick McCall, left, receives a high five from an Afghan boy during a security patrol in the Sangin district in Afghanistan's Helmand province, Sept. 6, 2012. McCall is a rifleman assigned to Bravo Company, 1st Battalion, 7th Marine Regiment, Regimental Combat Team 6. U.S. Marine Corps photo by Lance Cpl. Jason Morrison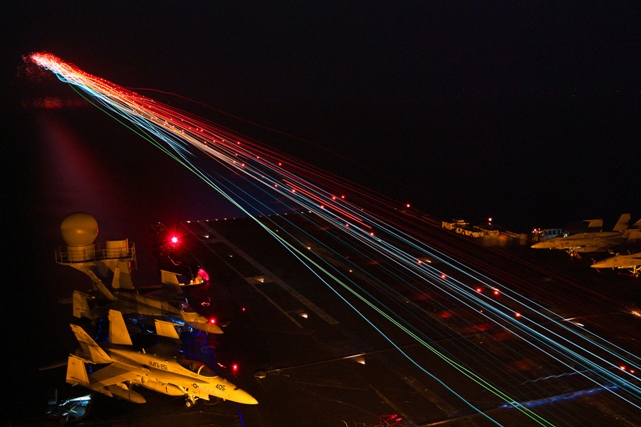 NIGHT LANDING
U.S. Navy aircraft land aboard the aircraft carrier USS Enterprise during nighttime flight operations while under way in the Arabian Sea, Sept. 8, 2012. The Enterprise is deployed to the U.S. 5th Fleet area of responsibility conducting maritime security operations, theater security cooperation efforts and support missions as part of Operation Enduring Freedom. U.S. Navy photo by Seaman Stephen Wolff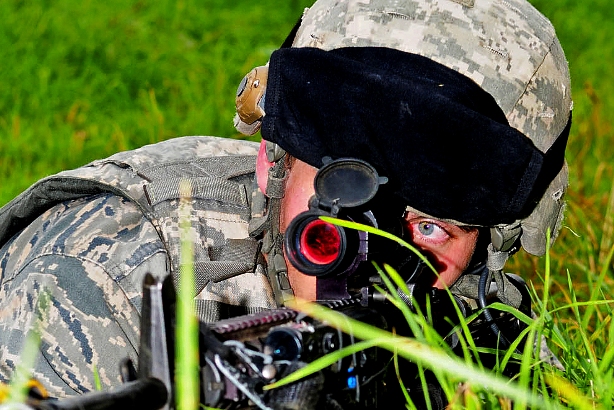 EXERCISE AIM
A U.S. Air Force airman keeps an eye out for role players portraying enemy fighters after he and his team members participated in a mock ambush during a route-clearance mission for an exercise in Thetford, England, Sept. 4, 2012. The airman is assigned to the 100th Security Forces Squadron, based at Royal Air Force Mildenhall, England. U.S. Air Force photo by Karen Abeyasekere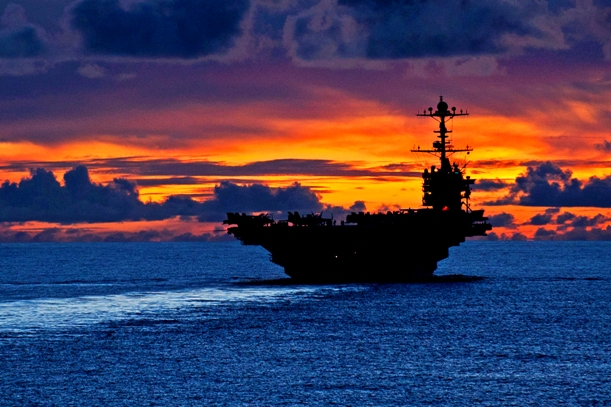 PACIFIC SUNSET
The aircraft carrier USS George Washington sails through calm seas near Guam at sunset while under way in the Pacific Ocean, Sept. 8, 2012. The George Washington is the centerpiece of Carrier Strike Group 5, the US Navy's only continuously forward deployed carrier strike group, based out of Yokosuka, Japan. Carrier Strike Group 5 is currently on a routine Western Pacific patrol. U.S. Navy photo by Petty Officer 3rd Class Paul Kelly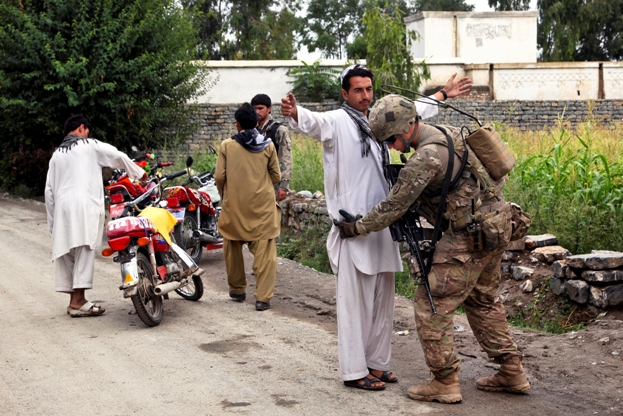 WEAPONS CHECK
A U.S. soldier checks an Afghan man for weapons before allowing him through a security checkpoint in Ayub Khe in, Afghanistan's Khost province, Sept. 8, 2012. U.S. Army photo by Sgt. Kimberly Trumbull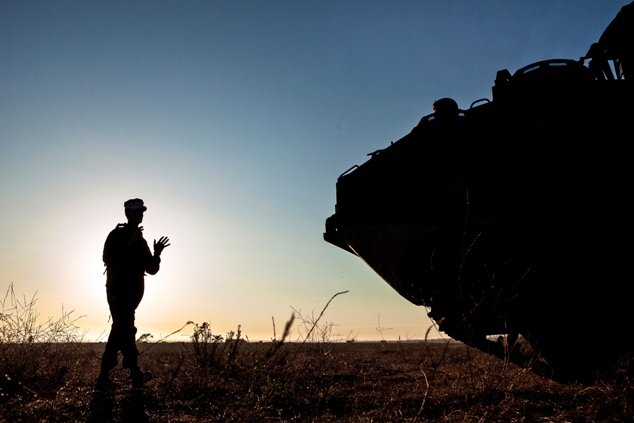 GROUND GUIDE
Marine Corps Sgt. Garrett Baresel serves as a ground guide for his vehicle and crew during a mock ship-to-shore exercise on Marine Corps Base Camp Pendleton, Calif., Sept. 6, 2012. U. S. Marine Corps photo by Sgt. Aaron Hostutler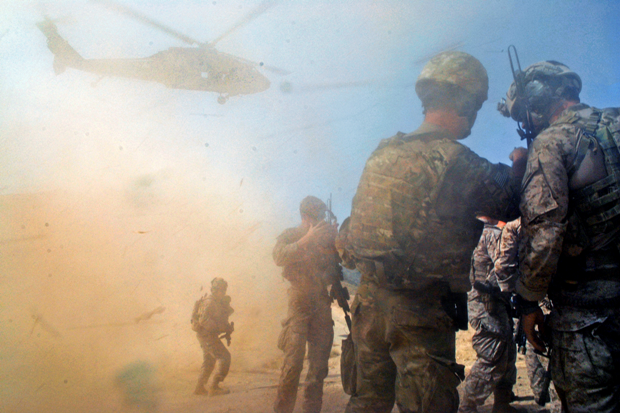 ROTOR WASH
Coalition forces brace against the wind from a U.S. Army UH-60 Black Hawk helicopter near Bagh in Afghanistan's Zabul province, Aug. 30, 2012. U.S. Navy photo by Petty Officer 3rd Class James Ginther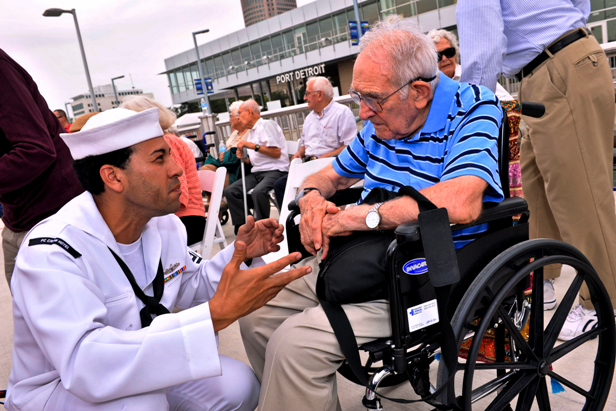 ONE ON ONE
Navy Petty Officer 2nd Class Alfredo Brugal speaks with George Pellek, a Navy veteran from WWII, during the Navy's commemoration of the bicentennial of the War of 1812 in Detroit, Sept. 5, 2012. The event coincides with Detroit Navy Week, one of 15 signature events planned across America in 2012. U.S. Navy photo by Petty Offcer 3rd Class Leonard Adams Jr Jr.

Please remember that The Canteen is here to support
and entertain our troops and veterans and their families,
and is family friendly.