---
To: SkyPilot; Gilbo_3
RE "
So let's not reform our greatest budget crisis (entitlements) because they are too insolvent with IOUs anyway, but let's punish the US military some more since God knows we will never have another national crisis, and while we do that let's hope we screw up the economy some more, especially in VA and MD, because everyone needs to suffer.....because. What could go wrong? "
No one is going to cut entitlements anytime soon. Its a fact of life. There is no tooth fairy either.
Speaking of the military, you misunderstand its purpose. Its main purpose now is social experimentation : gays, wimmin, illegals (coming in McCain/Grahamnesty amnesty) not any real purpose.
Hell, drones are cheap. They do all the real fighting now. They can survive some cuts, and the military can still be effectively used to destroy this country morally.

19
posted on
02/10/2013 8:05:13 PM PST
by
sickoflibs
(Losing to Dems and Obama is not a principle! Its just losing.)
---
To: sickoflibs
No one is going to cut entitlements anytime soon. Its a fact of life. There is no tooth fairy either.
Our national will is being sapped because of: Entitlements
The "Super Committee" would not act because of: Entitlements
Our debt is exploding because of: Entitlements
Entitlements
The military was cut by $487 Billion (over ten years) starting in 2011. They are trying to absorb that cut (that was real dollar cuts, not baseline budgeting), on top of a Continuing Resolution that has sapped the DoD budget. Sequestration is the final knife that will cut 25% in Operations and Maintenance (at least) and has to be cut between March and September.
my: 78% Of Combat Brigades Will Skip Training Due To Sequester, CR
Navy: Lincoln Refueling Delayed, Will Hurt Carrier Readiness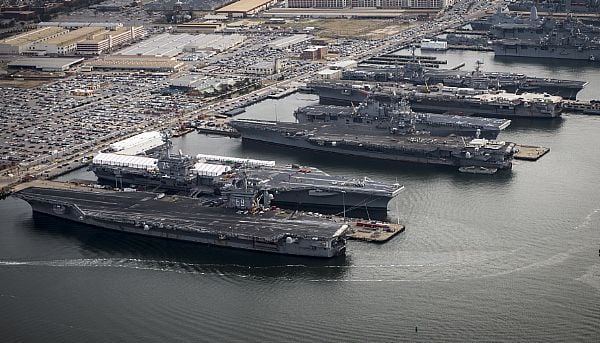 Obama had actually agreed to a chained CPI COLA reduction for Social Security back in December. It was Harry Reid that who was so angry he actually burned the proposal in his Senate fireplace (true story). The media reported that.
Obama just hinted at the Democrat retreat in Leesburg VA that they might be "angry at him" very soon, but they had to stick together.
I think an Entitlement reform compromise is closer than most people thing. I agree, it is going to be very, very, very difficult. But there is hope. If we don't do anything, we are going to become Greece (or worse) very soon. The problem is not the military budget - it is entitlements.

---
FreeRepublic.com is powered by software copyright 2000-2008 John Robinson