---
Top Pentagon Brass Lay Out Details of Sequestration Nightmare
Government Executive ^ | 12 Feb 13 | Charles S. Clark


Posted on 02/12/2013 3:24:32 PM PST by SkyPilot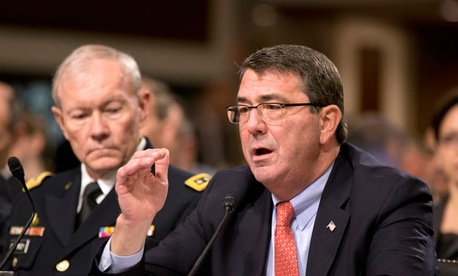 With less than three weeks to go before automatic governmentwide budget cuts, the entire leadership team at the Pentagon on Tuesday implored the Senate Armed Services Committee to cancel sequestration and adjust the continuing resolution set to run out March 27.
In an emotional hearing that prompted lawmakers to criticize their own and blast President Obama's leadership, members of the Joint Chiefs of Staff and top civilian officials laid out details of the harm across-the-board budget cuts would inflict on the nation's military readiness and long-term effectiveness.
"Military readiness is in jeopardy due to the convergence of unprecedented budget factors," said Gen. Martin Dempsey, chairman of the Joint Chiefs. "We need help from our elected leaders to avoid hollowing out the force and compromising our nation's security. Specifically, we need passage of a regular 2013 defense appropriation, and we need sequestration to be canceled." Otherwise, the United States would have "a degraded capability," and it would be "immoral" to send troops into battle, he added.
Committee Chairman Carl Levin, D-Mich., called sequestration "arbitrary and irrational," noting that it would not only weaken security but also harm education child care and airport safety. "We cannot afford to look the other way and pretend there is not a huge looming problem."
Deputy Defense Secretary Ashton B. Carter called the "twin evils" of sequestration and a year-long continuing resolution "more dangerous than it's ever been" as the Pentagon faces its "biggest cut in history." He warned that cuts of $42 billion by the end of fiscal 2013 would mean a "drastic shortfall in the funding we need to do training, which inhibits our capacity to fight." The Defense Department, he added, "would have to go back and redo our national defense strategy."

(Excerpt) Read more at govexec.com ...
---
TOPICS: Extended News; Government; News/Current Events
KEYWORDS: budget; military; pentagon; sequestration
---
Navigation: use the links below to view more comments.
first 1-20, 21-33 next last
---
---
---
---
---
---
---
---
---
---
---
---
---
---
---
---
---
---
---
---
---
Navigation: use the links below to view more comments.
first 1-20, 21-33 next last
---
---