---
To: Kathy in Alaska; laurenmarlowe; BIGLOOK; alfa6; EsmeraldaA; SandRat; mylife; TMSuchman; PROCON; ...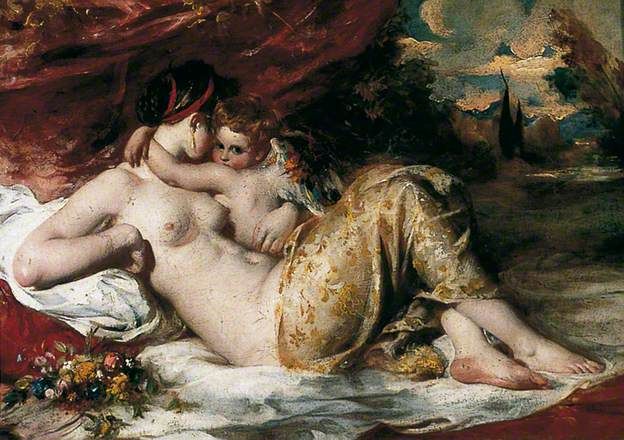 CUPID

Late nestled on yon Venus' tender breast,
Young Cupid lay in torpid slumber bound.
Then, waking from that languid seat of rest,
He sighed, out-peering from his blind around.
Straight arrow fast against taut bowstring press'd.

And gallant swain he did at length espy:
Gave flight apace to fell dart quick and true,
That mounted through the clam'rous air on high,
That callow, rustic heart smote nigh full through.
And there engendered ardor yet to vie,

The heart of Rosaleen to win in love;
Who hath his suit ere now full high disdained.
Yet Venus, gazing down from throne above,
The gallant swain with speech of Love ordained,
Whence won the swain the hand of that sweet dove.

© Thomas J. Mitchell, 2008 - 2013













Genuflectimus non ad principem sed ad Principem Pacis!

Listen, O isles, unto me; and hearken, ye people, from far; The LORD hath called me from the womb; from the bowels of my mother hath he made mention of my name. (Isaiah 49:1 KJV)
28
posted on
02/13/2013 7:07:18 PM PST
by
ConorMacNessa
(HM/2 USN, 3/5 Marines RVN 1969 - St. Michael the Archangel defend us in Battle!)
---
To: ConorMacNessa
You're a POET!
I did not know it.
NICE!!!!!!
29
posted on
02/13/2013 7:10:12 PM PST
by
left that other site
(Worry is the darkroom that developes negatives.)
---
FreeRepublic.com is powered by software copyright 2000-2008 John Robinson