---
The gun grabber's legislative (National) bill compendium, Updated
Library of Congress ^ | 3/6/2013 | various Legislators


Posted on 03/06/2013 8:30:12 AM PST by grobdriver

The gun grabber's legislative (National) bill compendium, updated:

House Bills:
H.R. 21: NRA Members' Gun Safety Act of 2013. Sponsor: Rep Moran, James P., Referred to the Subcommittee on Crime, Terrorism, Homeland Security, And Investigations.


H.R. 34: Blair Holt's Firearm Licensing and Record of Sale Act of 2013. Sponsor: Rep Rush, Bobby L., Referred to the Subcommittee on Crime, Terrorism, Homeland Security, And Investigations.


H.R. 65: Child Gun Safety and Gun Access Prevention Act of 2013 . Sponsor: Rep Jackson Lee, Sheila, Referred to the Subcommittee on Crime, Terrorism, Homeland Security, And Investigations.


H.R. 117: Handgun Licensing and Registration Act of 2013. Sponsor: Rep Holt, Rush, Referred to the Subcommittee on Crime, Terrorism, Homeland Security, And Investigations.


H.R. 137: Fix Gun Checks Act of 2013. Sponsor: Rep McCarthy, Carolyn, Referred to the Subcommittee on Crime, Terrorism, Homeland Security, And Investigations.


H.R. 138: Large Capacity Ammunition Feeding Device Act. Sponsor: Rep McCarthy, Carolyn, Referred to the Subcommittee on Crime, Terrorism, Homeland Security, And Investigations.


H.R. 141: Gun Show Loophole Closing Act of 2013. Sponsor: Rep McCarthy, Carolyn, Referred to the Subcommittee on Crime, Terrorism, Homeland Security, And Investigations.


H.R. 142: Stop Online Ammunition Sales Act of 2013. Sponsor: Rep McCarthy, Carolyn, Referred to the Subcommittee on Crime, Terrorism, Homeland Security, And Investigations.


H.R. 226: Support Assault Firearms Elimination and Reduction for our Streets Act. Sponsor: Rep DeLauro, Rosa L., Referred to the Ways and Means committee.


H.R. 227: Buyback Our Safety Act. Sponsor: Rep Deutch, Theodore E., Referred to the Subcommittee on Crime, Terrorism, Homeland Security, And Investigations.


H.R. 236: Crackdown on Deadbeat Gun Dealers Act of 2013. Sponsor: Rep Langevin, James R., Referred to the Subcommittee on Crime, Terrorism, Homeland Security, And Investigations.


H.R. 238: Fire Sale Loophole Closing Act. Sponsor: Rep Meng, Grace, Referred to the Subcommittee on Crime, Terrorism, Homeland Security, And Investigations.


H.R. 329: To amend the NICS Improvement Amendments Act of 2007 to encourage States to provide records to the National Instant Background Check System.Sponsor: Rep Fitzpatrick, Michael G., Referred to the House Judiciary Committee.


H.R. 404: To enhance criminal penalties for straw purchasers of firearms. Sponsor: Rep Schiff, Adam B., Referred to the House Judiciary Committee.


H.R. 427: To prevent the illegal sale of firearms, and for other purpoes. Sponsor: Rep Quigley, Mike, Referred to the House Judiciary Committee.


H.R. 431: To restore certain authorities of the Bureau of Alcohol, Tobacco, Firearms, and Explosives to administer the firearms laws, and for other purposes. Sponsor: Rep Speier, Jackie


H.R. 437: To regulate assault weapons, to ensure that the right to keep and bear arms is not unlimited, and for other purposes. Sponsor: Rep McCarthy, Carolyn


H.R. 452: To prevent gun trafficking. Sponsor: Rep Maloney, Carolyn B.


H.R. 538: To protect the Nation's law enforcement officers by banning the Five-seveN Pistol and 5.7 x 28mm SS190, SS192, SS195LF, SS196, and SS197 cartridges, testing handguns and ammunition for capability to penetrate body armor, and prohibiting the manufacture, importation, sale, or purchase of such handguns or ammunition by civilians. Sponsor: Rep Rep Engel, Eliot L.


H.R. 722: Detectives Nemorin and Andrews Anti-Gun Trafficking Act of 2013. Sponsor: Rep King, Peter T., Referred to the House Judiciary Committee.


H.R. 793: Firearm Safety and Buyback Grant Act of 2013. Sponsor: Rep Sanchez, Linda T., Referred to the House Judiciary Committee.


H.R. 848: Armed Prohibited Persons Act of 2013. (confiscation) Sponsor: Rep Thompson, Mike (how embarassing), Referred to the House Judiciary Committee.


H.R. 868: Safer Neighborhoods Gun Buyback Act of 2013. Sponsor: Rep Payne, Donald M., Jr., Referred to the House Judiciary Committee.


H.R. 965: To prohibit the possession or transfer of junk guns, also known as Saturday Night Specials. Sponsor: Rep Gutierrez, Luis V., Referred to the House Judiciary Committee.

Senate Bills:
S.22: Gun Show Background Check Act of 2013 . Sponsor: Sen Lautenberg, Frank R. Referred to the Senate Judiciary committee


S.33: Large Capacity Ammunition Feeding Device Act of 2013 . Sponsor: Sen Lautenberg, Frank R., Referred to the Senate Judiciary committee


S.34: Denying Firearms and Explosives to Dangerous Terrorists Act of 2013. Sponsor: Sen Lautenberg, Frank R., Referred to the Senate Judiciary committee


S.35: Stop Online Ammunition Sales Act of 2013. Sponsor: Sen Lautenberg, Frank R., Referred to the Senate Judiciary committee


S.54: Stop Illegal Trafficking in Firearms Act of 2013. ("trafficking = "private sales") Sponsor: Sen Leahy, Patrick J., Referred to the Senate Judiciary committee


S.147: Common Sense Concealed Firearms Permit Act of 2013 . Sponsor: Sen Boxer, Barbara , Referred to the Senate Judiciary committee


S.150: Assault Weapons Ban of 2013. Sponsor: Sen Feinstein, Dianne, Referred to the Senate Judiciary committee


S.174: Ammunition Background Check Act of 2013. Sponsor: Sen Blumenthal, Richard, Referred to the Senate Judiciary committee


S.179: Gun Trafficking Prevention Act of 2013. Sponsor: Sen Sen Gillibrand, Kirsten E. , Referred to the Senate Judiciary committee

---
TOPICS: Activism/Chapters; Constitution/Conservatism; Government; News/Current Events
KEYWORDS: ban; banglist; guncontrol; guns; laws; legislation; secondamendment

Updated 3/6 for new House bills.

Keep after your representatives!

NO NEW GUN LAWS!

---
To: grobdriver
Carpet Bombing us with Gun Laws.

---
To: grobdriver
A law only has meaning if the government possesses the credibility to pass it. The ability to enforce it is another, the numbers that will automatically resist it will surpass that ability.
3
posted on
03/06/2013 8:44:45 AM PST
by
Caipirabob
(Communists... Socialists... Democrats...Traitors... Who can tell the difference?)
---
To: grobdriver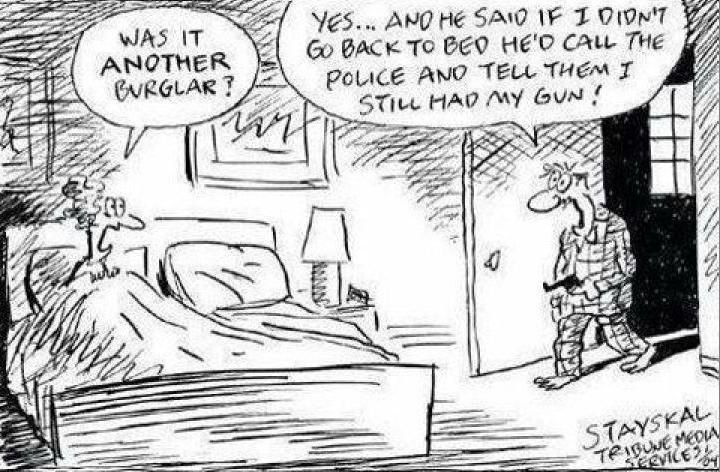 4
posted on
03/06/2013 9:13:52 AM PST
by
Ruy Dias de Bivar
(CLICK my name. See the murals before they are painted over! POTEET THEATER in OKC!)
---
To: grobdriver
The libs can't see past their hood ornaments! If ANY of these laws work maybe we can outlaw cars and stop car-violence!
The same idiot that will vote for these people and their laws will be knocking on your door, wanting to borrow a firearm if someone starts stalking him or her!
I know from experience! The old saying "a conservative is a lib that has been mugged" rings true! Wish I could remember who said it!
---
FreeRepublic.com is powered by software copyright 2000-2008 John Robinson