---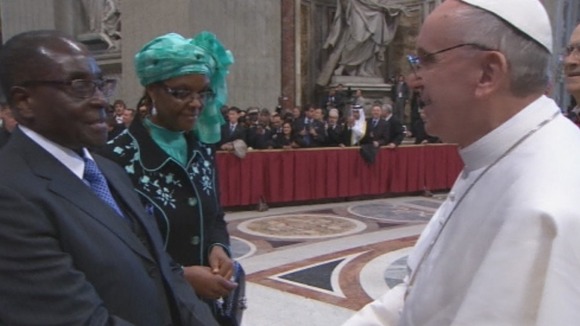 ---
To: Tailgunner Joe
President Mugabe, a
devout
Catholic?
What is this author smoking?

---
To: Tailgunner Joe
"ZIMBABWEAN President Robert Mugabe said on Tuesday the newly elected Roman Catholic Church leader, Pope Francis, should take time to visit the African continent during his tenure as well as treat all believers in the church equally."
Treat everyone equally? Is this the same Robert Mugabe who seized land from Zimbabwe's white farmers and looked the other way when those white farmers were brutlly attacked?
---
To: Tailgunner Joe
First Chavez, now Mugabe, who else is a "devout Catholic"? That porker in North Korea?
6
posted on
03/19/2013 9:54:57 PM PDT
by
LifeComesFirst
(http://rw-rebirth.blogspot.com/)
---
To: Tailgunner Joe
Chancelor Glock Rocks says Pope must visit Cottonwood Heights!
What's Zimbabwe got on Utah? Bring it, tinhorn!
9
posted on
03/19/2013 10:35:13 PM PDT
by
glock rocks
(No, the game never ends, when your whole world depends, on the turn of a friendy card.)
---
FreeRepublic.com is powered by software copyright 2000-2008 John Robinson