---
Secret papers show extent of [British] senior royals' veto over bills
The Guardian ^ | 14 January 2013 | Robert Booth


Posted on 03/22/2013 5:52:53 PM PDT by annalex
Secret papers show extent of senior royals' veto over bills
Court order reveals how approval of Queen and Prince Charles is sought on range of bills
Robert Booth The Guardian, Monday 14 January 2013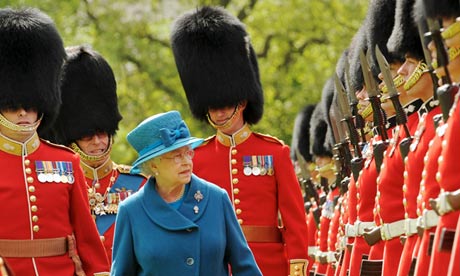 The Queen was asked for consent on a range of bills, including those affecting her estates. There is growing concern in parliament at a lack of transparency over the royals' role in lawmaking. Photograph: Sergeant Dan Harmer
[...]
The internal Whitehall pamphlet [...] shows ministers and civil servants are obliged to consult the Queen and Prince Charles in greater detail and over more areas of legislation than was previously understood.
The new laws that were required to receive the seal of approval from the Queen or Prince Charles cover issues from higher education and paternity pay to identity cards and child maintenance.
[...]

(Excerpt) Read more at guardian.co.uk ...
---
TOPICS: Foreign Affairs; Government; United Kingdom
KEYWORDS: controlmasses; eu; fff; lackoftransparency; monarchistssuck; monarchy; monarchysucks; nwo; obamapuppet; rulingelite; unitedkingdom
---
---
---
---
---
---
---
---
---
---
---
---
---
---
---