---
Lazy Postal Worker Burns, Buries Undelivered Mail (Drunk On-Duty Mailman Spends Workday at Bar)
48 News ^ | Mar 30, 2013 | 48 News


Posted on 03/31/2013 7:39:23 AM PDT by DogByte6RER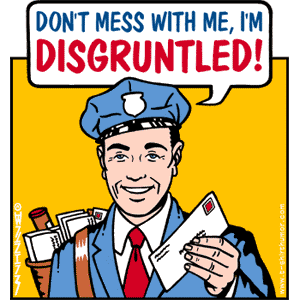 Lazy postal worker burns, buries undelivered mail
BELFAIR, WA (KOMO/CNN) - A disgraced mailman is in trouble again after admitting to burying thousands of pieces of mail in his backyard.
Postal investigators state mailman Richard Farrell is accused of using a backhoe and burying the undelivered mail in a deep trench.
"Just because I was lazy, and I became a not very good employee," said Farrell. "I just wanted to get out of their as soon as possible."
According to court documents, in 2010, fellow coworkers discovered Farrell dumping mail in a recycling bin.
Those actions prompted investigators to follow him on a route. Investigators discovered that rather than delivering the mail, Farrell spent his shift at a bar before taking the mail home and burning it in a fire pit.
"I began drinking and everything else," said Farrell. "I became non-complacent and I just didn't really care anymore."
A search of Farrell's residence found nearly 8,000 pieces of mail in during that investigation. He was fined and sentenced to 120 hours of community service and three years probation.
A few weeks ago, Farrell found thousands more pieces of mail that were missed in the initial investigation in his storage shed. Instead of turning it in, he burned it.

(Excerpt) Read more at waff.com ...
---
TOPICS: Crime/Corruption; Government; Miscellaneous; News/Current Events; US: Washington
KEYWORDS: governmentworker; lazy; lostmail; mailbox; mailman; obamavoter; postalservice; postalworker; postservice; ratcrime; undeliverable; usps
---
Navigation: use the links below to view more comments.
first 1-20, 21-40, 41-43 next last
---
---
---
---
---
---
---
---
---
---
---
---
---
---
---
---
---
---
---
---
---
Navigation: use the links below to view more comments.
first 1-20, 21-40, 41-43 next last
---
---