---
To: Huskrrrr
I can't wait. However I believe some are a bit reluctant to pile on him because so many see him in a positive light. The homosexual lobby which includes the media should tread carefully least they create too many sympathetic martyrs. Already there are countless examples of them playing the role of "brown shirt" or rather "pink shirts". People are getting sick and tired of it even some of those who are sympathetic to homosexuals.
3
posted on
03/31/2013 9:05:01 PM PDT
by
Maelstorm
(This country wasn't founded with the battle cry "Give me liberty or give me a govt check!")
---
To: Maelstorm
The lavender shits are the most vicious of all.
6
posted on
03/31/2013 9:16:52 PM PDT
by
oldbrowser
(They are marxists, don't call them democrats)
---
To: Maelstorm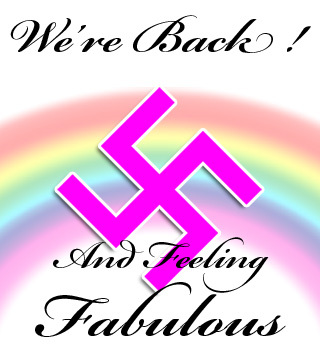 8
posted on
03/31/2013 9:28:11 PM PDT
by
Old Sarge
(We are officially over the precipice, we just havent struck the ground yet...)
---
FreeRepublic.com is powered by software copyright 2000-2008 John Robinson