---
Farewell to the Doctor of Freep
abner ^ | 3 April 2013 | Jimmy Valentine's Brother


Posted on 04/03/2013 5:52:13 PM PDT by Jimmy Valentine's brother

On the day after Easter, 2013, family, friends and FReepers from far and wide packed The Sweeney Funeral Home to share tears and the many tales of Doctor Raoul's adventures in the cause of Theodore Roosevelt's Americanism:

"Americanism means the virtues of courage, honor, justice, truth, sincerity and hardihood – the virtues that made America."

In his tribute to Doctor Raoul, Kristinn relates from personal experience how Doctor Raoul lived his Americanism.

Even though Doctor Raoul didn't appear from behind a door and shout "April Fool", his presence was everywhere.

The 1957 Chevy hearse parked out front;


the Philly soft pretzels in the foyer,

the pictures from throughout his life including one as "Superman" served as reminders of his wit, humor and an early love of costumes.

Flowers were sent by Ann Coulter,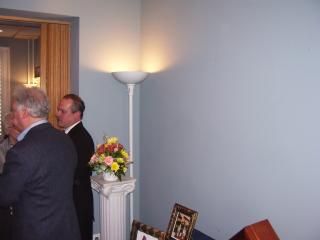 and the DC Chapter Ring Leader, Angelwood.

The Mass of Christian Burial was held at the Resurrection Parish Church of St Casimir. After the service, FReepers Stay True, BillF, TGSL Takoma, Taxman, BufordP, Gunsareok, /sensi ern, Exit 148, Mr. and Mrs. Trooprally, Sauropod, Hell in a Handcart, Kristinn, Concrete Bob, Albion Wilde, ELS. Credo2 and Jimmy Valentine's brother gathered for a farewell photo.

During the post service luncheon at the Throwbacks Bar and Grill, Mr. Trooprally presented the family with

the group photo from the 232 Walter Reed Friday night FReep

and Poland's National Flag
flown in honor of the country's support of the War on Terror. The flag can be seen in the photo as well as the "Thank you to our Troops, You did not Falter, You did not fail" MOAB inspired by Doctor Raoul.
At the end of the 1920 film, The Mark of Zorro, after all wrongs have been righted, Zorro throws his sword into a rafter of the house as he will no longer need to use it. In the 1925 film, Don Q, Son of Zorro, Don Q comes home to find that all is not well. Don Q pulls the sword from the rafter and rides out to right the wrongs once again.
Who knows, maybe someday a Don Q Son of Raoul or Susi Q daughter of Raoul may be seen on Free Republic.

---
TOPICS: Activism/Chapters; Free Republic; News/Current Events
KEYWORDS: aar; dcchapter; doctorraoul; prayer; rip; tribute
---
Navigation: use the links below to view more comments.
first 1-20, 21-40, 41-60, 61-80 ... 141-150 next last
---
---
---
---
---
---
---
---
---
---
---
---
---
---
---
---
---
---
---
---
---
Navigation: use the links below to view more comments.
first 1-20, 21-40, 41-60, 61-80 ... 141-150 next last
---
---