---
To: OwenKellogg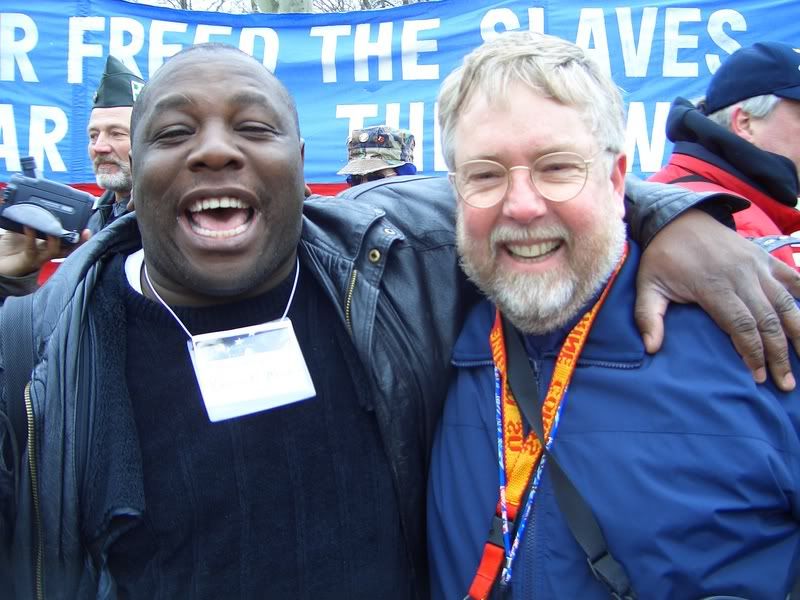 I remember that moment very well -- at the gigantic 2007
Gathering of Eagles
to protect our national Monuments from anti-war protesters!
Here is the complete text of the banner Trueblackman and thyself are standing in front of, hung on Walter Reed's fence by the DC Chapter:
46
posted on
04/08/2013 4:15:15 PM PDT
by
Albion Wilde
("Commies out of D.C.!" --Raoul Deming, 1955-2013)
---
To: Albion Wilde
Thanks for the rest of the story!
Excellent day.
---
To: Albion Wilde
Barnes and Noble overview of a book by tonight's participant, Rev. Jesse Lee Peterson:
In this provocative book, Rev. Jesse Lee Peterson, the most outspoken critic of the civil-rights establishment in America today, lays bare its corrupt leadership, courageously taking aim at the bigest names―Jesse Jackson, Louis Farrakhan, Al Sharpton, Maxine Waters, among others―claiming they are nothing more than scam artists profiting off the hatred and disorder they foster in the black community. Peterson insists it's time to throw off the oppression of the established black leadership and stand for the American ideals of freedom, personal responsibility, free enterprise, and moral principle.
Scam:
How the Black Leadership Exploits Black America
by Rev. Jesse Lee Peterson, with foreword by Sean Hannity
56
posted on
04/08/2013 4:30:02 PM PDT
by
Albion Wilde
("Commies out of D.C.!" --Raoul Deming, 1955-2013)
---
FreeRepublic.com is powered by software copyright 2000-2008 John Robinson