---
To: Godwin1; ilovesarah2012; fieldmarshaldj; Impy; BlackElk
But in 2010, a bunch of freepers who were drinking the Kirk kool-aid told me the combine didn't exist and was insane right-wing paranoia. There's no WAY an decorated military vet and lifelong Republican like Kirk would really be an agent for the other side. Kirk only votes liberal because he HAS TO in order to get elected in Illinois' 10th Congressional District, as it is a "very liberal district" (just ignore the fact McCain did BETTER in Kirk's district than Illinois as a whole) Kirk would vote "more conservatively" once he represents "the whole state" in the U.S. Senate and "we'll have his ear"
Right guys?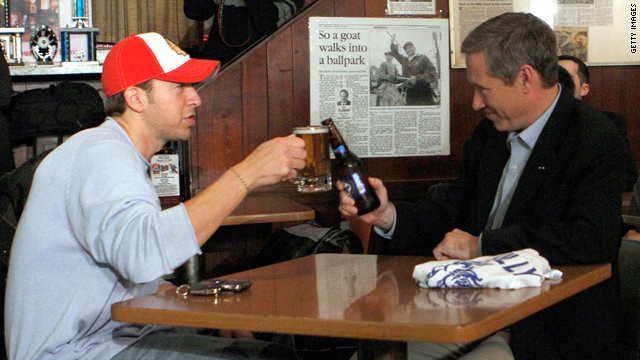 ---
To: BillyBoy
And he's all for homosexual "marriage". How many true conservatives, fiscal and social, are in congress now and how many will actually vote that way?
---
To: BillyBoy; arrogantsob
Arrogant sob needs to be reminded that Nancyboy Kirk is behaving as we predicted. If he weren't such a leftwing asswipe, Obozo could easily have gotten Nancyboy's vote by fixing him up with Reggie Love. Of course, Obozo may want Reggie for himself alone.
53
posted on
04/11/2013 3:45:40 PM PDT
by
BlackElk
(Dean of Discipline, Tomas de Torquemada Gentlemen's Society: Rack 'em, Danno)
---
To: BillyBoy
You had this one right. I never joined the Kirk bandwagon. He's a liberal GOP through and through. He's not fiscally or socially conservative. He's the type we don't need.
60
posted on
04/11/2013 6:24:48 PM PDT
by
Maelstorm
(This country wasn't founded with the battle cry "Give me liberty or give me a govt check!")
---
To: BillyBoy
So he's a decorated military vet, this seems to be a favorite subtrefuge of both the Dems and the RHINOS. Even veterans and miltary heroes can sometimes turn. Look at Benedict Arnold!
We have to look past the bright lights of the political resume and start looking deeper into their character. Things to look for: Do they present different faces to different people? Do their values fit with the basic core values of the American people?
---
FreeRepublic.com is powered by software copyright 2000-2008 John Robinson