---
All About the Bombers' Mosque in Boston
YouTube ^ | May 28, 2010 | Americans for Peace and Tolerance


Posted on 04/20/2013 6:06:18 AM PDT by LSUfan
---
Navigation: use the links below to view more comments.
first previous 1-20, 21-25 last
---
To: elcid1970
Don't know if that's MFG or what this individual called himself - but he made the mistake of making physical contact with the C.A.I.R. supporters when he took a camera come kid was shoving in his face and smashed it. He was the only one who got taken away by the Police.
IIRC, when the photo of them was taken he and the "Easy to Use" C.A.I.R.orrist supporters were having a religious argument.
Stupid is as stupid does.
21
posted on
04/20/2013 1:27:47 PM PDT
by
TArcher
("TO SECURE THESE RIGHTS, governments are instituted among men" -- Does that still work?)
---
To: LSUfan
22
posted on
04/20/2013 1:46:13 PM PDT
by
bmwcyle
(People who do not study history are destine to believe really ignorant statements.)
---
To: littleharbour
Afghanistan? How about our best ever friend Saudi Arabia? Or Egypt?
As a woman of the world, ISLAM OFFENDS ME. PERIOD!

23
posted on
04/20/2013 2:23:17 PM PDT
by
Chgogal
(Obama murdered the SEALs.They "were hung out to dry, basically exposed like a set of dog balls,...")
---

Free Republic Needs & Appreciates Your Continued Support.
Please Consider Donating Monthly, if you possibly can!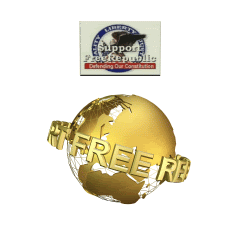 According to our stats report, approximately 349,000 visits yesterday
from 234,000 unique visitors and over 1.7 million page views.
Nowhere near the size of Drudge, of course,
but people from all over the nation flock to FR
for the latest breaking news and conservative viewpoints.
~ Jim.
April 20, 2013
24
posted on
04/20/2013 3:34:25 PM PDT
by
RedMDer
(May we always be happy and may our enemies always know it. - Sarah Palin, 10-18-2010)
---
To: onyx
That is a very compelling photo.
---
Navigation: use the links below to view more comments.
first previous 1-20, 21-25 last
---
---
FreeRepublic.com is powered by software copyright 2000-2008 John Robinson