---
To: Texas Fossil
Azmat and Diaz
The names suggest a similar to the two brothers' ethnic background, even though Diaz is generally Spanish.
This list of Kazakh names lists "Dias" as a popular name in Kazakhstan:
Диас (испанское) переводе с испанского языка слово диас означает - "солнце". Это имя популярно с 1963 года. Дано в честь руководителя восстания испанского народа Хосе Диаса.
Translated form Russian: Dias (Spanish) translated from the Spanish Language the word "dias" means -- "Sun". This name is popular since 1963. It is given to honor the leader of an insurrection of the Spanish people Jose Dias.
The same source lists "Azamat" (Arabic) meaning respected, venerable.
I could not find either name in the list of Chechen names, however, both names point to a traditionally Muslim ethnicity (Kasakhs are Muslim), despite Spanish-sounding Diaz. Neither name has any currency among ethnic Russians.

---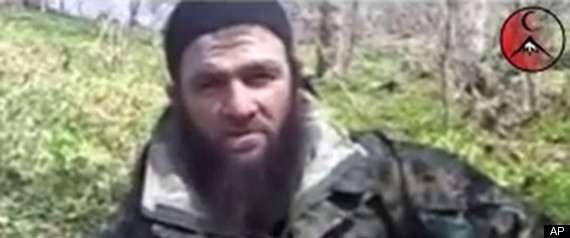 Doku Umarov http://www.rewardsforjustice.net/index.cfm?page=umarov&language=english
27
posted on
04/20/2013 7:45:55 PM PDT
by
combat_boots
(The Lion of Judah cometh. Hallelujah. Gloria Patri, Filio et Spiritui Sancto!)
---
To: annalex
Diaz is used as a last name by Hispanics, not a first name.
---
To: annalex
Also, the family lived in Kahzistahn, so perhaps the person arrested is from there.

---
To: annalex
Maybe there's a connection to the Mexican cartels explaining the use of Spanish on the license plate and the name Diaz. This is just pure speculation but as long as the border remains open, it's bound to happen sooner or later.
---
FreeRepublic.com is powered by software copyright 2000-2008 John Robinson