---
Progressives Supporting 'Mayors For Illegal Guns' is a Great Joke
ammoland.com ^ | 23 April, 2013 | Gary Marbut


Posted on 04/22/2013 8:12:42 PM PDT by marktwain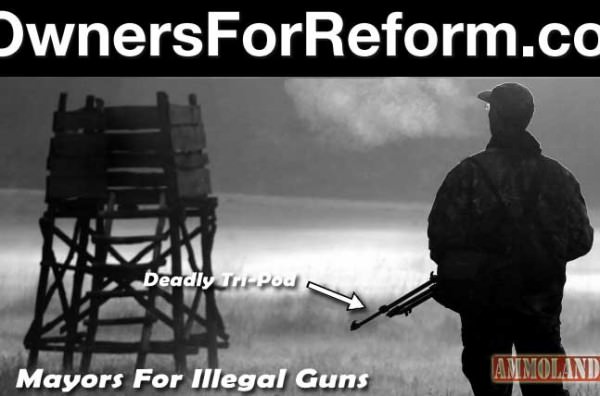 Montana --(Ammoland.com)-On Sunday, April 21st 2013, "progressives" (euphemism for statist liberals) ran large display ads apparently in all major Montana newspapers claiming that 79% of Montanans want more federal gun control. This humorous number becomes even funnier when it is attributed IN THE AD to "Mayors for Illegal Guns" (Yes, "FOR." Check your copy).
A curious person might ask, why would any mayors be FOR illegal guns in the first place? And, which specific Montana mayors are FOR illegal guns? Another curious person might ask why a group pushing more gun control would cite a "poll" from another group that is FOR illegal guns? Right. None of it makes any sense at all.
However, it is stunningly consistent that those advocating gun control never make sense.
A poll run by the Helena Independent Record, shows that fully three-quarters of Montanans oppose more federal gun control. That is accurate Montana sentiment.
The display ads run throughout Montana provides the names of a bunch of people who claim to live in Montana and be gun owners. Researching these people suggests they are mostly a bunch of liberal operatives, or just dingbats, and are very unlikely to actually be gun owners. None of them have been seen at competitive shooting matches in Montana. It's a safe bet that hardly any of them regularly purchase hunting licenses.
They're so clueless they selected a photo for the ad of a man carrying a tripod, thinking it's a rifle.
The real howler is that anyone associated with this significant advertising expenditure (probably out-of-state "dark money") expects any Montanans to believe the theme of the ad – the joke, that most Montanans want more federal gun control, again according to "Mayors for Illegal Guns."
Good joke progressives. What's next, "Mothers for Drunk Drivers?"
Gary Marbut, President
Montana Shooting Sports Association
Author,
P.O. Box 4924 Missoula, Montana 59806 406-549-1252
(Gary is a real Montana gun owner who shoots competitively in two different shooting disciplines, teaches firearms safety and self defense, and regularly buys a hunting license and hunts.)
---
TOPICS: Constitution/Conservatism; News/Current Events; Political Humor/Cartoons; US: Montana
KEYWORDS: banglist; guncontrol; mayors; mt; secondamendment; tripod

It is funny that they mistook a tripod for a rifle.

---
To: marktwain
Hey, it's an evil "assault" tripod.

2
posted on
04/22/2013 8:18:11 PM PDT
by
bitterohiogunclinger
(Proudly casting a heavy carbon footprint as I clean my guns ---)
---
To: marktwain
polls are stupid. you can't trust them and they can be made to say anything you want.
---
To: Psiman
polls are stupid. you can't trust them and they can be made to say anything you want.
---
Most of them, you can figure out the desired result by reading the questions...
---
FreeRepublic.com is powered by software copyright 2000-2008 John Robinson