~ The FReeper Canteen Presents ~
~ Remembering Our Troops!! ~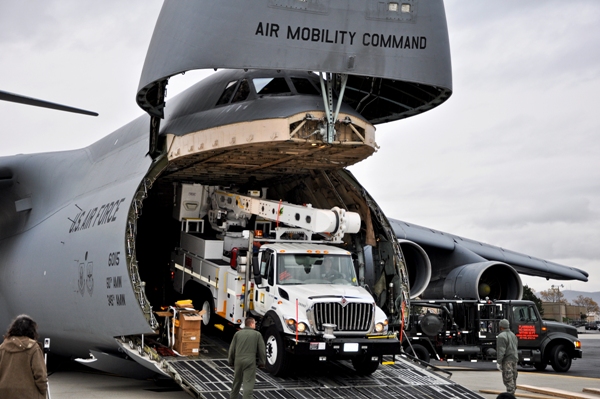 AIRLIFT EQUIPMENT
Air Force crews offload Southern California Edison power repair equipment from a C-5 Galaxy on Stewart Air National Guard Base in Newburgh, N.Y., Nov. 1, 2012. The Defense Department initiated the airlift operation to aid recovery efforts in Hurricane Sandy's aftermath. U.S. Army photo by Master Sgt. Corine Lombardo







Canteen Mission Statement
Showing support and boosting the morale of
our military and our allies' military
and family members of the above.
Honoring those who have served before.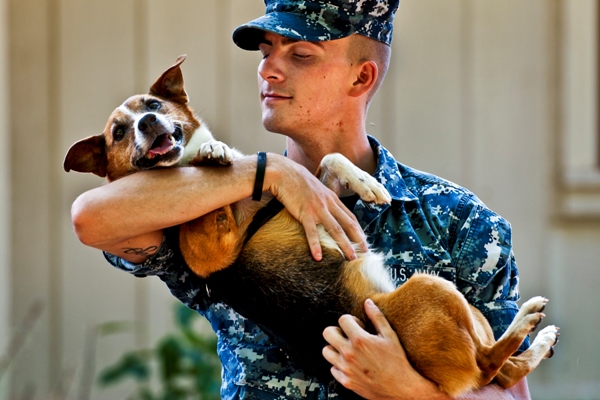 READY FOR RETIREMENT
Navy Seaman Conrad Schonacher carries Malibu, a 9-year-old military police working dog nearing her retirement, at Pearl Harbor, Hawaii, Oct. 25, 2012. The military uses working dogs to apprehend suspects, and to detect explosives and narcotics while searching buildings, ships and submarines. Schonacher, a master-at-arms, is assigned to the Naval Station Pearl Harbor's military police working dog unit. U.S. Navy photo by Seaman Diana Quinlan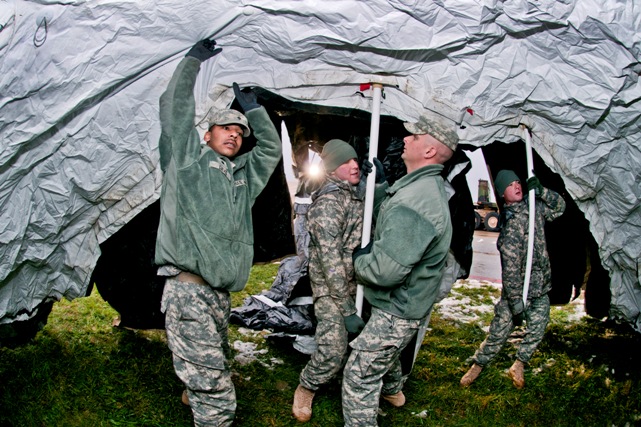 TENT TROOP
Soldiers set up tents at the 130th Airlift Wing on Yeager Air National Guard Base in Charleston, W. Va., Nov. 1, 2012. The wing is the staging ground for transporting supplies from the Federal Emergency Management Agency to support relief efforts for Hurricane Sandy, which battered the state with heavy snow, rains and severe winds. The soldiers are assigned to the 1257th Transportation Company, West Virginia Army National Guard. More than 200 Guardsmen are involved helping with storm recovery. U.S. Air Force photo by Tech. Sgt. Bryan G. Stevens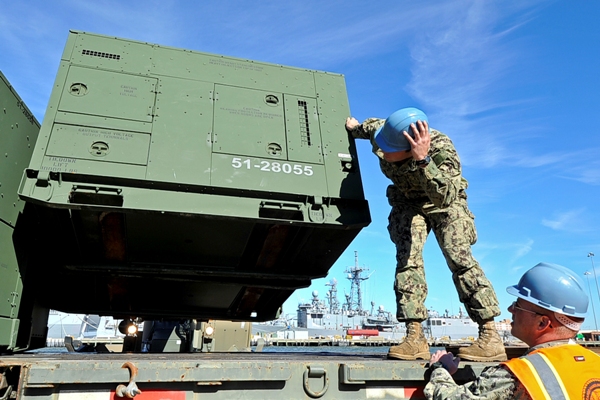 SHIP SUPPORT
Navy seamen place a pallet onto a rough terrain forklift to load onto the amphibious transport dock ship USS San Antonio in Norfolk, Va., Oct. 31, 2012. The San Antonio is getting under way to enable the Navy to be in a better position to help areas affected by Hurricane Sandy. The seamen are boatswain's mates. U.S. Navy photo by Petty Officer 3rd Class Zachary S. Welch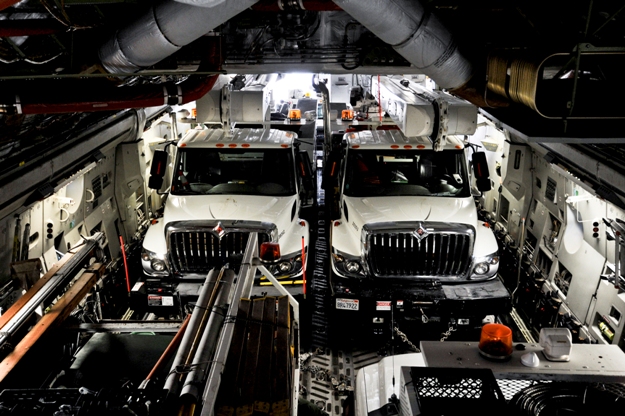 TRUCKS TRAVELING EAST
Crews load Southern California Edison trucks, which will be used in Hurricane Sandy recovery efforts on the East Coast, on a U.S. Air Force C-17 Globemaster III aircraft on March Air Reserve Base, Calif., Nov. 1, 2012. Military bases across the nation are mobilizing in New York and New Jersey to help restore electricity and provide humanitarian assistance. U.S. Air Force photo by Staff Sgt. Heather Cozad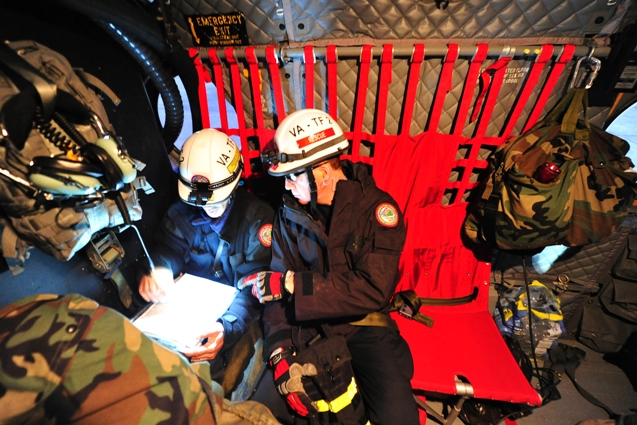 TASK FORCE SEARCH
Members of the Virginia Urban Search and Rescue Task Force Two fly aboard a U.S. Army CH-47 helicopter assigned to the Georgia Army National Guard from Joint Base McGuire-Dix-Lakehurst, N.J., to Staten Island, N.Y., to conduct house-to-house searches, Nov. 3, 2012. U.S. Air Force photo by Tech. Sgt. Parker Gyokeres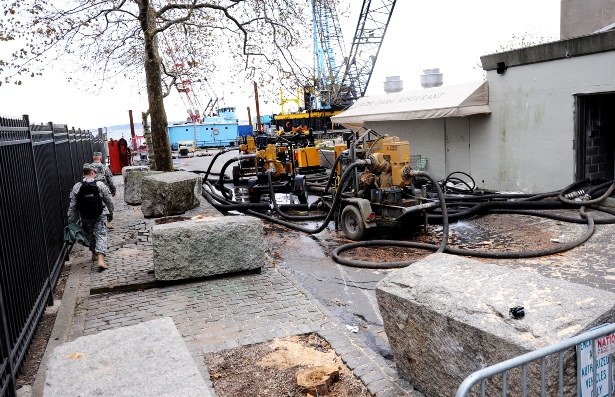 FLOOD CLEANUP
Soldiers from the 249th Engineer Battalion walk past their pumps in Battery Park in lower Manhattan, New York City, Nov. 2, 2012. The pumps are draining an underpass flooded by Hurricane Sandy. DOD photo by EJ Hersom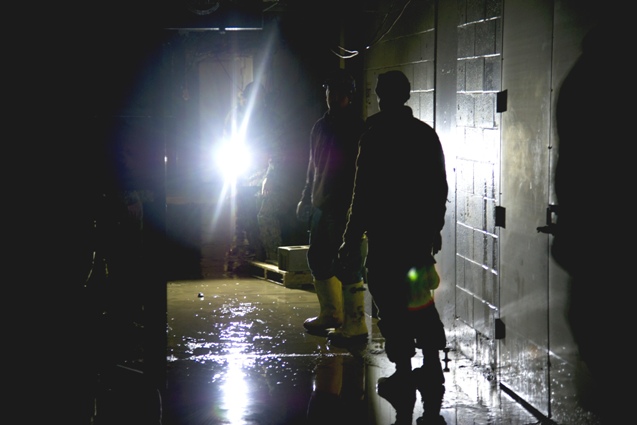 WORLD TRADE FLOODING
Sailors prepare to pump out the lower levels of the World Trade Center in New York, Nov. 4, 2012. The sailors are assigned to Mobile Diving and Salvage Unit 2. U.S. Navy photo by Petty Officer 1st Class Martin Cuaron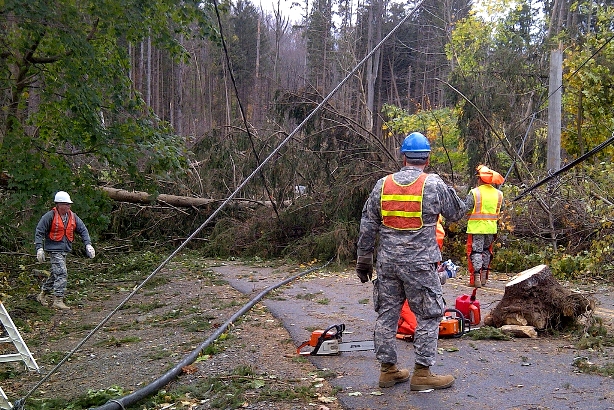 TREE SURGEONS
New York Army National Guard 204th Engineers clear trees that are blocking roads in Westchester and Rockland counties, New York, Nov. 4, 2012. Hurricane Sandy caused the tree damage. U.S. Army photo by Spc. J.P. Lawrence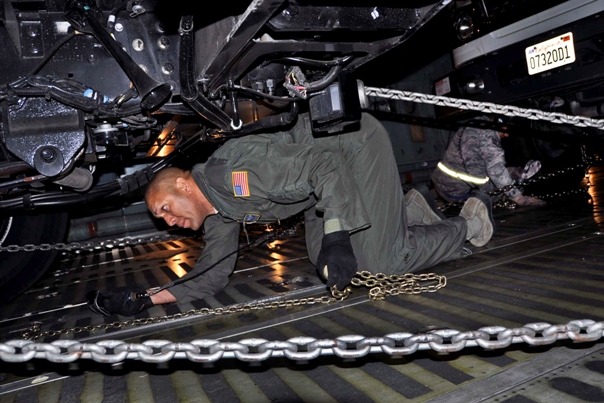 SECURING CARGO
Airmen secure a truck from Southern California Edison in the cargo bay of a Travis Air Force Base C-5 Galaxy on March Air Reserve Base, Calif., Nov. 1, 2012, to transport equipment to the East Coast to help with Hurricane Sandy recovery efforts. During the day, reservists and technicians from the base loaded other Edison equipment onto the C-5 and a Joint Base Lewis-McChord C-17 Globemaster III. U.S. Air Force photo by Linda Welz

Please remember that The Canteen is here to support
and entertain our troops and veterans and their families,
and is family friendly.