---
To: FourtySeven
There's ( probably ) nothing anyone can do about it.
Soap box
Ballot box
What's the third box?
Oh yeah, that explains why the feds are buying up billions of rounds of ammo. I don't think this is going to end well.

24
posted on
04/29/2013 10:48:25 AM PDT
by
bassmaner
(Hey commies: I am a white male, and I am guilty of NOTHING! Sell your 'white guilt' elsewhere.)
---
To: bassmaner
Depends on the list. Some folks say the Third Box is the Jury Box -- nullification of bad laws through refusal to find folks guilty.
Cartridge Box is always last.

25
posted on
04/29/2013 10:50:37 AM PDT
by
ClearCase_guy
(The ballot box is a sham. Nothing will change until after the war.)
---
To: bassmaner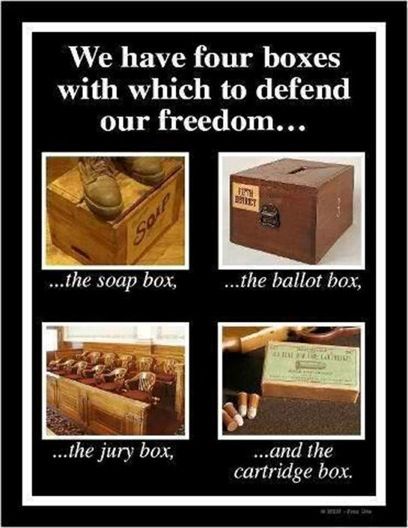 33
posted on
04/29/2013 5:31:36 PM PDT
by
Windflier
(To anger a conservative, tell him a lie. To anger a liberal, tell him the truth.)
---
FreeRepublic.com is powered by software copyright 2000-2008 John Robinson