---
To: jdege
Re: Post #10 - Your plumbing pipe shotgun idea
When I was a kid we were obsessed with the military and had BB gun wars between the Marines and the Chi-coms all the time.
We also made several smooth bore guns using plumbers pipe and used them to fire marbles and steelies.
We mounted the barrels on small two wheeled carriages made of wood scraps and baby coach wheels and towed them around pretending they were howitzers.
We made some of our own gunpowder and also got gunpowder by emptying .22 cartridges and shotgun shells. In those days a lot of kids had Gilbert Chemistry sets that came complete with instructions on how to make gunpowder and that's what we did. A kid could walk into a hardware store or drugstore and buy different chemicals and compounds and no one batted an eye. It was a normal thing for kids to do in that era.
We drilled a small hole in the back end of the pipe and used fuses from a prank firecracker that was sold in corner stores, 5 and 10 cent stores, etc. The firecracker was an empty red tube that came with 3 or 4 nice fuses.
The guns worked pretty well too and made a satisfying noise. No adult ever challenged us on what we were doing even when they saw us pulling our howitzers around. As long as we didn't shoot out windows or put a BB in an eye we were left to our own devices.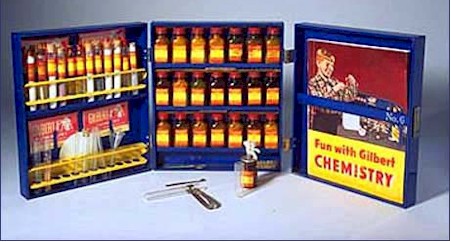 50
posted on
05/20/2013 11:59:09 PM PDT
by
Iron Munro
(Obama-Ville - Land of The Freebies, Home of the Enslaved)
---
To: Iron Munro
62
posted on
05/21/2013 5:16:51 AM PDT
by
TArcher
("TO SECURE THESE RIGHTS, governments are instituted among men" -- Does that still work?)
---
To: Iron Munro
>>It was a normal thing for kids to do in that era.
That's because we had parents and grand-parents who'd fought and survived multiple World-Wars and who recognized the progressive wolves sharpening their teeth at the treeline.
65
posted on
05/21/2013 5:25:02 AM PDT
by
TArcher
("TO SECURE THESE RIGHTS, governments are instituted among men" -- Does that still work?)
---
FreeRepublic.com is powered by software copyright 2000-2008 John Robinson