~ The FReeper Canteen Presents ~
~ Remembering Our Troops!! ~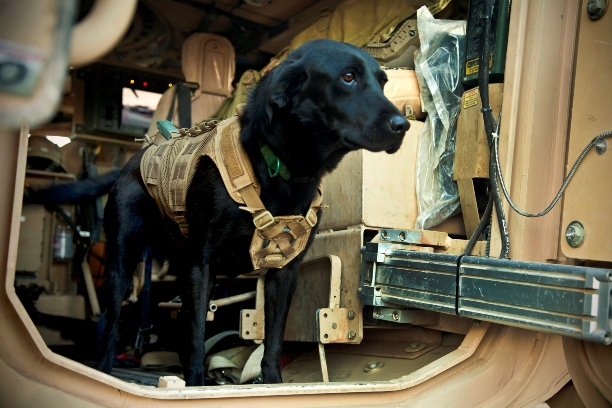 PARIS PERCH
Paris, a coalition force military working dog, stands in a tactical vehicle during a patrol stop in Afghanistan's Farah province, Nov. 24, 2012. U.S. Marine Corps photo by Sgt. Pete Thibodeau







Canteen Mission Statement
Showing support and boosting the morale of
our military and our allies' military
and family members of the above.
Honoring those who have served before.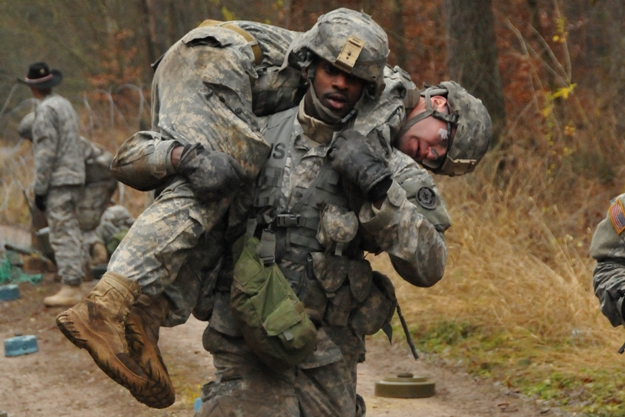 TROOP LIFT
U.S. Army Sgt. Andre Lobban, a spur candidate with Palehorse Troop, 4th Squadron, 2nd Cavalry Regiment carries a soldier posing as a casualty through a simulated minefield during a spur ride as part of Operation Swift Saber at Rose Barracks, Germany, Nov. 28, 2012. U.S. Army Photo by Spc. Joshua Edwards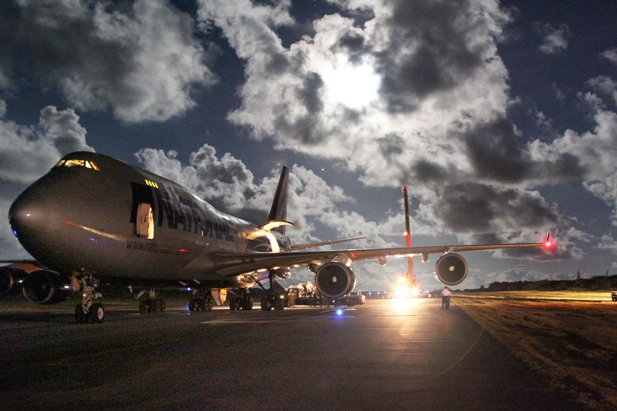 BOEING UNLOADING
U.S. Marines unload a Boeing 747-400 carrying gear and equipment for Exercise Forage Fury 2012 on Tinian, Northern Mariana Islands, Nov. 28, 2012. The island will host nearly 100 U.S. Marines and sailors during the exercise. U.S. Marine Corps photo by Lance Cpl. J. Gage Karwick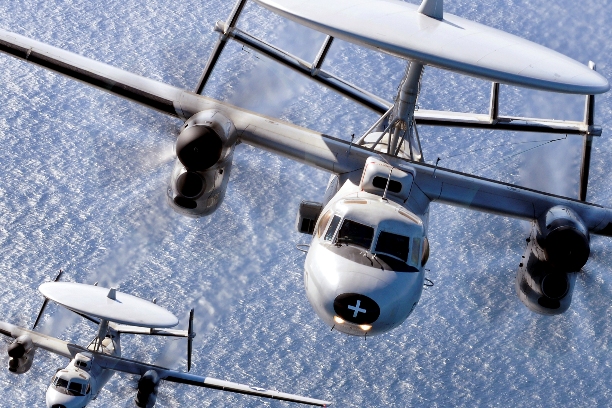 VENTURA FLIGHT
The crews of two E-2C Hawkeye aircraft assigned to Carrier Airborne Early Warning Squadron117 fly over the Pacific Ocean near Ventura, Calif., Nov. 20, 2012. VAW-117 is a command and control and airborne early warning squadron dedicated to deliver time critical situational awareness to warfare commanders and coalition partners. U.S. Navy photo by Command Master Chief Spike Call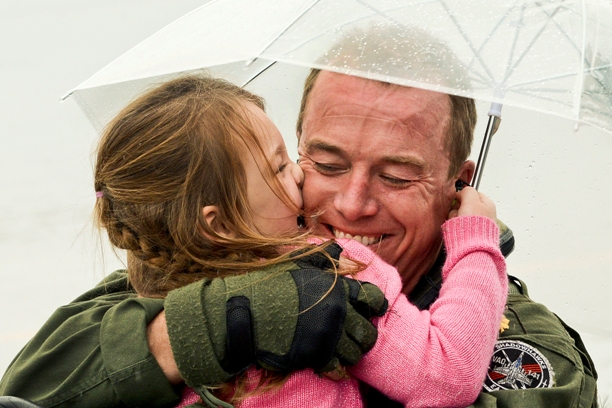 DAUGHTER DELIGHT
U.S. Navy Lt. Cmdr. Richard Winstead hugs his daughter during a homecoming celebration on Naval Air Station Atsugi, Japan, Nov. 17, 2012. Winstead is assigned to Electronic Attack Squadron 141, which completed a deployment aboard the aircraft carrier USS George Washington. U.S. Navy photo by Petty Officer 2nd Class Justin Smelley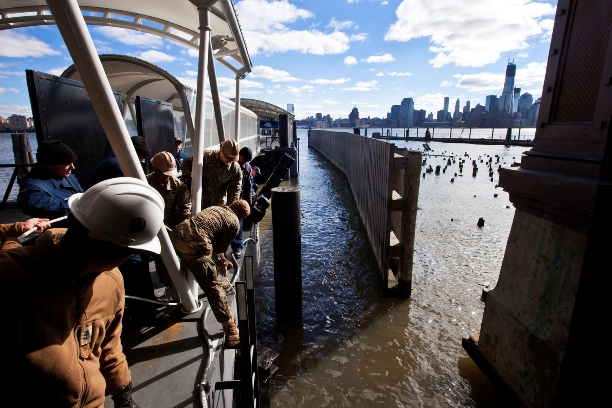 PIER REPAIR
Marines and sailors work to repair a pier damaged by Hurricane Sandy in Hoboken, N.J., Nov. 3, 2012. U.S. Marine Corps photo by Cpl. Bryan Nygaard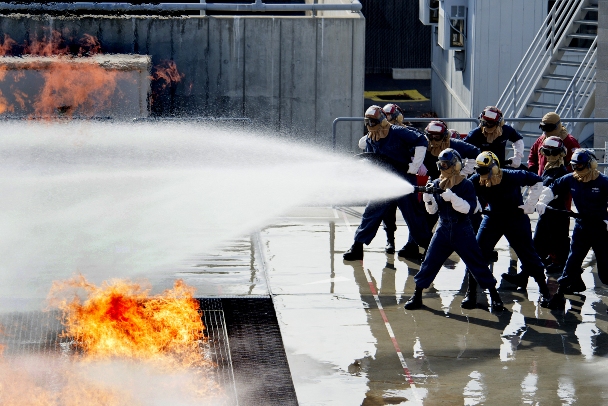 FIREFIGHTING TRAINING
Sailors train in fighting a flight deck fire at the Center for Naval Engineering Firefighting School at Naval Base San Diego, Calif., Nov. 27, 2012. The sailors are assigned to the guided-missile destroyer USS Howard. U.S. Navy photo by Petty Officer 3rd Class Christopher Farrington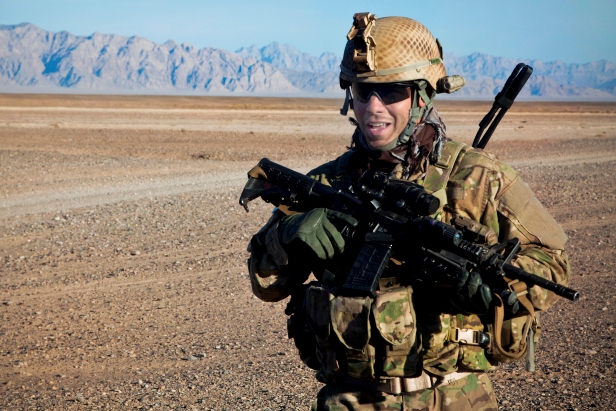 FARAH FOOTSTEPS
A coalition force member maintains security during a patrol in Afghanistan's Farah province, Nov. 25, 2012. U.S. Marine Corps photo by Sgt. Pete Thibodeau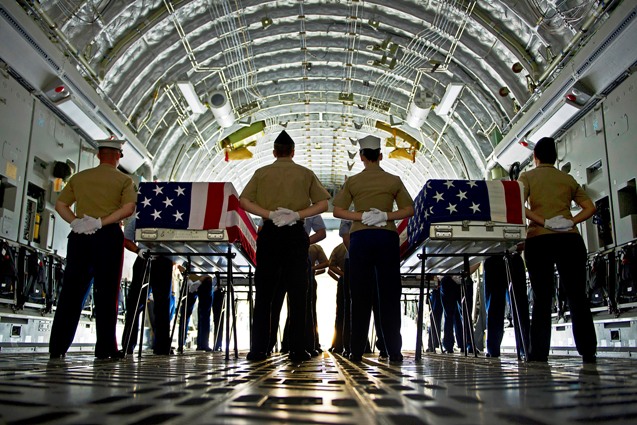 POW/MIA CEREMONY
Service members stand at parade rest next to flag-draped transfer cases during the U.S. Joint POW/MIA Accounting Command Arrival Ceremony, on Joint Base Pearl Harbor-Hickam, Nov. 30, 2012, in honor of fallen U.S. personnel whose identities remain unknown. DOD photo by U.S. Air Force Tech. Sgt. Michael R. Holzworth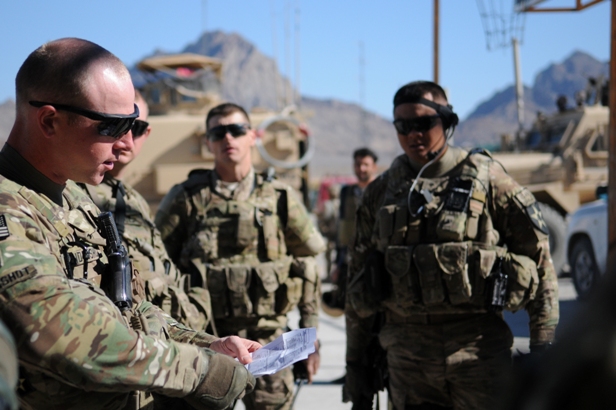 PRE-MISSION BRIEF
U.S. Army Sgt. Thaddaeus Hendershot, left, conducts a pre-mission brief at Forward Operating Base Farah prior to departing to meet with the Chief Justice of Farah province in Farah City, Afghanistan, Nov. 29, 2012. U.S. Navy photo by Lt. j.g. Matthew Stroup

Please remember that The Canteen is here to support
and entertain our troops and veterans and their families,
and is family friendly.