---
President plugs electricity generating soccer ball in Tanzania
Twitchy ^ | 7-2-2013 | Twitchy Staff


Posted on 07/02/2013 2:16:18 PM PDT by smoothsailing

July 2, 2013
President plugs electricity generating soccer ball in Tanzania
Twitchy Staff

....thank President Obama for his contribution as well. His brief playtime today with a Soccket ball — a soccer ball that converts kinetic energy into electricity — didn't generate much power, but it did serve to underscore the president's plan to invest $7 billion in energy access programs across Africa. It also produced a couple of photos of the president with a ball on his head, as well as several tweets lauding the idea...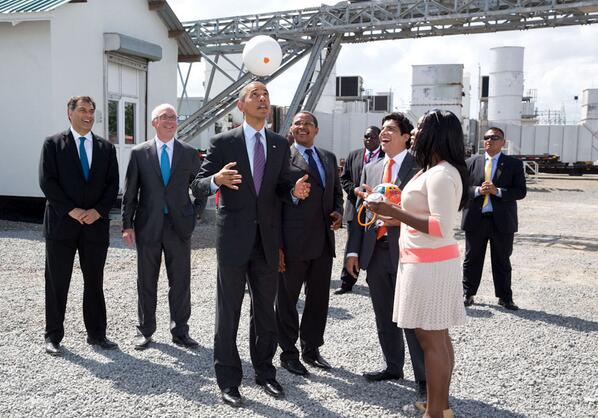 President Obama declared the Soccket ball "pretty cool," adding, "You can imagine this in villages all across the country."....
As cool as the idea is, someone had to be a spoil sport. Before spending the whole $7 billion on soccer balls, hopefully President Obama will look into the dissenting view. As a piece in Foreign Policy notes, while the Soccket costs $99, "you can get a solar-powered lamp for $10. It isn't clear why anyone would pay 10 times that for a light whose power source you have to kick around for half an hour to get less illumination."...

(Excerpt) Read more at twitchy.com ...
---
TOPICS: Extended News; Foreign Affairs; News/Current Events; Political Humor/Cartoons
KEYWORDS:
---
Navigation: use the links below to view more comments.
first 1-20, 21 next last
---
---
---
---
---
---
---
---
---
---
---
---
---
---
---
---
---
---
---
---
---
Navigation: use the links below to view more comments.
first 1-20, 21 next last
---
---