---
To: National Review
From the Jerusalem Post:
CAIRO - Egypt's state-run Al-Ahram newspaper said it expected President Mohamed Morsi would either step down or be removed from office on Wednesday when a deadline set by the army for resolving the country's political crisis expires.

Egypt's flagship state daily said an army road map for the future would set up a three-member presidential council to be chaired by the head of the Supreme Constitutional Court.

Opposition: Morsi's speech equivalent to 'civil war call'; 16 dead in Cairo U. clashes"Al-Ahram learnt that with the end of the 48-hour period set by the armed forces ... it is expected in the hours that follow it, one of two things: either Morsi announces his resignation himself, or the declaration of his removal through the road map for the future set out by the armed forces," it said.

Al-Ahram said the road map would set up a neutral transitional government to be headed by a military leader. The transitional period would last nine to 12 months in which a new constitution would be drafted to set out a path to presidential elections.

Egypt's army commander and Morsi, who represents the Islamist Muslim Brotherhood, each pledged his life to defy the other as the hour approached on Wednesday that will trigger a military takeover that was prompted by mass demonstrations.

The military chiefs issued a call to battle in a statement headlined "The Final Hours". They said they were willing to shed blood against "terrorists and fools" after Morsi refused to give up his elected office. Morsi said, "The price ... is my life."

As a mass of revelers on Cairo's Tahrir Square feted the army for saving the revolutionary democracy won there two years ago, supporters of the president's Muslim Brotherhood denounced a "military coup". Some clashed with security forces at Cairo University, where 16 people died and about 200 were wounded.
I believe we will see movement...and it has probably already been happening...of military units to prepare for this.
Morsi cannot help but see it, and once the APCs, IFVs, and tanks start moving into position, he would be a fool not to "make a deal."
We shall see.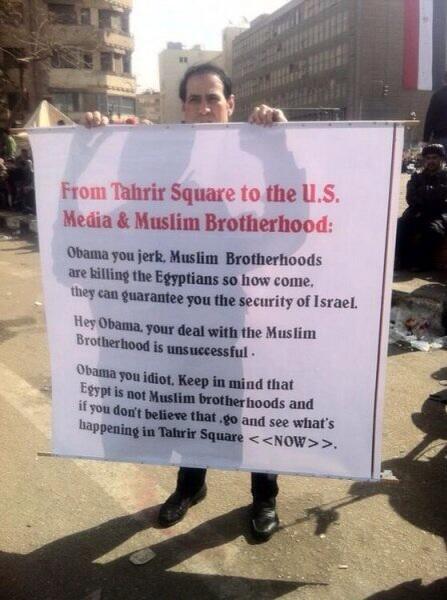 ---
To: Jeff Head
LOVE the picture!!! The media in Obama's pocket is about to go off like fireworks on the 4th!
My prayers have been for God to intervene for our Christian Coptic brothers who are being persecuted under Morsi and the MB relentlessly since Obama stuck his foot in this. Just cause he changed the minds of low information voters in an instant, this doesn't work in persecuted parts of the world...as history shows us very well!!!
---
FreeRepublic.com is powered by software copyright 2000-2008 John Robinson