~ The FReeper Canteen Presents ~
~ Remembering Our Troops!! ~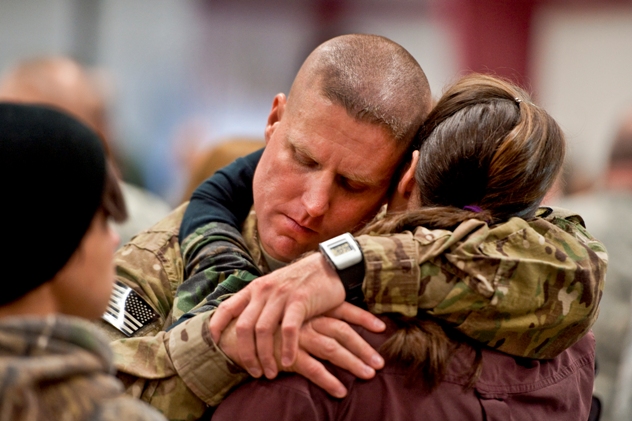 DEPARTING EMBRACE
Soldiers embrace family members after a departure ceremony at McCrady Training Center, S.C., Jan. 10, 2013. The soldiers, assigned to the 3/49 Agribusiness Development Team, South Carolina Army National Guard, are departing to Camp Atterbury, Ind., to train before deploying to Afghanistan. The team's mission is to teach local farmers agricultural techniques and how to grow sustainable crops to improve their lives and provide for their families. U.S. Army photo by Staff Sgt. Jorge Intriago







Canteen Mission Statement
Showing support and boosting the morale of
our military and our allies' military
and family members of the above.
Honoring those who have served before.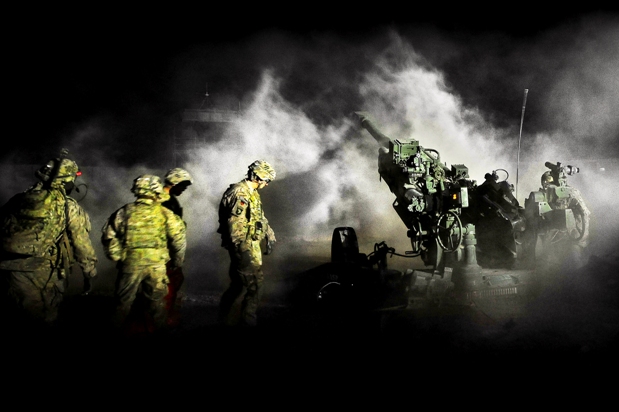 INTENSIVE TRAINING
U.S. soldiers fire illumination rounds on Forward Operating Base Hadrian, Afghanistan, Jan. 4, 2013. The soldiers, assigned to 1st Battalion, 9th Field Artillery Regiment, have conducted intensive training and fire missions to support operations in the country's Uruzgan province. The gunners, based on Forward Operating Base Hadrian in the Deh Rawud district, provide offensive support to Combined Team Uruzgan missions using M777 A2 howitzers. Royal Australian Regiment Task Group photo by Capt. Jesse Platz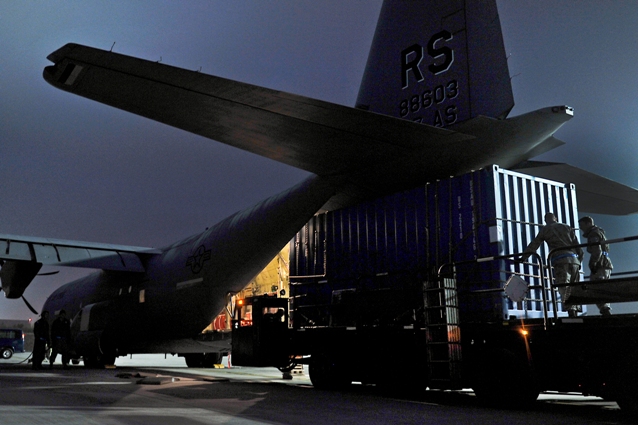 COALITION CARGO
U.S. airmen help load cargo onto a C-130J Super Hercules on the flightline on Ramstein Air Base, Germany, Jan. 7, 2013. The airmen are assigned to the 86th Aircraft Maintenance Squadron and the 37th Airlift Squadron. The 86th Airlift Wing provides support to the NATO-led coalition that will augment Turkey's air defense capabilities. U.S. Air Force photo by Airman 1st Class Holly Cook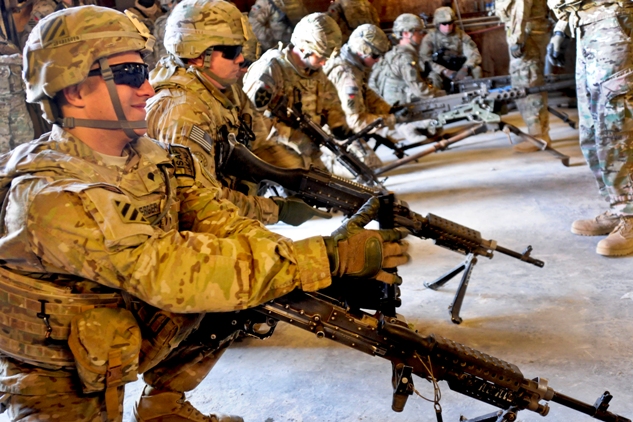 SAFETY DAY
Members of Zabul Provincial Reconstruction Team run through the steps to correctly clear three different weapons systems during a safety day on Forward Operating Base Smart, Afghanistan, Jan. 3, 2013. Team members also participated in vehicle rollover drills and attended briefings covering medical injuries. U.S. Air Force photo by Senior Airman Patrice Clarke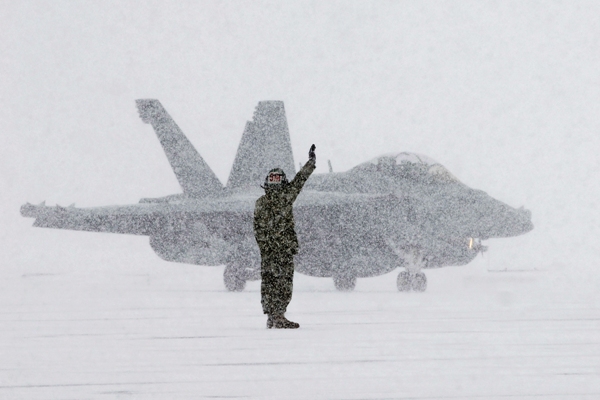 SNOW SIGNAL
A U.S. Navy ground crew member signals to an EA-18G Growler as it returns from a flight during heavy snows on Naval Air Facility Misawa, Japan, Jan. 10, 2013. The crew member is assigned to Electronic Attack Squadron 132, which is finishing a six-month deployment to support the U.S. 7th Fleet. U.S. Navy photo by Petty Officer 1st Class Kenneth G. Takada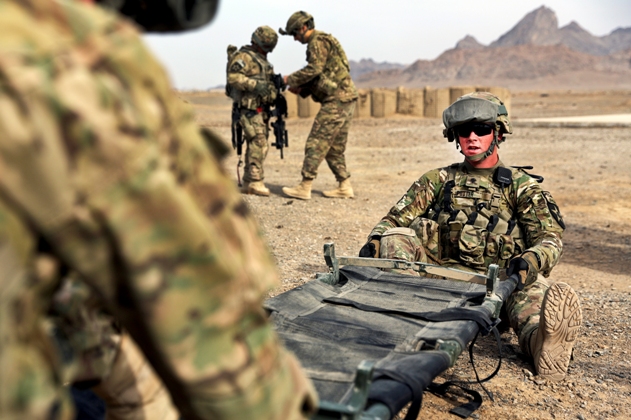 EVACUATION TRAINING
U.S. Army Spc. Thaxal Potter, right, assembles a casualty litter to prepare for medical evacuation training on Forward Operating Base Farah, Afghanistan, Jan. 9, 2013. Potter is a security force team member for Provincial Reconstruction Team Farah. The team coordinated with pilots and medics assigned to Company C, 2nd Battalion, 211th Aviation Regiment to provide hands-on training. U.S. Navy photo by Chief Petty Officer Josh Ives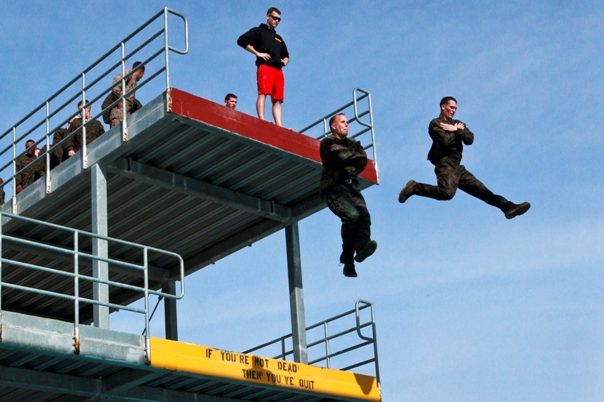 ABANDON SHIP
Marines conduct an abandon-ship drill at a training pool aboard Camp Pendleton, Calif., Jan. 9, 2013. The Marines, assigned to the 7th Engineer Support Battalion, 1st Marine Logistics Group, completed the basic swim qualification to build confidence and increase survivability in the water. U.S. Marine Corps photo by Cpl. Kenneth Jasik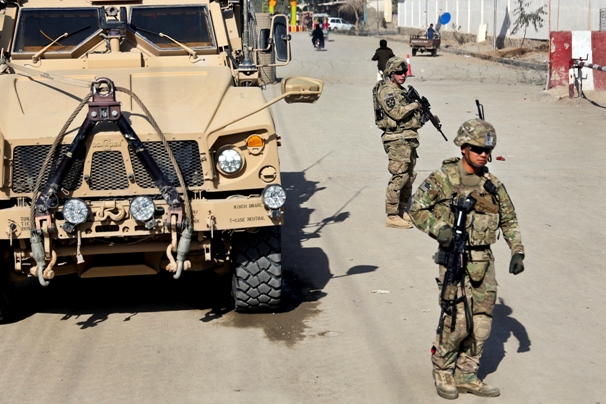 ARRIVAL SECURITY
U.S. Army Sgt. Brent Inot, front, and Spc. Joseph Henry provide security upon arrival for a meeting at the provincial governor's residence in Farah City, Afghanistan, Jan. 10, 2013. Inot and Henry are security force team members for Provincial Reconstruction Team Farah. Team members meet regularly with the provincial governor to discuss security, governance and transition progress in Farah province. U.S. Navy photo by Chief Petty Officer Josh Ives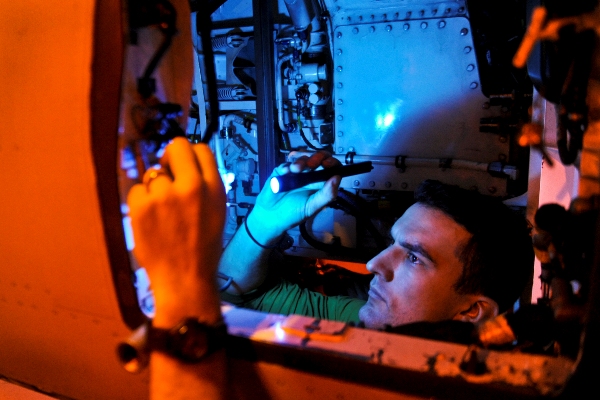 GUN CAVITY
U.S. Navy Petty Officer 1st Class Justin Sexton inspects the gun cavity of an F/A-18E Super Hornet aboard the aircraft carrier USS John C. Stennis in the U.S. 5th Fleet area of responsibility, Jan. 9, 2013. The Stennis is conducting maritime security operations, theater security cooperation efforts and support missions for Operation Enduring Freedom. Sexton is an aviation technician and the aircraft is assigned to Strike Fighter Squadron 14. U.S. Navy photo by Seaman Seth Coulter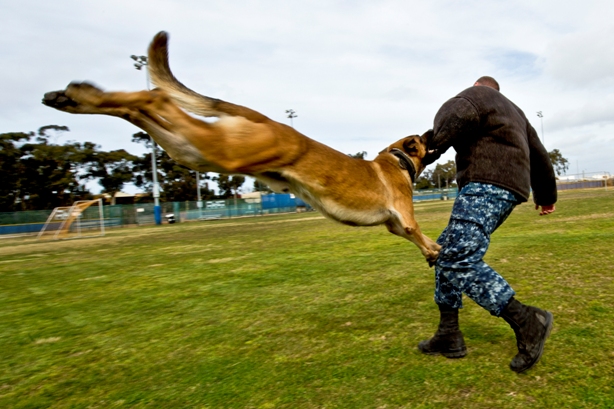 AGGRESSION EXERCISE
Navy Seaman Apprentice Randy Tallman acts as a moving target during a controlled aggression exercise for a military working dog in San Diego, Jan. 10, 2013. The exercises are conducted to train the dogs in subduing noncompliant suspects. Tallman, a master at arms, is assigned to Commander, Navy Region Southwest. U.S. Navy photo by Seaman Mark El-Rayes

Please remember that The Canteen is here to support
and entertain our troops and veterans and their families,
and is family friendly.