---
To: mojito
Relief in Damascus, as Syrians mock Obama the 'coward' AFP 9/1/2013 8:18:57 PM
He who talks a lot doesn't act," said Souad, a Damascus resident, mocking US President Barack Obama as a "coward" for delaying a decision to attack the Syrian regime.
"Obama is a coward. He didn't strike because he knows that our President Bashar (al-Assad) is all-powerful," said the employee of nationality electricity firm Ferdaws, in the northeast of the capital.
In the wealthy neighbourhood people went about their business without seeming too worried about the thuds from intermittent shelling of rebel positions outside the city centre.
A similarly calm atmosphere prevailed at one of the area's traditional, men-only cafes, where some customers appeared more interested in winning at backgammon than by Obama's speech.
"He was like an actor taking part in a play being shown to the American people," staunch government supporter Hassan Azzam, 73, said of Obama.
Via: http://www.breitbart.com/system/wire/CNG---5a80d0d118478c659056d223eda892ac---201
5/31/13 MOSCOW — Russia's MiG aircraft maker said Friday it plans to sign a new agreement to ship at least 10 fighter jets to Syria, a move that comes amid international criticism of earlier Russian weapons deals with Syrian President Bashar Assad's regime.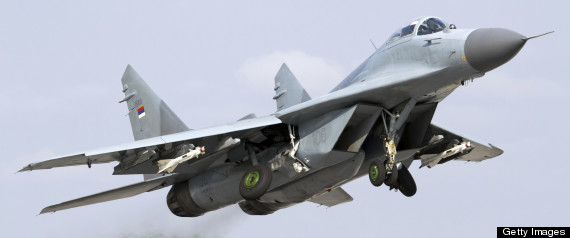 ---
To: KeyLargo
Geez, even the Syrians can figure out this guy.
---
FreeRepublic.com is powered by software copyright 2000-2008 John Robinson