---
To: caww
The Syrians that fear al Qaeda are probably offering themselves as human shields because if the insurgents win power, there will be no Syria left anyway. Their army is the only thing holding back radical jihadis from sweeping into the cities and going Pol Pot on everyone. It's so sad that today America is supporting radical terrorists bent on rooting out Christians. And anyone who claims otherwise is lying. One third of Qusayr's population before the civil war was Christian. When the insurgents seized it, all Christians were forced to leave - every single one. It's even in the MSM. After the army reclaimed it, thousands of Christians returned. What happens to them when MB/Obama gets his way?
---
To: antiterrorist77
"When the insurgents seized it, all Christians were forced to leave - every single one."
I truly don't understand how the UN and other nations puts up with the atrocities against Christians. I'm not a religious man (agnostic), but I just don't get why the world is okay with killing peaceful Christians. It goes on and on.
The enemy is radical Islam, which I believe to be bigger than most peaceniks think. It has been for years. Forget the Crusades, that was then and this is now with Muslims currently raping, beheading, mutilating young girls' genitals, so-called honor killings, women being subservient, being second class citizens who can't even go out in public without a male family member, not to mention not able to drive in Saudi Arabia.
Where are the NOW hags? National Organization for Women? Pfft. You women are not about rights, you're about your own agendas. You are a shame on all women of substance.
The cult of Islam makes NO sense and is the antithesis of all human rights that our nation has believe in and promoted for years. But yet, the UN and others can ignore the atrocities in the Sudan, Zimbabwe, Ethiopia, and other African countries that slaughter Christians by machete and gunfire. The muslims in those countries wantingly kill anyone Christian.
NO, the UN is concerned about our elections and the thug Trayvon Martin. The UN is the most worthless hypocritical government body in the World. Yet, the Obamas, Clintons, Kerry's, Pelosi's and others think we should bow down to them as Obama did to the King of Saudi Arabia. I couldn't despised them anymore even if I tried.
Western civilization is going down folks. The barbarians are at the gates. My suggestion: lay low for now, but be prepared. The cult of Islam is infiltrating our country - standby...

60
posted on
09/05/2013 8:53:34 AM PDT
by
A Navy Vet
(An Oath is Forever!)
---
To: antiterrorist77
Lets just put what Obozo is doing right out there: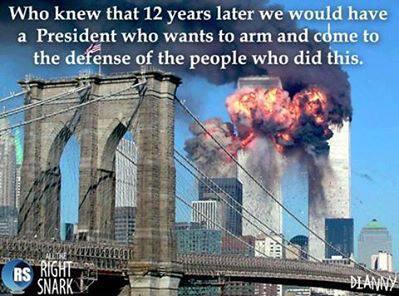 ---
FreeRepublic.com is powered by software copyright 2000-2008 John Robinson