---
To: mrreaganaut
OK - while I have time, I'll try a brief explanation - but the Senate is complicated.
We borrowed the American idea of each state having an equal number of Senators - in our case it's twelve. Normally, half the senators go up for election at a time - so six in each state (there is a rare constitutional circumstance in which the entire Senate is reelected at once).
The Senate tends to have a lot of candidates - we had 97 in my state today, representing, I think 43 different parties, as well as a few independents.
We have preferential voting where you have to number the candidates in order of preference. Obviously with so many candidates this is difficult, so you actually have a choice - each party produces a voting pattern which they give to the Australian Electoral Commission, and if you choose to vote for that party (by simply marking one box 'above the line') on the ballot paper, your votes are allocated according to that pattern. So if you vote Liberal above the line, you accept your vote will be counted the Liberal party wants it to be. You also have the option of voting below the line - in which case you do have to number every box.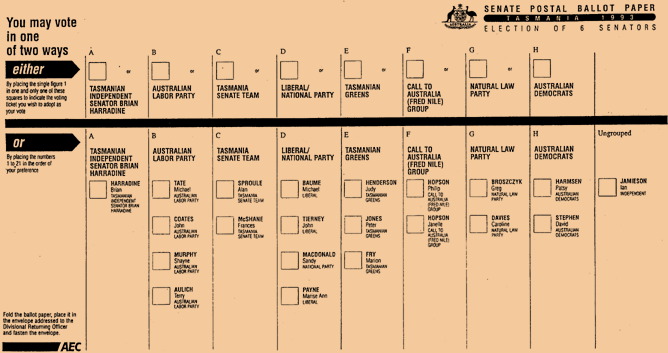 Now, six senators are elected at a time - so what they do is they assign a 'quota' of 1/7th of the votes cast to determine who is elected. After the votes are counted, any candidate who gets more than 1/7th of the vote is elected. Once that is done, if all six seats haven't been filled, then remaining seats are given to whoever has the most votes out of anybody who hasn't already been elected.

45
posted on
09/07/2013 2:09:21 AM PDT
by
naturalman1975
("America was under attack. Australia was immediately there to help." - John Winston Howard)
---
To: naturalman1975
And our loser voters complain it's to hard to get an ID!
---
FreeRepublic.com is powered by software copyright 2000-2008 John Robinson