During combat in Vietnam, Lt. Rick Rescorla would sing to his troops to keep their spirits high while under fire. As head of security for Morgan Stanley Dean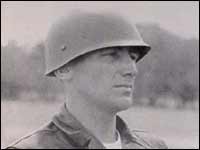 Witter in New York, Rescorla used the same tactics to calm co-workers as he led them from their offices during the attacks on the World Trade Center.

Rescorla survived battlefields in Southwest Asia, but he apparently was not so fortunate Sept. 11. Currently on the missing list, Rescorla was last seen in a 10th-floor staircase. He is credited with saving 3,800 colleagues, while sacrificing himself.

Rescorla is a featured character in "We Were Soldiers Once … And Young," a factual account of combat in Vietnam's Ia Drang Valley. Written by Army Gen. Hal Moore and reporter Joe Galloway, the book is considered required reading among Army officers. Since the book was first published in 1996, the Army and Air Force Exchange Service has sold 47,000 copies, with more than 3,200 sold in the last year alone. The book was made into a Mel Gibson movie that is due out next spring.

"He was on the cover of the book," Galloway said, recalling the photo of Rescorla as a battle-weary lieutenant preparing for a bayonet charge with his M-16 rifle. Rescorla, 62, took charge during the terrorist attack on his building, just as if he was again in combat, Galloway said during a telephone interview from his home in Washington, D.C. "No one would have expected anything less of him," Galloway said. Rescorla was in his office on the 44th floor at 8:48 a.m., when the first plane struck the neighboring tower. At 9:10 a.m., a plane hit the second building where Morgan Stanley, an international financial services firm, had offices between the 43rd and 66th floors. Survivors said Rescorla grabbed a bullhorn and cleared out 3,800 workers from 20 floors. When newspapers published accounts of Rescorla's calming office workers with his songs, Galloway remembered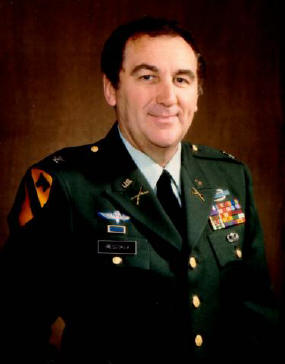 Rescorla singing Welsh mining songs during combat in Vietnam. Comrades who served with Rescorla said he would sing and tell jokes to motivate troops. "He was doing what he always did, singing to them," Galloway said. "Just as he did in battle."

In 1993, when terrorists bombed the World Trade Center, Rescorla also headed the evacuation. To get the crowd's attention during that attack, he mooned them, Galloway said. "He was a genuine hero then," Galloway said. According to a press account, Morgan Stanley employee Bob Sloss last saw Rescorla in a 10th floor stairwell, calming the fleeing mob of office workers. "Rick was down toward the base trying to make sure people got down and out," Sloss was quoted in the report. "He was definitely there well after it had been established that the building was in trouble."

Born in Hayle, England, in 1939, Rescorla joined the U.S. Army in the 1960s and went to Vietnam as a platoon leader with the B Company, 2nd Battalion, 7th Cavalry. In November 1965, his unit plunged into a battle at Landing Zone X-Ray, at the base of the Chu Pong, a 2,400-foot mountain in the Ia Drang Valley. He later survived a North Vietnamese ambush at nearby Landing Zone Albany that claimed the lives of 151 men in his unit. In the book, Rescorla played a significant part in repelling the enemy when they outnumbered his unit.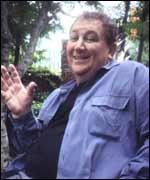 Moore, the officer who led the battle at Landing Zone X-Ray, and Galloway, a UPI reporter who covered it, painted Rescorla as a likeable character, who was a skilled leader under fire. "Gen. Moore said he was the finest platoon leader in the Army," Galloway recalled.

After the war, Rescorla went to Oklahoma University on the G.I. bill, and later earned a master's degree and a law degree. In 1989, he retired as a colonel in the Army Reserve. For the past 18 years, he had worked in security management for Morgan Stanley. During a televised celebrity fund-raiser following the attacks, Robin Williams told the nation of Rescorla's heroism, Galloway said. Galloway said he will no doubt have Rescorla on his mind Nov. 16, as he speaks to members of the 1st Squadron, 4th U.S. Cavalry during the unit's annual ball in Schweinfurt, Germany. "If you can go to the grave knowing you helped save people, it seems to be a life well-lived," Galloway said. "He died as he lived, a great soldier."

Rick Scavetta
Stars and Stripes
More reading...it's well worth your time to click these links and remember a true modern day hero. One of the sites records how many times people have remembered a hero by adding a flower at the bottom of the page for each visitor. Please click through to find out which one it is!
Rick Rescorla "Follow Me" Statue Unveiling
Blackfive: Rick Rescorla: Someone You Should Know
We Were Soldiers Once And Young
TapsBugler: From Vietnam to the World Trade Center
Armchair General: Rick Rescorla forum thread
Thank you for your help, Aloha Ronnie!
Prayers going up for the family and friends of Rick Rescorla.
May God bless you and give you comfort and peace.
Rick was truly a hero.
A hero is someone who has given his or herself to something bigger than oneself.
-Joseph Campbell
A hero is someone who understands the responsibility that comes with his freedom.
-Bob Dylan (!)